Expansion of businesses is the order of the day; the technology honchos are looking for newer avenues other than their own traditional business. The new entrant in the league is Apple Inc (NASDAQ:AAPL). Citing its loss in fiscal Q2 2016, everyone was expecting that Apple will have to do something different to keep its growth intact, and, the iPhone maker's move in this direction has shocked everyone.
Apple astonished everyone by investing $1 billion in DiDi Chuxing (Formally known as DiDi Kuaidi), a Beijing-based private taxi company, a prominent competitor to Uber. No one ever expected such a tantalising move from Apple, as the Cupertino-based giant has invested in a company that is totally out of its league.
"DiDi exemplifies the innovation taking place in the iOS developer community in China," says Cook
However, the move has raised few questions and sparked debates on multiple fronts in regards to the current surprise move made by the Cupertino giant. Why has Apple invested in China, not in the US? Why has Apple invested in a startup that doesn't complement Apple's core business much? Why has Apple invested a substantial amount in a private taxi offering service? And, If Apple's investment in Didi is a strategic move, then did it approached to UBER? If not, then Why?
One can understand the anxiousness of Tim Cook, CEO – Apple Inc. (NASDAQ:AAPL), after Apple has gradually started losing ground in China after the iPhone sales debacle in the first calendar quarter of 2016. While the iPhone market in China is heading fast towards saturation, and to insult the injury China government has blocked Apple's services. Many analysts believe that to the billion dollar investment in a Chinse startups will relax the strained relationship between Apple and China Government.
However, according to Cook, Apple is making this investment to have an in-depth understanding of the Chinese market and calls it more of a strategic investment. He also looked absolutely calm, composed and confident about the returns of his investments.
Apple's Investment in Didi: The Battle For Supremacy In China
DiDi Chuxing is not another 'kid on the block'. In spite of debuting just four years back in 2012, the company has managed to dominate China's private ride-hailing market. It's also providing a stiff competition to app-based taxi booking company Uber, as DiDi Chuxing holds a massive 87% of the total ride-hailing market in China. It is also interesting to learn that Didi Chuxing's valuation has soared to $20 billion within four years of its existence whereas Uber's Global market value stands at $65.5 billion after little over than seven years of market presence.
The China's native ride-hailing company has a mammoth customer base of 300 million in China and serves around 400 cities with about 11 million rides in a single day. Cheng Wei, Founder & CEO – DiDi Chuxing, looked enthralled with the deal and also was keen on lending their utmost support to Apple.
"We are extremely impressed by the business they've (Apple) built and their excellent leadership team, and we look forward to supporting them as they grow," DiDi CEO, Cheng Wei.
China's most promising start-up has also managed to woo some big investors other than Apple in the past. Japanese honcho Softbank invested $600 million in January 2015 whereas Singapore's investment giant Temasek Holdings provided $700 million investment in December 2014.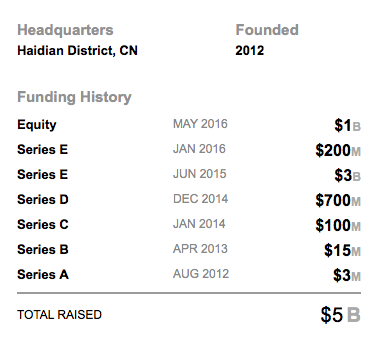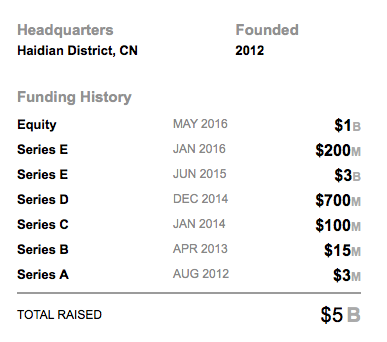 On the other hand, the things have not gone too well with Uber that has set to target 100 cities in China by the end of the year and seems confident to give a push to its enhance its Chinese market; Uber is struggling with a number of issues including the recent barring of its services by the Swedish government.
Didi Chuxing is also a part of the recently formed 'coalition' along with Uber's rivals in other markets – Ola cabs in India, Lyft Inc in US and Uber's biggest rival in Southeast Asia Grab, giving an intense competition to US-based private car-hailing hailing service.
What Will Apple Gain From The Deal?
The slumping Apple sales in China, especially of its trump card iPhone, has forced the Cupertino giant to explore the new avenues and new geographic opportunities. Even after the no-so-encouraging response to Apple inChinaa, Cook seemed quite anxious to revive its market base in China.
"I could be not be more optimistic about China" was once said by Cook
The fear that haunts Apple is losing its customer base and as Cook said earlier that, it is a kind of strategic investment and will provide Apple with the opportunity to gain more detailed knowledge about Chinese markets and the mentality of customers.
"We are making the investment for a number of strategic reasons, including a chance to learn more about certain segments of the China Market," Cook said in an interview with Reuters.
Apple wants to gain as much knowledge and expertise in this newfound and upcoming ventures. As Apple has recently shown some signs of moving into self- driving vehicles segments like its rivals Google, and Tesla, the company has recently poached some specialists and engineers from Ford, GM, Tesla. Another fact that strengthens this claim is that Apple's ongoing search for locations to test its upcoming self-driving car.
Moving into the automobile industry will be a fresh move for Apple as the only product that Apple owns in this segment is CarPlay technology that connects iPhones to the entertainment system of cars. How far, and when, the investment will bear fruits for Apple would be interesting to watch.