In the last few years, as the global leaders of smartphone markets have shown signs of slowing down, we have seen that major OEMs have turned their focus away from US and China and towards the rapidly growing Indian smartphone scenario. It is estimated that by 2017, 500 million Indian users will be online, and a lion's share of that number, nearly 314 million, will be using their mobile devices as the primary Internet gateway. Thus, the rapidly expanding Indian smartphone market provides a lot of opportunity to both hardware and software vendors alike. While we have discussed in great detail the various strategies followed by OEMs looking to strengthen their share in the Indian market, today we are going to take a look at the Indian smartphone ecosystem from an app developer's point of view.
Despite being one of the most rapidly growing smartphone consumer base, the Indian smartphone app ecosystem is rife with pitfalls unique to the demographic and technical infrastructure that is present in the country right now. In a recently published comprehensive review of the Android App ecosystem in India, 9Apps.com – world's leading third party app stores for Android app/games – have uncovered some shocking data about the kind of hardware and network constraints that app users and developers in India both have to contend with. Despite all of these challenges, Indian app consumers are spending more than ever, as we find an estimated Rs. 15 billion (US$ 240 million) spent on apps by Indian users in 2015 alone, a sharp increase of 66% YoY from the Rs. 9 billion (US$ 140 million) spent in 2014. This reiterates the fact that despite everything, there is a great opportunity for app developers to capitalise on the boom of smartphone penetration in India. And just how that can be achieved is what we aim to unearth today!
Majority of Android Apps Are Downloaded on 2G Network
Despite slow connectovity and increating penetration of 3G/4G enabled smartphone devices, majority of Android apps are still downlaoded using 2G data connectivity in India, revelas the report. This could be attributed to the fact that 3G data is still considered as an expensive or business network by first-time or amature app users. Besides, 3G connectivity in India is yet to reach a satisfaction level especially in Tier-2 and Tier-3 cities.
It's is also interesting to learn that Android smartphone users in India have, on an average, 32 apps installed which is much lesser than the global average of 42 apps. The gap, however, is sqeezed when we compare the the average number gaming apps installed. 17% of daily app downlaods in India are related to gaming indusry.
Hardware Dictating Terms for the Software: Android Apps in India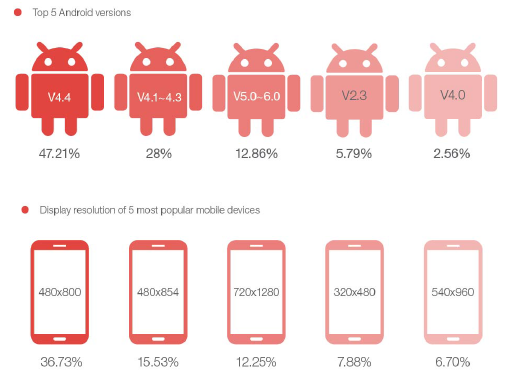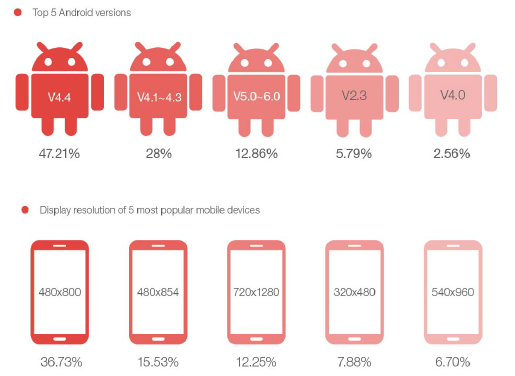 While it has been quite a few months since Google has rolled out Marshmallow, the budget smartphone segment in India has been oblivious to Android system upgrades with a staggering 47.21% of devices stuck behind two generations at Android 4.4 KitKat. While we did a more in-depth study on Android fragmentation in India earlier, this data corroborates with our early observations that in the low-end segment of devices, Lollipop has barely made a dent as far as numbers are concerned, with Marshmallow being nearly nonexistent in the below 10k category.
The widespread prevalence of earlier versions of Android along with the fact that screen resolution of only about 12.5% of devices is 720p, poses a big problem for app developers as well as content creators. The older versions of Android make it difficult to create a safe environment for apps as previous versions of Android are riddled with catastrophic bugs. Along with that, the low-resolution screens of most devices makes it difficult for app developers to serve HD content to the end user. All of these factors uniquely affect the app choices of Indian consumers, a fact that we see clearly portrayed in our segment.
Android App Downloads in India: Facebook Secures 4 Spots in Top 10
A quick look at the apps list from above and one can see a pattern beginning to form. Leaving the social media apps such as Facebook, Instagram and the Instant Messaging apps such as WhatsApp and Messenger, we find that 4 apps in the top 10 belong to the Tools category. This indeed holds true in the larger picture as well as Tools have the largest app share in the Indian Android App market with  1 out of every 5 apps being downloaded daily hailing from that category. Next up comes social media and video apps, both commanding 9.43% each of the market share.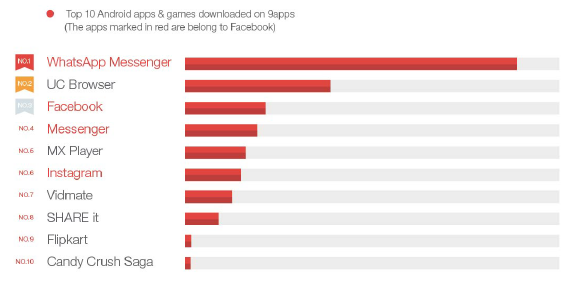 Interestingly, despite the Free Basics debacle, Facebook still seems to have a pretty strong hold on the Indian market through its own social media and Instant Messaging app, as well as acquisitions WhatsApp and Instagram making it to the list as well. We take a look at the different categories in detail in the following paragraphs.
Privacy and Data Caps Boost Tools Download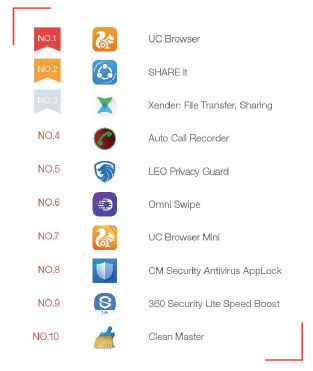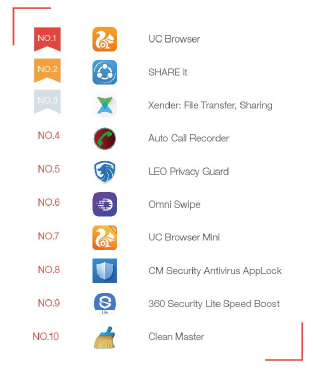 Nearly 60% of the app downloads in India take place on 2G networks with only 4 % taking place on the much faster LTE networks. That coupled with stringent data caps in place by most carriers force people into using browsers and apps that can help conserve their mobile data. The tools list convey the same story as UC Browser, with its data saving features accrue the top spot. The next two spots are occupied by Xender and ShareIT, two file sharing apps that help people share apk files of apps directly instead of having to download them over and over from an app store.
We also see quite a few cleaning and security apps that have made their place in the list. The outdated versions of Android raise security concerns, and these apps help the smartphone user have a relative peace of mind. The decidedly middle of the road hardware available in most of the popular smartphones necessitates the installation of memory cleaners as well.
Indian Consumers Prefer Offline Playback Compared to Streaming
The low data caps and slow connections in the majority of Indian smartphones makes it presence felt yet again as we see the world's largest and most popular video streaming platform YouTube fall behind MX Player, an offline video player, and VidMate a video downloader.
Homebrewed Apps Make their Mark in Social Media and E-Commerce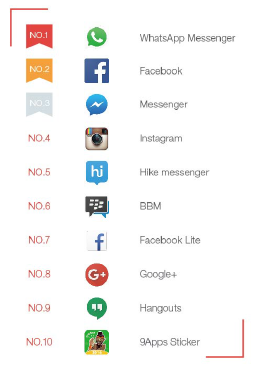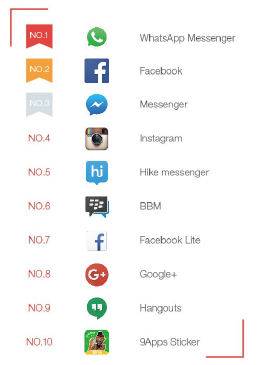 In spite of all the dominance from Facebook at the top of the table, Hike, the IM app made in India seems to have captured the hearts of the Indian audience as it finds itself at te 5th spot, leapfrogging even Google-owned Social Media Platform as well as IM.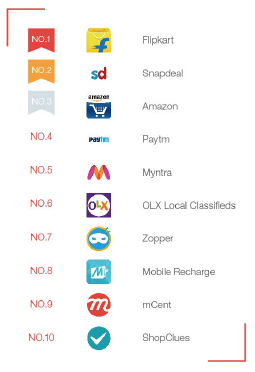 Despite e-commerce apps constituting only 3% of app downloads, they have the potential to be one of the biggest source of revenue for India in the coming years. Worth around $16 billion in 2015 itself,  the e-commerce industry in India is growing at a rapid pace. At the helm of it is Indian E-Commerce giant Flipkart, who have managed to beat out even Amazon, the company who pride themselves to be the Internet's Shopping Cart.
Apps have struck the perfect balance between convenience and security, and as users tend to spend more and more time on their smartphones, we find that the Indian shoppers are increasingly using their mobile for paying as well as buying things off the Internet. Unfortunately, despite the steady increase in the revenue stream from online payments, games have struggled to generate income in India. And in our final segment, we shall touch base with the mobile gaming apps in India and use their example, encapsulate the struggles of making it big in the Indian App Ecosystem.
Final Thoughts
In the new age of entertainment, video games have become the new major global player with revenues touching $91.5 billion in 2015. Leading from the front has been mobile games with their freemium models. But India, despite being home to some of the most prolific casual players, has yet failed to make a steady source of revenue from its mobile gamers.
By 2016, the Indian mobile gaming industry is estimated to be worth around  $571.6 million and despite having one of the highest rates of mobile game downloads at 17% of daily app downloads, the revenue figures don't look quite as promising. The reasons why revenue is dipping in the mobile gaming industry across the world is mainly app retention and user interaction as we detailed in an article before, but India has its own set of challenges that plague its own app industry.
Hardware
Looking past the obvious dominance of Samsung in the top 10 most used smartphones running the Android OS, we find another common factor. The devices are all terribly underpowered for smoothly running most of the games with advanced graphics that are prevalent in the Android marketplace today. This is not just an isolated problem for game developers but app developers on the whole who have to keep the weak hardware of the target audience in mind while making such games.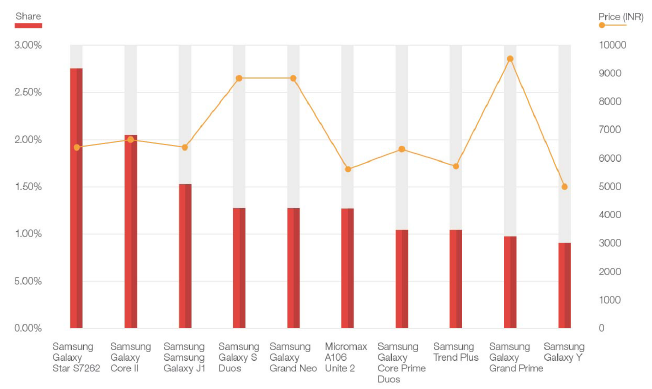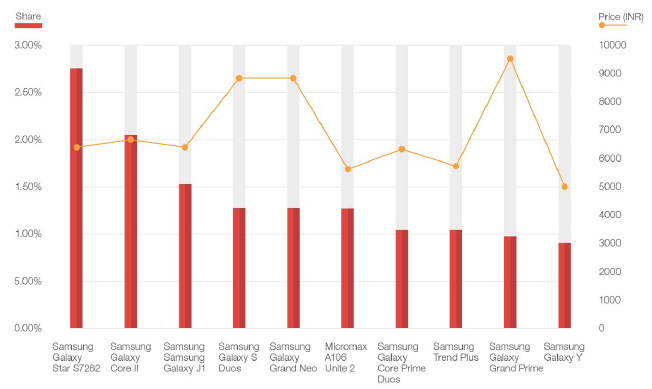 Added to that is the fact that most of these games need an online component and the lack of a proper high-speed data connection for most users means that they can neither enjoy the full experience of the game nor create revenue for the game developers who depend on online transactions and IAPs for their revenue.
Software
Indian mobile gamers have shown a strong preference for racing games with nearly 30% of the downloads coming from that genre, followed by Action at 23% and with Adventure and Casual bringing up the rear. If India has any chance of reaching the magical figure of $1.2 billion in revenue from mobile games by 2016, a complete overhaul of the software side of things are needed. We have listed below in bullet points some of he actionable points by game developers and distributors alike
Fraudulent IAPs must be stopped: Fraudulent IAPs can rock fledgling markets and destroy entire app ecosystems. For Free to play games to survive, app developers and app stores should take necessary measures to stop frauds and hacked versions of apps from becoming easily accessible.
Mobile Wallets and Online Payments must be made for accessible: While NFC-based mobile wallets and contactless payments have started to appear in the developed markets of US and China, the proliferation of online banking and credit cards remains very low in India. This is one of the major hindrances as app users willing to pay for IAPs cannot find the means to do so.
Amplifying the problem further is the average age of most of the app users. Almost 7 out of 10 app users are below 25, and this means that despite spending a fair amount of time each day on their smartphones, they're unable to affect revenues due to their limited buying power. So what can app developers do to remedy this situation? Other than the technical side of things which we discussed earlier, there is a social side to it as well.
Increase Targeted Demographics From Metros to Tier 2 and Tier 3 cities: 70% of the total app user bases resides in metro cities, with nearly a quarter of them residing in Delhi alone. India is a huge country of over 1.2 billion people and with the introduction of 4G networks across the country, app developers must seek to increase their geographical reach.
Intice Female Users: App users in India are overwhelmingly male with only 20% of the app user base being from the fairer sex. This is a gigantic opportunity for two specific app categories. Casual games such as Candy Crush which is already hugely popular with female gamers around the world has the potential to tap into India's female smartphone user base. Other than that, e-commerce apps could make a huge profit if they could integrate social media into their shopping apps making it an interactive experience for their female users.
In the words of the great Chinees General Sun Tzu
Opportunities multiply as they are seized
And the Indian smartphone market is ripe with opportunities as it hurtles towards 720 million smartphone users by the end of this decade. What remains to be seen is which apps can use their ingenuity to grab the initiative and transform the Android App Landscape in India.