As the Internet has evolved through the ages from its initial dial-up days to the modern gigabit networks, one thing has always remained constant. A majority of the content and information on the Internet is freely available for all and sundry to use. But there never truly is anything like a free lunch and today we take a look at the state of the Digital Ads industry that has made it possible for the Internet to be the free and wonderful place we all love. Internet Ads are in deep trouble, and what's worse, there is not one single cause behind it.
In the recent past, it has come to light that almost every major Ad based service provider like Google and Facebook have stepped up their efforts to fight against the act of ad blocking. While many have come out and voiced their concerns against Ad Blocks claiming that the increased amount of ad blocking that is prevalent in today's Internet may put the free nature of content at stake, there is a very definite flip side to this argument as well. In their lust for ever more revenue, certain publishers and content creators have loaded up their websites to such an extent that the ads have been gobbling up nearly 4/5 of a user's mobile data. 
Today, our goal is to investigate if Ad Block has become a necessity in today's web and how publishers, browsers and even telecom networks are dealing with this new entrant that threatens to change the very fundamentals of the Internet we know and love.
The Internet of Ads: Scenario on Mobile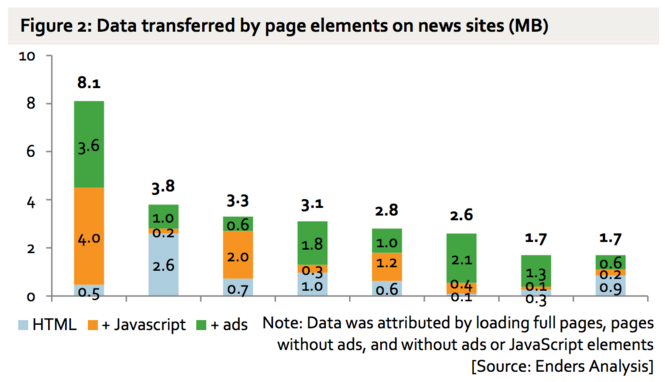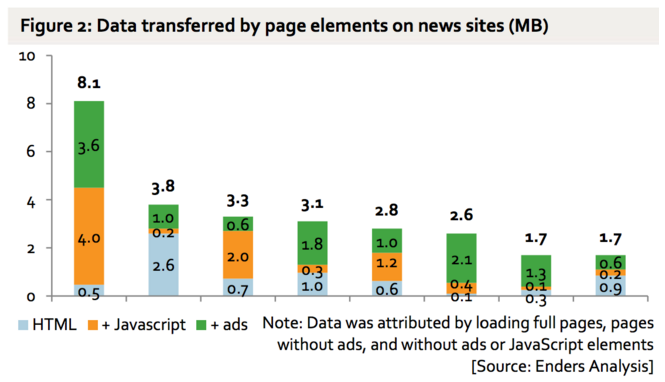 While we have discussed about the effects of ad blocking, often at length, in previous articles, today we are focussing on a flip side of the coin. As some recent reports have indicated, ad blocking especially when it comes to mobile devices may have transcended the border from choice to necessity. With the shift of the search and content industry shifting to mobile in the past couple of years, we have seen that advertisers push more and more targetted ads at mobile users compared to their desktop counterparts.
As a response to this, Apple in their latest iteration of their mobile browser, Safari, has included an inbuilt Ad Blocker. And while it caused a furore among publishers and websites owners in general, on hindsight it has affected customers in a positive light as the graph above shows us. In the small scale experiment conducted by Enders on some of the top publishers, it was revealed that that ad content accounted for between 18% and 79% of the mobile data transferred, depending on the site. JavaScript elements which are often used by publishers for ads and also for visual elements such as animations – added an extra 6% to 68% of mobile data usage.

For mobile users most of whom are on a limited data plan, that's just way too much valuable data being wasted by ads. And this is why Ad Blocks have gradually made their way into various mobile browsers as well. Integrated Ad Block helps conserve data as well as preserve performance, and thus, we see a similar trend emerging in the desktop markets as well.
The Internet of Ads: Scenario on Desktop
The desktop market has a much more significant contribution to the Ad Blocking Industry. In fact, nearly 98% of this $21.8 billion industry came originates from the desktop PC. However, the most recent breakthrough in Ad Blocking technology has come from Opera when they decided to implement a measure that had hitherto been for mobiles only.
While most of the popular browsers including Google Chrome and Firefox have an option for an Ad Block extension, none of them can meet the performance and ease of use of having one inbuilt like the latest iteration of Opera browser. Why this is particularly important is that this represents a fundamental departure from the way we used to look at Ad Blocking. Till now, most browsers have an option or an extension for an Ad Block, but Opera is the first one to integrate Ad Blocking in the browser, which can be activated with a single click. The browser current owns 7.76% of browser market share on Mobile/Tablet and 1.68% share of Desktop browser market.
This is a paradigm shift as someone who will be accessing the Internet for the first time through the Opera browser will get the best experience possible and not have to deal with Internet Ads even without knowing nothing about it. In fact, we have come to such a stage where many companies are considering that getting rid of traditional ads on the Internet is the way to go and are proactively blocking ads from their customers in order to provide a better online experience.
How have publishers reacted to this new change? We find out in our ending segment.
The Future of Ads
90% of Google's and 96% of Facebook's Annual Revenue comes from the Ad Industry. It, therefore, comes as no surprise that these companies are trying their best to resolve the Native Ads situation. With the introduction of  Google AMP, Apple News, and Facebook Instant Articles, we find that these Internet behemoths have now jumped into the fray and taken matters into their own hands. Through their own curated platforms, they can regulate the number of ads that the audience is viewing thus always making sure the experience is optimal.
While publishers have been skeptical of handing over their content to 3rd party sites in the past, the recent developments in the Ad Blocking Industry seem to have driven them into a corner. With Hardware partners like Apple and Samsung coming aboard the Ad Block train along with carriers like Three in Italy and the UK, and Digicel in the Caribbean, it seems that content publishers find themselves between a rock and a hard place.
"Publisher mobile pages are bloated and advertising is an enormous part of that," Enders says in the study.
So what can Publishers do about it? Especially when alternate forms of advertising like Native Advertising is also under fire from Ad Blocks and have been proved to be not as effective as forms of direct banner ads and pop-ups in the past. The answer lies in alternate forms of reaching the audience and below we have underlined a few ways the online advertising industry could evolve.
"Some consumers will pay or find other ways to opt out of advertising, but this will not impact this growth of mobile advertising which is set to become the majority of global digital advertising spend and to transform and enhance other global ad markets such as TV brand advertising." said Stephen Upstone, chairman of the Mobile Marketing Association in the UK and CEO of video ad tech company LoopMe in an interview to the Buisness Insider.
And in fact, the sad reality of the future of mobile ads lies in the fact that as our devices and lives get more interconnected, we are moving away from annoying data hungry banner ads and auto-play videos to sparse intelligent and targetted ads. Somewhere down the line in this transition, we might lose our anonymity and privacy on the Internet as we each become separately profiled based on our interests so that the content we consume can pay for itself.