Update 1: March 17, 11: 45 PM: Ola has responded to the story and rejected the possibility of any such layoffs. In an email to us, Ola clarifies that the company continues to grow fast and is focused on hiring top talents. They also went on claiming that the unicorn has no plan to layoff those employees who will be affected due to restructuring.
"We categorically deny the baseless rumoring by certain sections of the media on potential layoffs in the company. We continue to grow fast and hire top talent to be part of our mission of building mobility for a billion people. All staff from experiments that were recently concluded either continue to contribute to our core business or are part of new initiatives. We urge the media to report responsibly and verify facts with the company before publishing."
====================================================================
The bad news for many employees working in startups in India is showing no sign to die down. The latest one comes from app-based cab aggregator Ola Cabs, which is reportedly going under restructuring to counter the growing competition in cab aggregation industry. According to the multiple people close to the matter, Ola Cabs is willing to stay focused on its core business model instead of offering a bunch of services and compete with rather much smaller players in that segments.
The restructure at Ola Cabs will apparently attract layoff as well, which will only add the mounting pressure on startup ecosystem of India. In the last few months many startups, especially Delivery startups, had to layoff hundreds of employees due to drying funding options. Just last Friday, another unicorn startup in India Quickr, reportedly laid off nearly 150 – 200 employees of CommonFloor, the acquired startup operating in online real estate. But this is not just one of the news making rounds on the Internet, the startup sector in India has seen more than 2,980 jobs cut since 2015, and the number is rising with each passing week.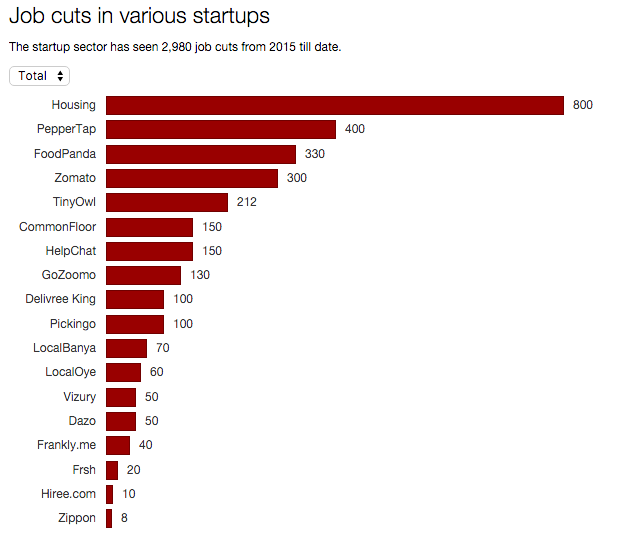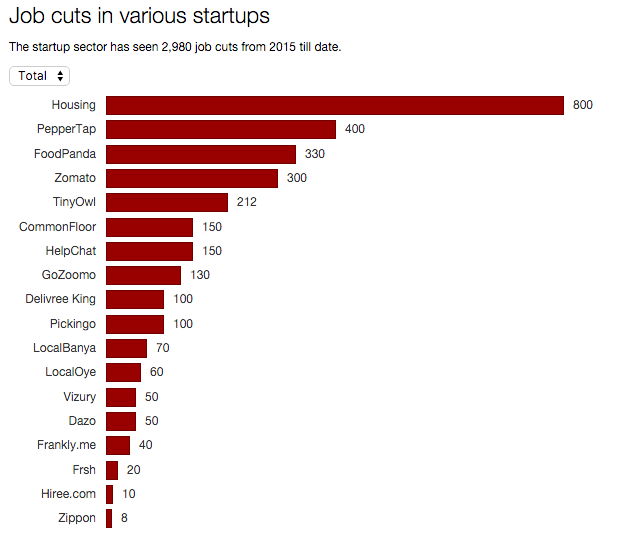 Behind Ola Layoffs And Restructuring Decision
So, what made Ola Cabs to think it's time for restructuring and let go hundreds of employees who may have rejoiced enough while joining the unicorn startup? The answer lies in the changing equation in startups ecosystem in India. After an aggressive fund raising approach adopted by many startups for more than 6-7 years, it's time to pay back. Most of the small-scale investors and VC firm who generally don't prefer to keep all their eggs in one basket and diversify their investments at regular intervals are seeking returns. Consequently, the pressure on co-founders of well-funded startups has been mounting. Under such circumstances, most of the funded startups are left with no other options but to suspended all the experimental activities and extravagant initiatives. Ola's latest decision to shut down its food and grocery delivery arm, Ola Café and Ola Store, comes on the heel of such investment conditions.
However, neither investors nor the company is ready to agree with the viewpoint. Instead, they claim it's rather more beneficial to channelize all its resources, funds and time to dominate one area.
"It's better to be a leader in one category than to be second or third in multiple businesses," said an investor in Ola, requesting anonymity.
Alas, funded Indian startups, and investors baking such startups, are too late in reading the writing on the wall.
Interestingly, the decision to restructure Ola has come at the time when arch rival Uber has openly challenged Ola's market domination in India. In a recent interview with Livemint, Eric Alexander, Uber's President of Business Asia, has claimed that Uber will overtake Ola in terms of market share in India in the next 30 days. Eric went on spilling more beans on Uber's India-focused strategy and why the San Francisco-based startup sees India as the most important market to keep its growth intact.
"India and China are the two fastest growing markets in the world for Uber, period. India has grown very fast at almost 40% month over month. In January last year, we were at 5% market share. Now we are right at the edge of 50%. I would say that within the next 30 days we would beat them (Ola). We will surpass them very, very shortly," says Eric.
Definitely,  Eric's statement has created waves among Ola's management and made the company pulled the socks up. The statement, however, is not the sole reason behind Ola's restructuring decision. In a recent interview with ET, Ola's CFO Rajiv Bansal revealed Ola's vision to go for an IPO as soon as possible. The company has raised $1.8 billion so far and clocked the valuation of $5 billion in the latest round of $500 million funding.
Ola wants to stay focused on its core business of cab aggregation, along with the wallet. While the wallet is yet to be launched as a stand-alone business, cab aggregation is becoming more challenging nowadays. Reportedly, drivers are no more finding joining Ola as lucrative affair like earlier after the company has suspended the free flow of incentives and few other benefits amid to the pressure from investors.
In such scenario, Ola needs a more focused approach to the market and can't let go under-performing business units unpunished. Going further company wants to spend each raised bucks more precociously as Uber is making moves that could cost a dear for Ola.