One of the defining factors of being human is the ability to feel a myriad of emotions and be able to share them with our compatriots. Is it any surprising then, that a recent SimilarWeb report has discovered that Social Media apps on Android platform are the ones which most smartphone users interact with, and get bored and uninstall the least. Looking at it from a category perspective also yields pretty much the same result with News and Magazine, Productivity and Communications having the highest usage as well as install retention rate.
Surprisingly enough, despite the attention-snaring nature of games, we find that the Mobile Games market struggles to maintain user engagement on the long term despite doing marginally better than most other apps in captivating the users' attention in the first week of installation. In fact, while for most Android apps, the uninstall period is 8 months, it comes down to just 7 months for most gaming apps. So why are some apps so good at gaining the attention of their users while others fail to do so? While utility and user-friendly interfaces are vital for an app to make its way into a consumer's heart, today we will be taking a more nuanced look at the various other factors and how they affect apps, as a category and sometimes as well as among its competitors!
What Actually Happens After an Android App Gets Installed?
For most developers in the highly competitive app market, each new installation is counted as a minor victory. However, often, these installations result in more wasted resources and time as users tend to uninstall apps putting all the App Store Optimisation in vain.
In fact, the lifetime of an average app on Android platform hovers around 8 months, but the gaming apps having an even slimmer life span of 7 months on a user's device. As the graph above points out, the uninstall slope is gradual which points out that as more and more time passes, users tend to forget about apps that they don't use daily. In and around the 5-month mark, the uninstallation spree really begins. The first 3 months are the golden period for Android apps with over 90% apps retaining their installs. Games have it tougher here as well, with 83% app install retention.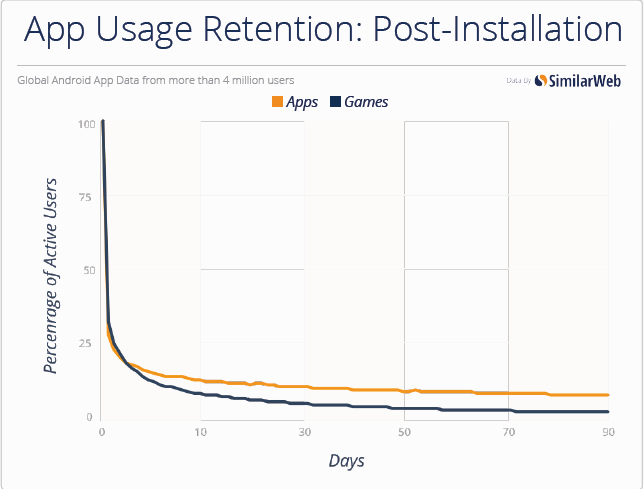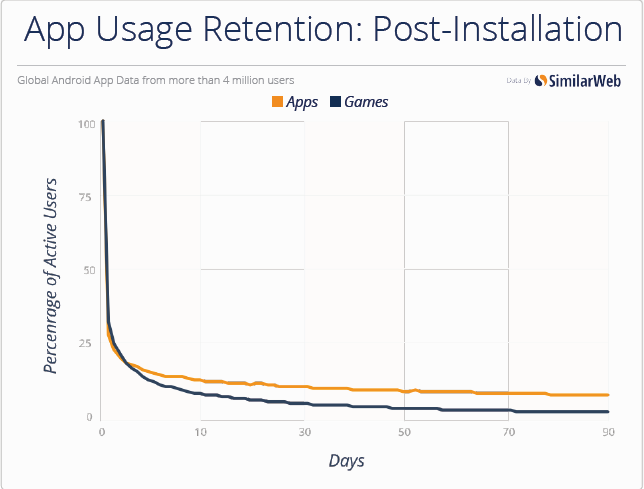 So as we saw in our previous segment, apps have a small window of a few months to make an impression on a user or run the gauntlet of getting uninstalled. But that scenario couldn't be further removed from the truth. As the graph above demonstrates with frightening clarity, Android apps don't have months to create an impression on their users. They mostly have a week, sometimes even less.
The first 3-7 days thus becomes incredibly critical for app developers as this is the time when the user interacts with the app the most. After the 7 day mark, user retention drops down pretty drastically, and we see that at the 3-month mark, the average usage retention drops into single figures at 9% while android app installation still remains at a very steady 90%.
However, this statistic varies widely from app to app, and lower daily usage doesn't always mean that the app is faring poorly. In fact, some apps that are meant to be used intermittently fare very well despite having a low daily usage retention. To highlight how many installation and usage retention contribute to the success of an app, we had on over to the next segment!
Social Media, Communication and Productivity Apps Rule the Roost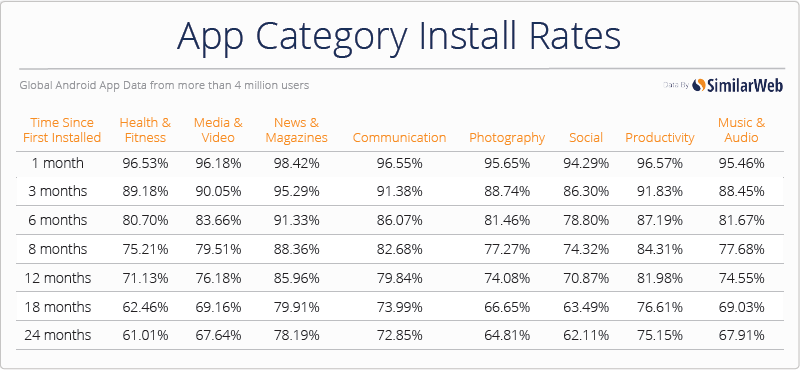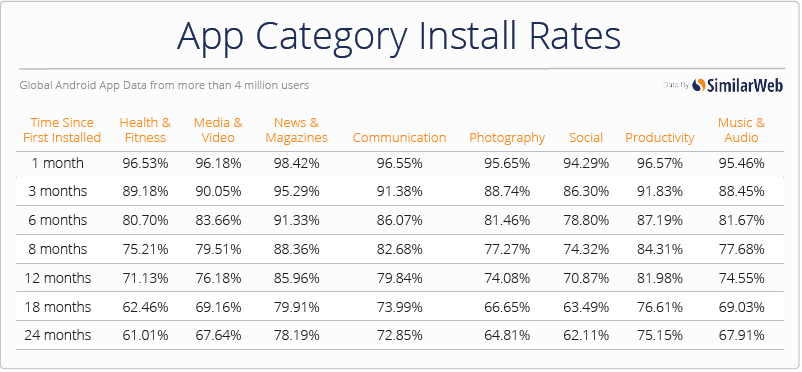 Taking a look at the individual app categories, we find that News and Magazines, Communication and Productivity have high installation and high usage retention rates at the 3-month juncture. This is to be expected as Communications and Productivity apps on Android platform are generally downloaded out of a specific necessity and continue to be used fairly often (install retention rate north of 90%) pretty deep into their life cycle. The same goes for News and Magazine Apps as well!
Games fare quite well in this regard. Most games have fairly high retention rates especially the casual puzzle and arcade titles. While the 83% install retention rate is fairly impressive, games tend to fall flat on their face in our next criterion of judgment; user retention.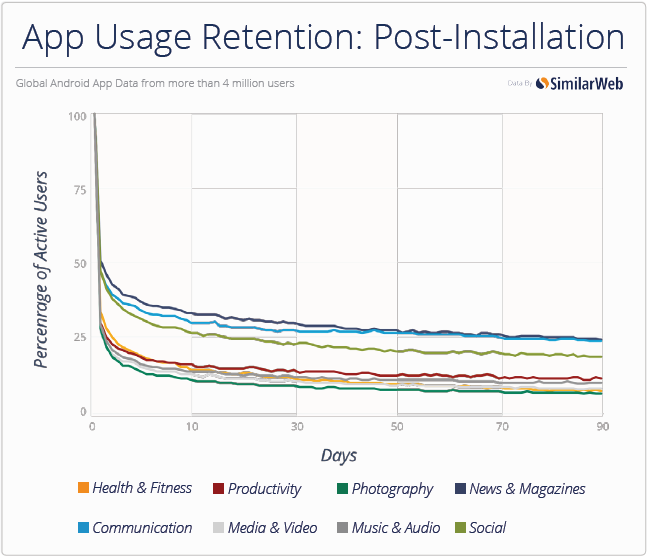 Music and Audio come into the top three in this regard and are joined by the other two contenders News and Magazines and Social Media. None of the top three android apps in the fray come as a surprise since these are probably the apps that most people use at least once a day in their daily lives. Games seem to loose their steam in this metric as we find a meagre 3% of people using a gaming app daily, 3 months after the initial installation.
Summing it all up, we have condensed the app categories by these two metrics in the bullet points below:
Social Media Apps: High Installation Retention and High Daily Usage.
Dating Apps: Low Installation Retention and High Daily Usage
Productivity Apps: High Installation Retention and Low Daily Usage
Health and Fitness Apps: Low Installation Retention and Low Daily Usage
Gaming Apps: High Installation Retention and Low Daily Usage
Final Thoughts on Making a Successful App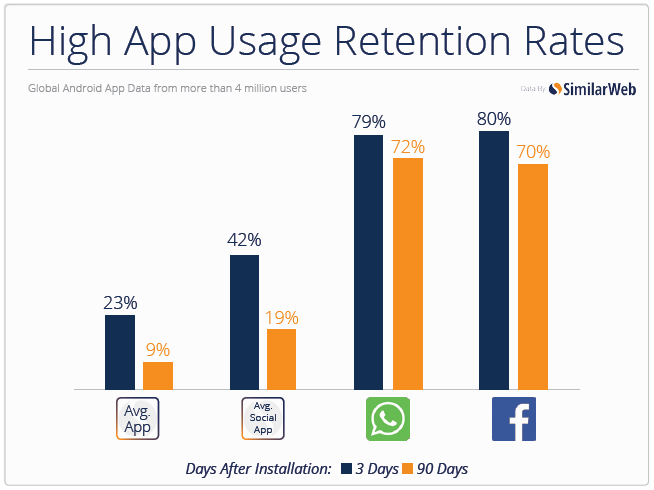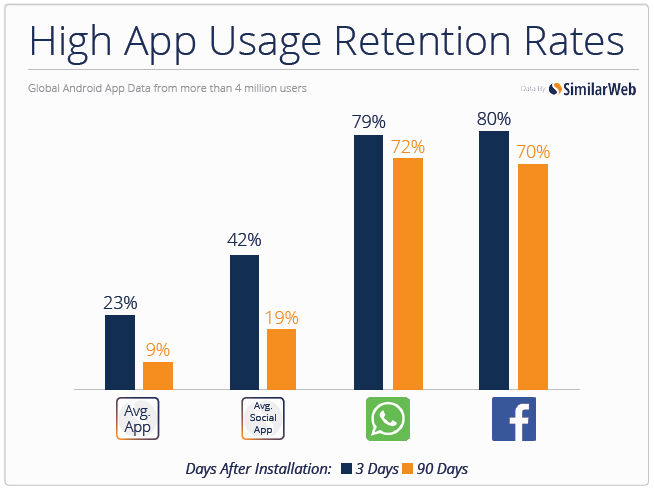 Before we detail the blueprint of making a widely successful app, let us first take a step back and see what forms the bulwark of the big name players in today's Android app industry. As the graph above portrays it, it all comes down to user retention. Facebook and WhatsApp both have high installation retention rates, and more importantly, they have high retention rates as well. In fact, nearly 4 out of 5 every person that download any one of these two social apps, keeps using them heading into the 90-day mark. And that is significant as we see that both of these apps have crossed the 1 billion active monthly users mark in the recent past.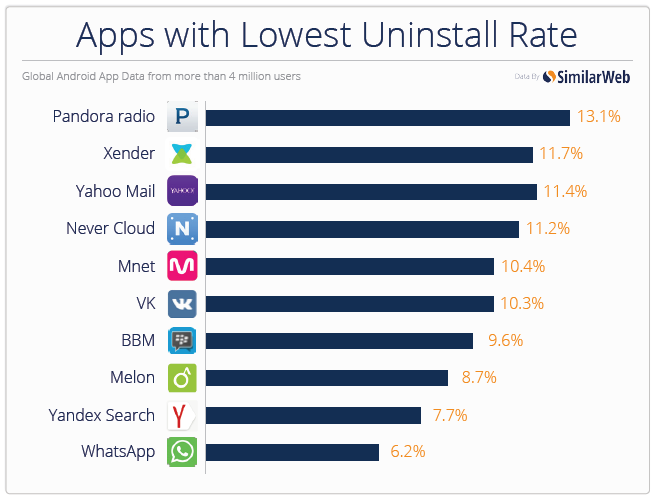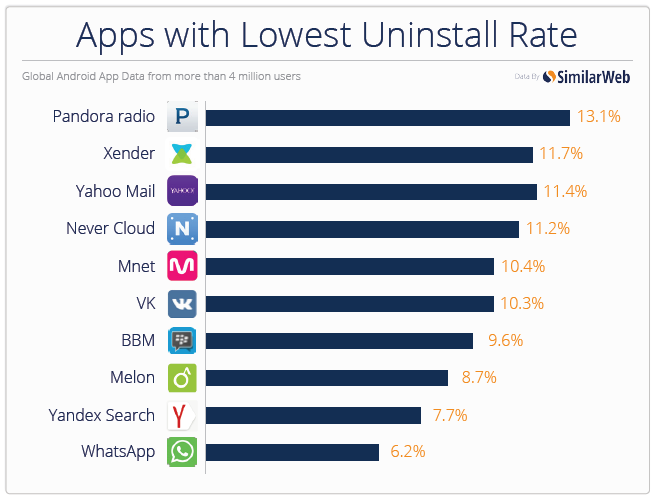 While the android app usage department had been ruled by social media apps, we find that productivity and entertainment apps claim their stake in this graph! This brings us squarely to our ending statement. As a new developer, which category of Apps should one focus on?
While there are no such hard and fast rules as people have found success both monetary and otherwise in making apps in various categories, here are a few pointers for a new app developer to keep in mind:
Initial Impressions: In the Android app universe, if it's not the love at first sight, then it becomes very difficult for the app to retain the user. As a result, Android app developers should focus more on creating innovative designs and UIs that would make the customer want to interact with the app.
Continued Usage: To convert a one-time customer to a daily visitor is one of the most difficult tricks of the trade, Apps like Amazon and a few other e-commerce apps seem to be ahead of the others in this learning curve.
Gaming Apps Are Difficult: Riding the surge of the mobile gaming industry, many new developers may have set their sights on gaming apps as their first foray into the mobile app industry. However, gaming apps on Android platform typically tend to fare worse than their counterparts at user retention. Puzzle, Arcade and Casual Games may be the only saving straw with higher retention rates although, on the flip side, their uninstallation rate is on the higher side as well.
Tim Cook once famously said, "Anything can change, because the smartphone revolution is still in the early stages."
And we think that apps are ushering in a new era of the smartphone revolution. Where they take us in the future will be one, we're all curious to see!