If you think that "everyone" has a mobile phone, well, you're almost right. According to a 2015 report from Cisco, 5.5 billion people will own a mobile phone by 2020 – a staggering 70% of the world's total population. What was one simply a means to communicate on the go, mobile phones have become vital tools to our everyday lives. We bank, shop, seek information — basically anything we can do on a desktop computer, we do on mobile.
It only stands to reason then, that using our phones to pay for goods and services is a logical step. After all, most of us have our phones in hand majority of the time, so why not use an app to pay for the things we buy every day? At least, that's the motivation behind the recent introduction of mobile payment technology, including ApplePay, Samsung Pay, and Android Pay, which are ready to take over global retail industry. Not only is it fast and easy to pay using a mobile device, it's actually more secure. Mobile payments are tokenized, much like the process used for chipped credit cards that prevent consumer financial data from being sent over the network in a readable format.
Mobile Pay: A Work in Progress
Unfortunately, though, despite the advantages of mobile payments, they aren't catching on with consumers as much as expected. According to the latest study from Trustev, only about 20 percent of Apple device users in the US have actually tried ApplePay, and among those who have tried it, 56 percent report that they use it only once during a typical week. The numbers for Samsung and Android Pay users are even lower, with only about 14 percent of users reporting that they use the technology, and 36 percent of those people calling themselves "weekly" users.
What's interesting about these numbers, though, is that while overall usage numbers appear to be low, among the people who do use the technology, satisfaction is high. When Samsung Pay was in beta, more than 90 percent of the users who tried it said that they liked it, and would recommend it to others. Apple reports a similar rate of satisfaction — and predicts that usage will increase by more than 100 percent in the coming year in large part due to the high levels of satisfaction.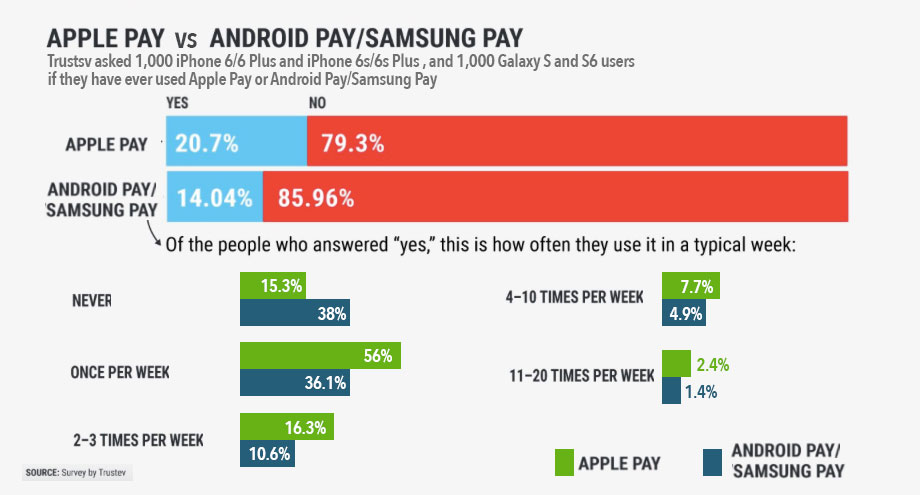 The question remains then: Why are so few people using mobile payment technology, aside from mobile credit card processing tools? Experts have thrown out several theories, ranging from concerns about security to a perception that using a credit card isn't that difficult to begin with, but the most oft-cited reason for not using mobile payment technology has nothing to do with customers, and everything to do with merchants. Quite simply, there aren't enough businesses that accept mobile payments.
How Mobile Payments Will Benefit Small Business
Many major retailers, including Target, Whole Foods, and Starbucks, have adopted, or will soon adopt, mobile payment technology and allow customers to pay using their phones. However, surveys indicate that only about 23 percent of small businesses have embraced the technology. Business owners give several reasons for not offering the ability to pay by phone, but most come down to cost.
While it doesn't cost merchants anything to participate in mobile payment programs, they do need to devote time and resources to installing the readers for the technology, as well as getting set up with each program. For many small businesses, mobile payments are just one more headache to deal with.
However, avoiding that headache could prove costly in the long run. There's a growing sentiment that as more consumers use mobile payment technology, they are going to expect to use it everywhere. Therefore, business owners who are not adopting mobile payments need to consider that:
Mobile payments make customers happy. Users of the technology report that they appreciate the faster transactions times and the option to not carry cash that mobile payments allow. A 2011 American Express report revealed that three out of five customers will give up a favorite brand if they can get a better experience elsewhere — and nine out of ten will spend more on a brand that provides excellent service.
Customers spend more when they can use mobile payments. One study of Apple Pay showed that customers spend 25 to 50 percent more per transaction when they can pay via phone.
Mobile payments offer greater customer insights. Using mobile payment services gives small businesses more tools to track inventory and customer behavior, without investing in expensive analytical software or spending time on extensive audits.
Taken together, it's easy to see how accepting mobile payments can help a business to grow. If you are one of the 87% of small business that isn't yet accepting mobile payments, you could be missing out on a golden opportunity to help your business thrive and attract new, loyal customers. As the technology builds momentum, you do not want to be left in the dust.