A Chinese Internet consortium, comprising of Kunlun Tech, Qihoo 360 and other firms have offered a jaw-dropping $1.2 billion buyout to Opera, the company largely known for its browser. The agreement obliges Chinese companies to get 100% stakes of the Norway-based company, Opera. On Tuesday, the board members, unanimously, agreed for the acquisition. This saviour comes at the moment when Opera was planning to take off its browser division in a separate entity. The resultant of this acquisition, Opera will continue to live.
"After careful consideration of the various opportunities for the Company and the proposals received, the Board has concluded that an acquisition of Opera by the Consortium is the most attractive proposition for the shareholders, the Company and its employees."
According to the Norwegian giant Kunlun and Qihoo are leading Internet Chinese firms and the transaction will allow Opera to get a foothold in the vast Chinese market along with the user base of Kunlun and Qihoo. This camaraderie, apart from financing, will unleash the full potential of this browser.
In a win- win situation, Opera's user base will provide a platform for Kunlun and Qihoo to sell their products. Opera also has a leading mobile advertising platform with a recorded increase of 11%, scaling to $96.2 million for a YoY growth in Q3 2015.
Opera Browser Market Share
Opera browser's desktop market share stands at tiny 1.58% in January 2016, among its worldwide competitors, with an increase of negligible 0.62% from January 2015. The fiercest competitor comes in the form of Google Chrome, who is providing Opera with a stiff competition at Desktop and Mobile platforms.
Google Chrome saw a huge surge of 11.51% between January 2015 to January 2016 in browser's desktop market share. The noticeable point is that even by discontinuing updates for Windows XP, Windows Vista and Mac OS X 10.8,10.7 and 10.6, Chrome is able to substantiate its market share in the desktop segment. Microsoft's push to its users for updating their Internet Explorer browser to Internet Explorer 11 by 12th January 2016, has made many users switch to Google Chrome.
The new entrant, Microsoft Edge, also looks promising and is the default browser for Windows 10. This newbie has a longer path to tread and to create a niche for itself, because of the lessened adoption of Windows Phones and the presence of gladiators like Chrome and Opera.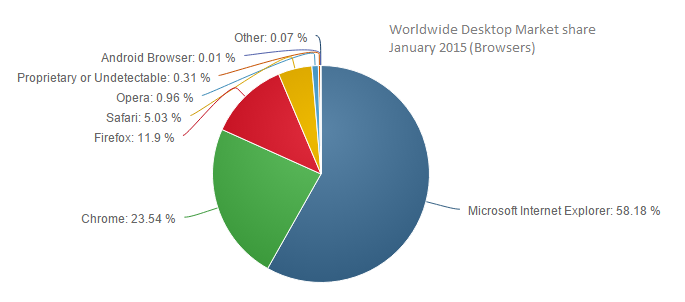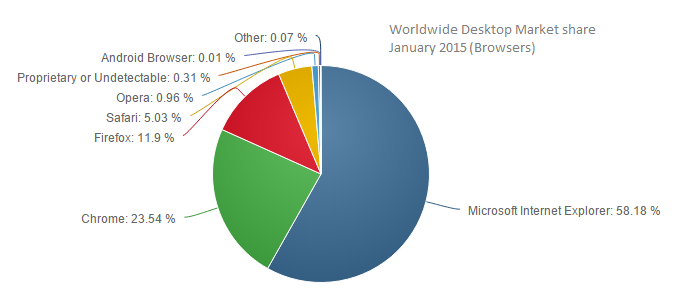 Opera browser's mobile and tablet market share worldwide for January 2016, stands at 7.92% with a surge of 0.19% in January 2016 as compared to January 2015. Sundar Pichai's brainchild, Google Chrome has proved to be a spell bounding moment for mobile and tablet sector, recording a jumbo growth of 14.89% which is eating up the market of Apple's Safari. 
Opera accounts for faster browsing than Chrome and reported a 70% speed surge in its version 31, but the unbelievable growth of Google Chrome can be attributed to its flexibility; allowing users to access their account from anywhere and using any device. Through one Google account, a user can automatically login into various Google Products account like YouTube, GMail, Google Drive etc. The flexibility feature is missing in many other browsers including Opera, making them less attractive, as the Jack of all trades, Chrome, takes over the browser world quietly. Firefox failed to impress, as being the only open-sourced mainstream browser.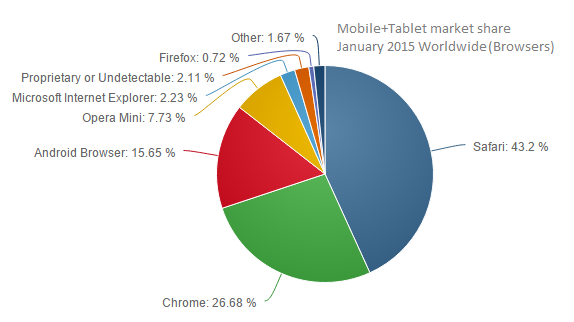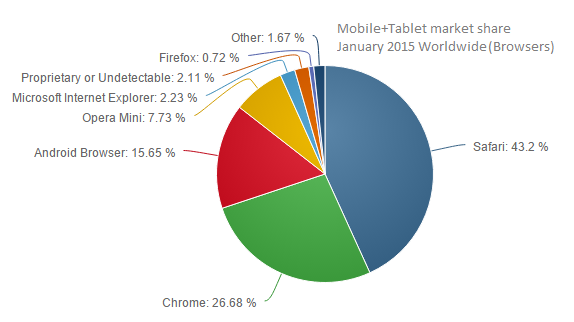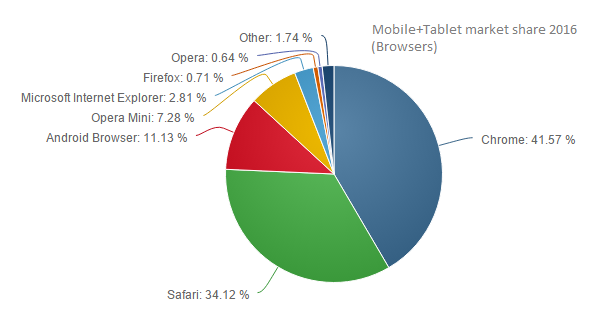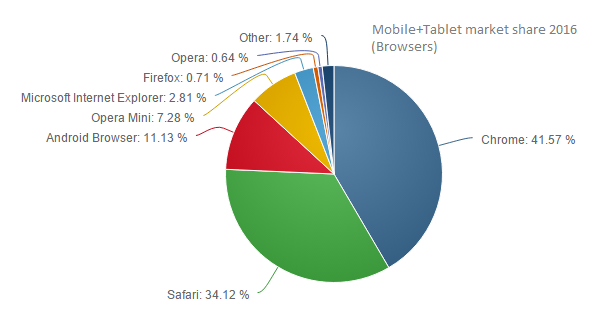 Opera Browser Market Trend
Opera browser's desktop market trend worldwide for January 2016 stands at 1.58% with a stunted increase of 0.43% from March 2015.
Universal Mobile and Tablet market share of Opera Browser has taken a hit of 0.56% from March 2015 to January 2016, ending at 7.28%.

The rise Google Chrome in mobile market can be credited to the fact that, Goggle Chrome is preinstalled on Android devices, which accounts for 58.75% of the total operating system, making Opera Browser face strong winds in the mobile world. It also explains the Average Market Share and Market trend of Safari browser, despite the large number of Apple iPhone being sold, as the total number of Android devices have massively surpassed the iPhone sales in the global market. Whether this grand move towards acquisition will float Opera's boat in the troubled waters or will it be the end? There's only one way to find out, one needs to sit patiently to watch how this Norwegian flares in the Dragon's arena.