When everyone was cozying up for the chilly weekend, Indian Telecom minister Mr. Ravi Shanker Prasad enthusiastically revealed the enthralling figures of the smartphone market in India. Apart from the approval of several new mobile plants to be build, he also mentioned some of the future prospects at Global Business Summit in New Delhi on Saturday. During the same event, Mr. Shanker also announced his support for the upcoming Project Loon by Google (Nasdaq:GOOG) and White Space Spectrum by Microsoft Corporation (NASDAQ: MSFT).
He said, "Today, I' am happy to announce that in December, Rs 1.14 lakh crore ($167 billion) investments have come in electronic manufacturing in India. We have attracted around 15 new mobile plants."
Mr. Prasad expressed his jubilance for the substantial rise in the number of mobile phones units manufactured in India, the figure stood at 100 million units in 2015 compared to 68 million units that were manufactured in 2014.
As India is rapidly emerging as a new technological hub, the telecom minister assured of broadband connectivity in the remote areas to provide internet connection to the less fortunate as well.
The fascinating number of smartphones being manufactured in India is a clear indicator of the flourishing budget phone market, especially smartphone. Due to ever increasing consumer base in India, the smartphone players are now targeting the budget phone market providing the state of the art features at a minimal price. China still rules the largest consumer base albeit its shipment market share is likely to drop from 32.3% in 2015 to 23.1% by 2019.
Indian Cellular Association founder and President, Mr. Pankaj Mohindroo, also appeared overwhelmed by the figures and praised the government for making sincere efforts to boost the mobile phone industry and, in turn creating jobs and attracting investments.
Under the influence of Make In India campaign initiated by India's Prime Minister Mr. Narendra Modi, unfathomable investment has poured in various sectors. The Make in India campaign eased Foreign Direct Investment (FDI) in India and permitted the Foreign Direct Investment Board to approve worth Rs 50 billion ($736 million) projects compared to Rs 30 ($441 million) billion in the previous year.
Last year after discovering India as the 2nd largest market base, Chinese smartphone manufacturer Xiaomi decided to set up its manufacturing plant in India. But Xiaomi is the not the only to set up its first manufacturing unit outside China. Lenovo, Gionee, Oppo, Huawei are the other ones investing billions of dollars in setting up their manufacturing plants in India.  Samsung and LG, however, are already manufacturing a wide range of their mobile phones in India since 2006 – 2007.
The rise of smartphone manufacturing plants can be attributed to the following reasons:
India being a price sensitive market, the rise of low budget smartphones market was quite expected. It must also be noted that the smartphone market in China and US has reached its saturation point and all eyes are glued on India. During the first half of 2015, nearly 49% of the sales of smartphones in India belonged to the sub-$150 category while 71% of the sales were attributed to sub-$200 category. Installation of the free Wi-Fi at railway stations across India by Google or the initiation of Free Basics in India by Mark Zuckerberg, proves the potential of the mobile internet.
According to the report by Counterpoint, smartphone shipment in India marked 20% annual growth and 12% sequential Growth in Q3 2015. 1 in every 3 mobile phone shipped was a smartphone while 1 in 3 smartphones were LTE smartphones.
Another report by counterpoint remarks that 94% of the smartphone market in India is dominated by top 20 smartphone brands while 15 brands have assembly operations in India.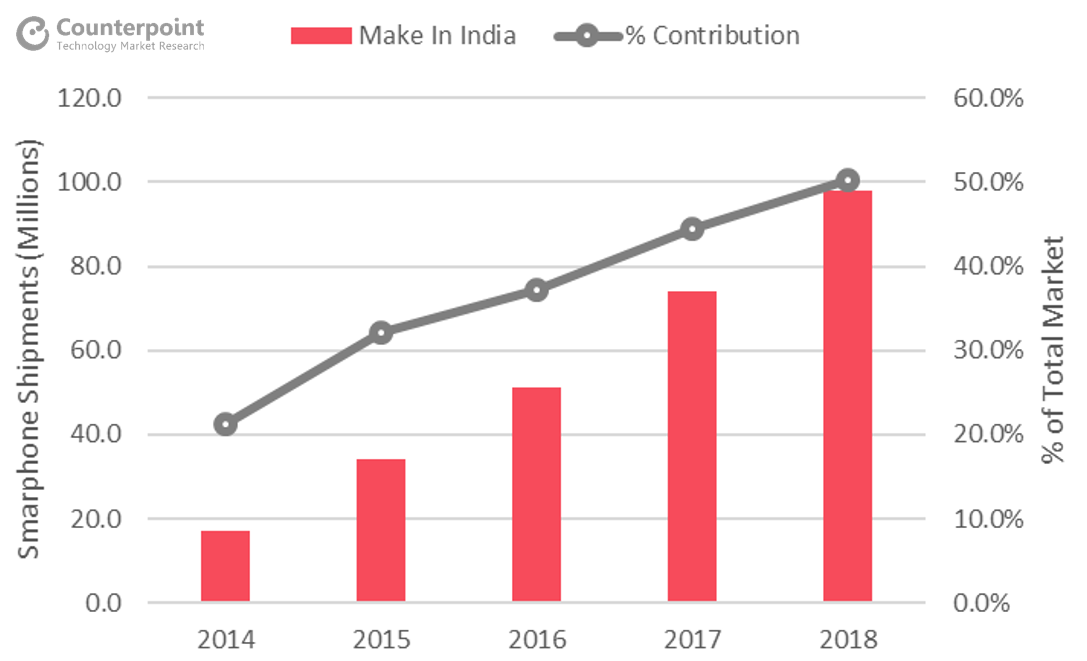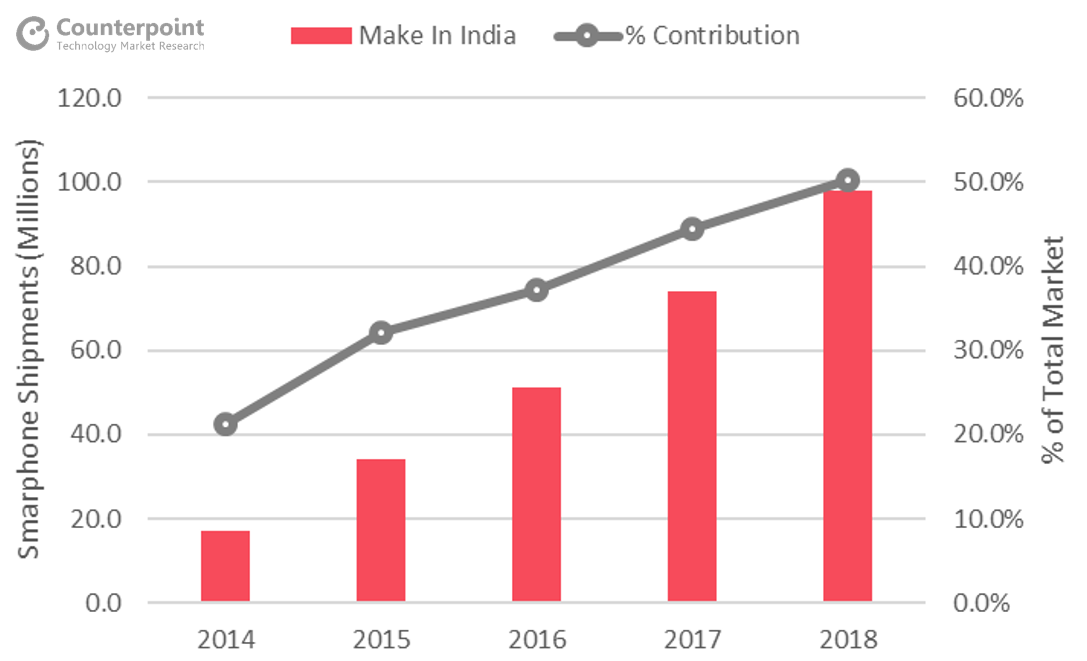 On the flip side, Indian smartphone manufacturers, likes of Micromax, Karbonn and Lava, are facing the heat from this development. With increasing competitiveness from foreign smartphone brands and setting up their manufacturing plants in India, may demotivate the Indian smartphone brands which lack experience in this field.
The most important attribute is that most of these manufacturing plants are set-up solely focussing on assembling their products. In the absence of supporting ecosystem, i.e. manufacturing of chipset, integrated circuits and body parts, setting up a full-fledged manufacturing unit in India is practically impossible – at least, for now.
Under Modi's rule, efforts have been made to reduce and relax taxation, setting up Special Economic Zones (SEZ's) and many incentives and perks are being provided to the companies which will bear the fruits eventually.
 Google's Loon project and Microsoft's Spectrum project will help in connecting the 90% of the Indian population, who presently do not have any access to the internet access. Only 980 million users have access to mobile phones and these projects aim at helping in building a better society. The installation of free Wi-Fi at the railway stations in India initiated by Google and Railtel is welcomed by Indians with both hands as in today's world Internet has become a necessity for mankind.
Final Verdict:
Most of the smartphone manufacturing plants in India only focus on assembling their products. The emphasis should rather be on research and development as there is a major shortage of raw material manufacturers in India. The lack of chip manufacturing units is a major concern as a majority of the raw material still be imported. China has the upper hand in manufacturing due to the presence of local raw material manufacturing industries.
The lessons must be taken from the automobile industries, the way the domestic and foreign automobile honchos made India a major automobile hub for manufacturing and research and development. The automobile industry is a mixture of Indian and foreign manufactured cars, both finding their own user base. The same route shall also be traversed by the smartphone manufacturers focusing on Indian as well as the foreign manufacturers.