Prior to 1959, no one, ever, must have imagined that any man made object could land on the moon. However, in 1959, the first man-made object to land on the lunar surface was Soviet Union's Luna 2,  and then the big leap happened. In 1969, Neil Armstrong created history by becoming the first man on the moon. India arrived on the space race finish line in 2008 with it's maiden Chandrayaan mission. But, with Mars Orbiter Mission, India became the first country in the world to reach Mars in its first attempt and the ISRO has become the fourth space agency in the world to reach Mars.
Privatization of space programs can be regarded as mankind's next step to explore the vast and magical universe. From Elon Musk's utopian SpaceX organization which manufactures and launches advanced rockets and spacecraft to Jeff Bezos' Blue Origin program that also runs space programs, Google has launched Google Lunar XPRIZE. XPRIZE aims to provide a platform for budding entrepreneurs belonging from any walks of life and of any nationality, to develop an economical and resourceful access to the moon and in turn, the winner will be rewarded with gratifying $30 million.
The only Indian entry to the Google Lunar XPRIZE competition, Team Indus is as an unconventional team comprising of a former Indian Air-force pilot, management guru, a serial entrepreneur, a branding expert and an aerospace engineer. Driven by enthusiasm and mysteries of the universe, Team Indus defied every odd, irrespective of the fact they had no experience in space technology and made India proud by winning $1 million XPRIZE in the Landing category. By leading India into the next generation of space research and exploration, Team Indus is creating a niche for itself in Indian aviation and space industry.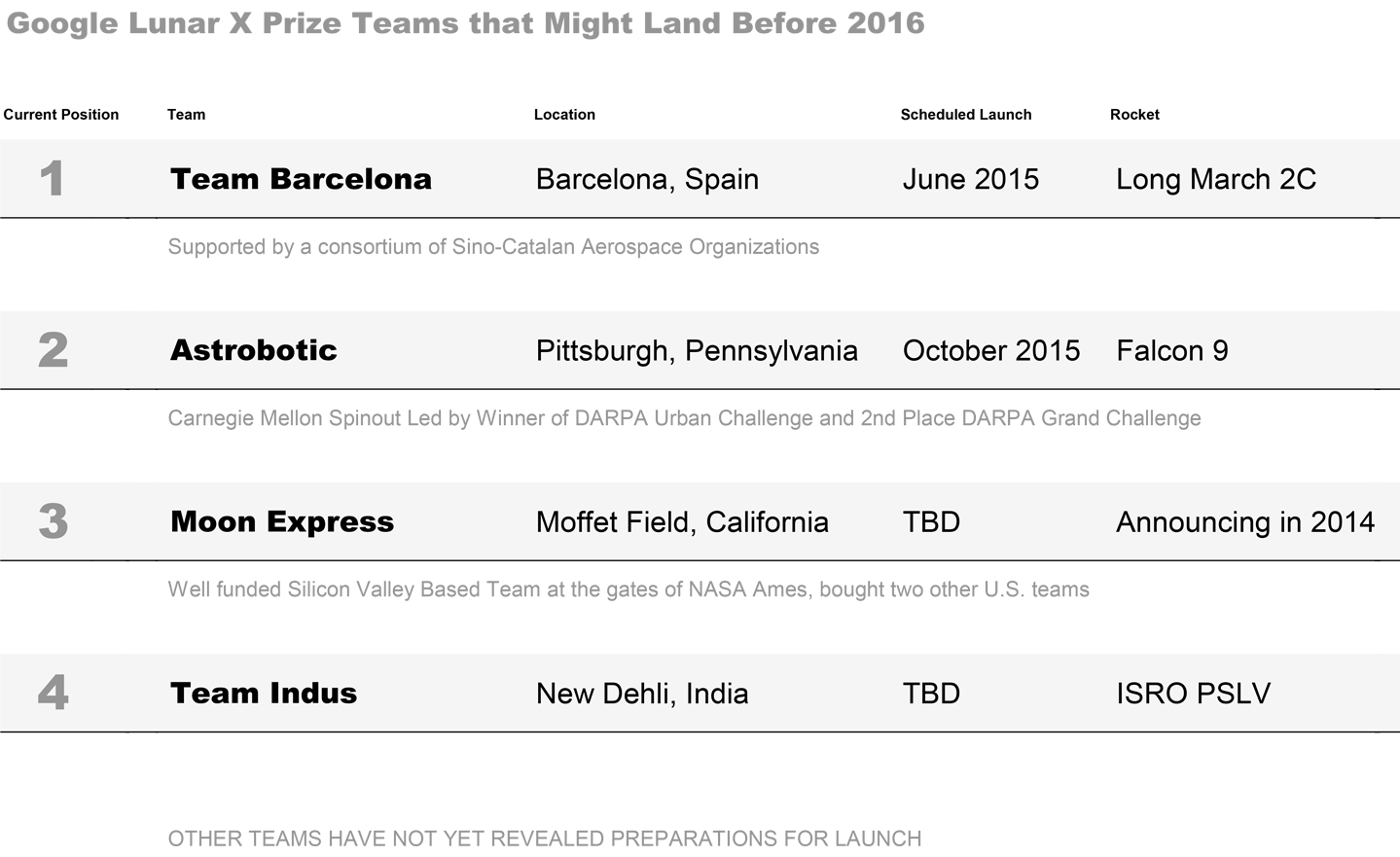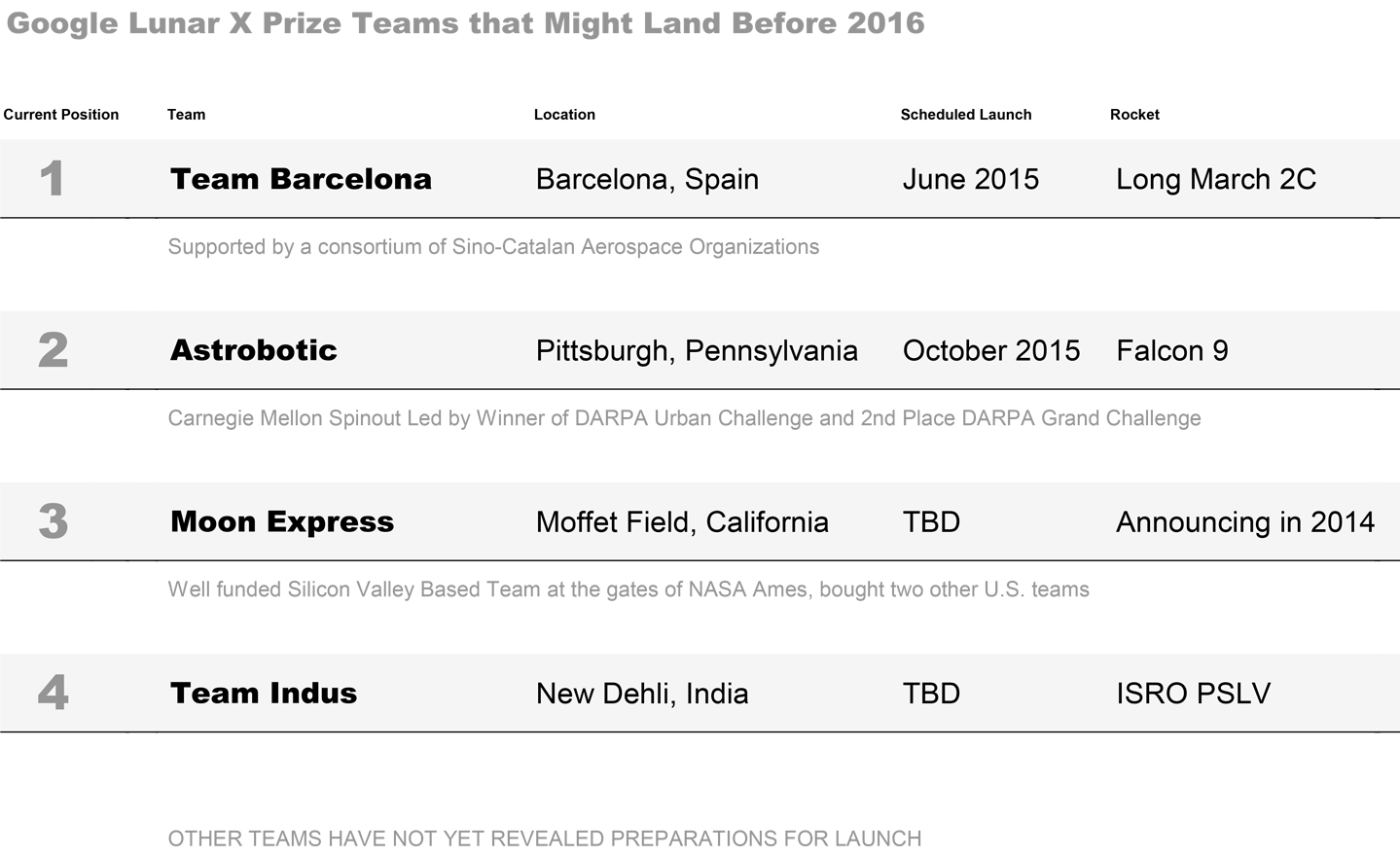 Out of the 30 entrants, only 16 have survived the heat till date. India stunned everyone by winning the Landing Prize, despite the fact that its competitors have huge funds and sharp brains from leading universities and enterprises for example; German team has the backing of leading car manufacturer AUDI to develop 'AUDI Lunar Quattro', Israel's 'SpaceL' has the backing of country's top institute while 'Moon Express' has billions of dollars in funding.
The competition involves, landing a privately funded rover on the moon's surface, then treading a minimum of 500 meters and transmitting high definition videos and images to earth. The prize money is $20 million for the winning team which completes all the challenges while the runner-up will receive $5 million as the reward. The rules of the competition allow 90% of private funding, in addition to obtaining a verified launch contract till the end of 2016 to complete the mission till the end of 2017.
From scraps to glory; Team Indus is all set to make a bigger mark in the space industry
Partnered with Tata Communications, Larsen and Toubro, Sasken Communication Technologies and a network, comprising of 12 veteran ISRO scientists and 40 system engineers with an estimated budget of $35 million, the resolute Team Indus is all set to give a firm competition in the ongoing Google Xprize event.
The jigsaw puzzle: The amateur start-up in the space industry is a vision-driven organization akin to ISRO, for whom making money is secondary but making history is primary. Founded in 2011 by Rahul Narayan, an IIT Delhi alumnus, Team Indus uses unconventional work titles; Narayana is titled fleet commander while Ravishanker, the HR, is the Jedi master. The teams in Team Indus are small and flexible and apart from doing their job, the teams are advised to spend some time with each other.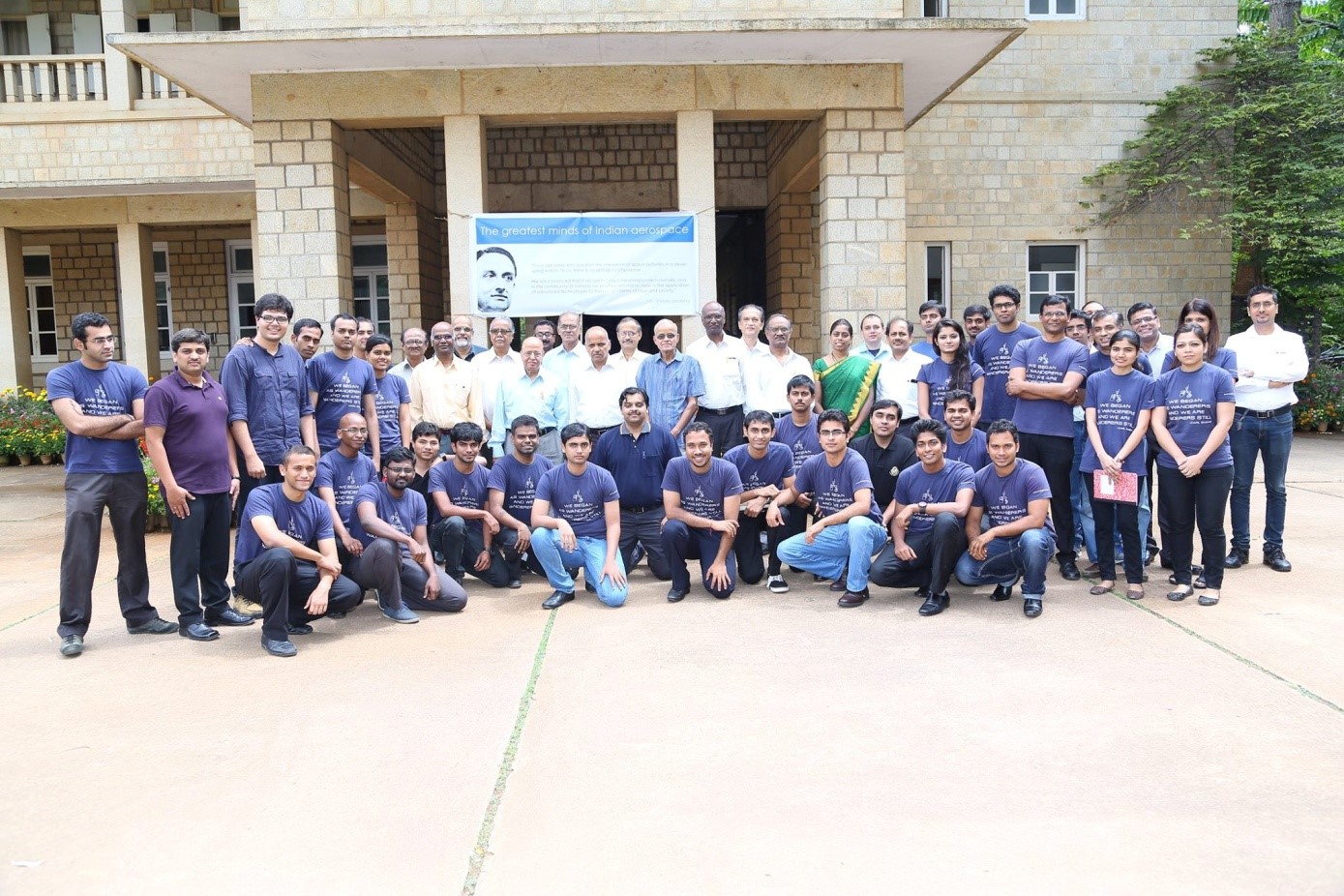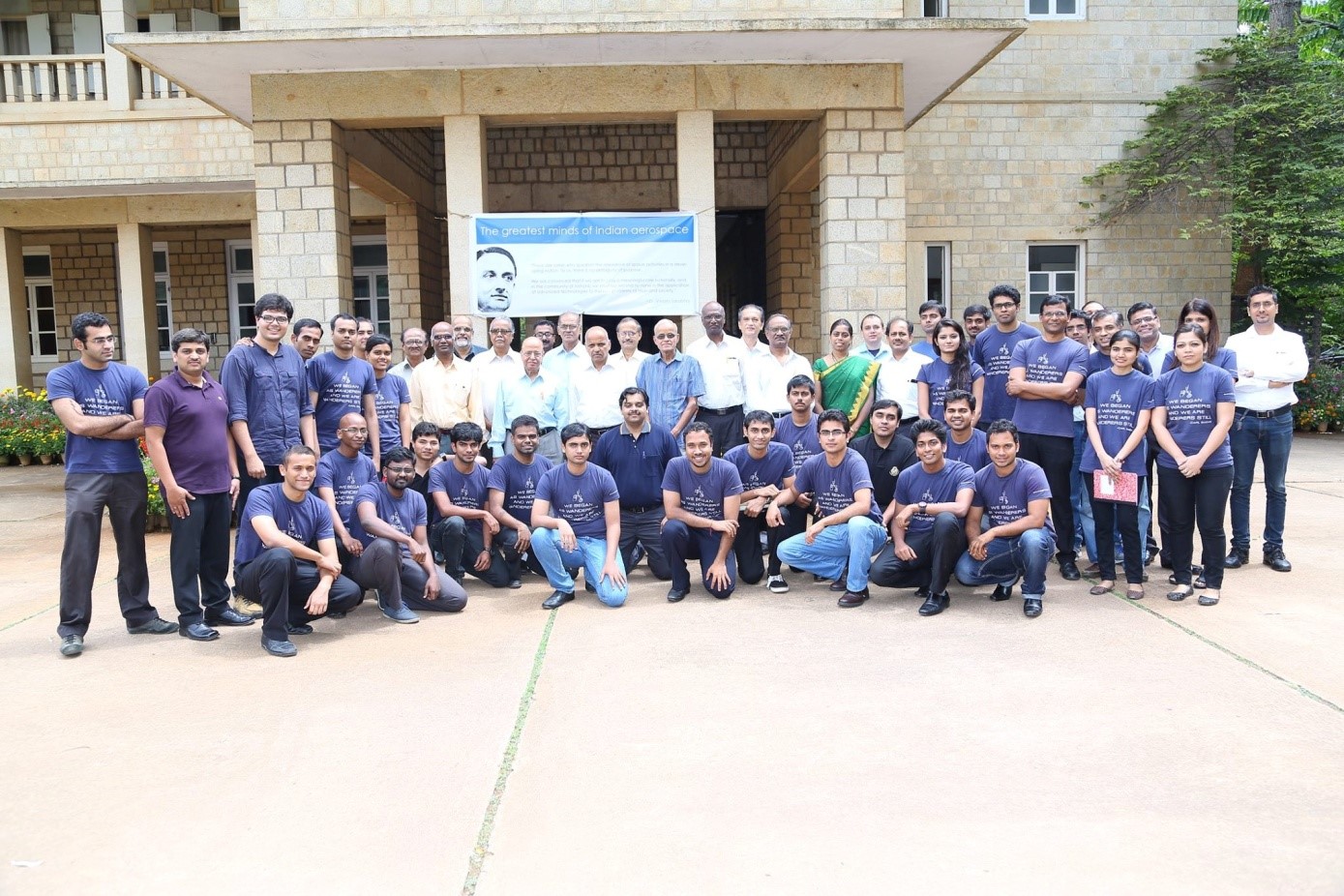 The motivation: Better late than never, Narayana enrolled in the XPRIZE competition in 2011 which was announced in 2007, citing the non-participation by any Indian team in the competition. ISRO's commercial wing Antrix was impressed with their idea and the plan and provided them with much-needed confidence and motivation.
L&T is aiding the design and fabrication of Team Indus' landing model, Sasken has provided them with office space while Tata Communications is supplying them communication tools. Winning the landing category prize was enthralling for Team Indus, which is still working, on their final design of the landing structure by continuously testing the other models. Mare Imbrium, a crater on the moon, which has a low rock density, has been chosen as the landing site for the rover.
The obstacles: Just like any other startup in the industry, Team Indus has its very own peculiar hindrances. Team Indus obstacle course includes partnerships, recruitment etc. apart from dealing with the complex scientific aspects of the project. The ever enthusiast, Narayana has made sure to give his 100% for the triumph of the project by conceiving the positive attitude. Narayana once said "At the end of the day, space missions are problematic or challenging because it's always a custom system, depending on what you're doing, how you're doing, what you're carrying, how long do you want to maintain that mission? It is always a custom system. All custom systems have their own time to becoming stable"
Having grabbed everyone's attention, Team Indus' next goal is to get the permission of using PSLV (Polar Satellite Launch Vehicle) to launch their dream on the moon's surface. Narayana, a follower of Elon Musk and Jeff Bezos believes in striving and pushing oneself to any extent to achieve one's goals. He says "What Amazon did and Jeff Bezos was able to do, was that he kept pushing. Everybody said it was a loss making entity – but if they would have shut it back then, no one else would have tried to achieve what they did. What Google did – they didn't make revenue for many years when they started off – they persisted. You need these leaders who will push the boundaries".
We wish Team Indus the very best and hope that they make us all extremely proud by winning XPRIZE. And what we are certain of, is that they have surely inspired a number of Indian young minds to dream of space and venture into the unknown universe. Next time when the world dreams big on space front, it sure can't miss out on India. Yes, we have arrived on the space map.