This April when you prepare to appear in your PET, IIT-JEE and other engineering entrance exams, do consider if you REALLY want to become an engineer. The latest reports are indicating that despite the growing number of engineering jobs in india, nealy 80% of engineers in India are 'unemployable', appears to be unbelievable.
To satiate your curiosity with numbers, 1,50,000 engineering students from over 650 colleges were included in a nationwide survey by Aspiring Minds which published National Employability Report 2015. Standing at a whopping 4298 institutes, the number of engineering colleges in India has multiplied during the last few years. Engineering has become the de facto degree and engineering colleges are churning out more than 600,000 students every year, of which majority of the graduates are unemployable.
While everyone in the education system is busy playing the game blame for this feat, we decided to take a different approach to the problem. There is no doubt in our minds that, the quality of education in most private colleges that have sprung up in the recent years is quite abhorrent, but what surprises us the most is the reason why students are flocking to these institutions year after year. And since most of these institutes have some sort of government approval, it will be interesting to see if the Indian government takes any active measures to regulate and investigate the teaching methodologies in these colleges that are nurturing India's future.
The State of Engineering Graduates in India
Before we dissect the inner workings of the mind of an Indian science student and at a much broader scale, of Indian society as a whole; we would like to first, present some facts and figures. We believe that these facts and figures will offer you a better understanding of the situation. India may claim to be one of the most hospitable countries in the world and a melting point of cultures and religions, but behind the facade lurks an elitist and sexist mentality that has prevailed from the times of the Zamindars. This report seeks to dent quite a few of those misinformed ideas.
Tier III Cities Are Catching Up
For a long while, colleges in Tier I and II cities have enjoyed the privileges of being the first pit stop for most companies. Now, Tier III cities have also stepped up to the plate, and the new report suggests that they have a share of employable engineers that a prospective employer could possibly look for.
IT services which have long been, a forte of India's engineering populous can now seek to recruit more people from Tier III cities as well. A slice of the engineering students from these colleges has been deemed fit enough to serve the needs of entry level IT engineers in firms like TCS and HCL.
Taking a look at the numbers, we see that Delhi has the highest percentage of employable engineers followed by the information hub Bengaluru. The western parts of India are not far behind and Kerala and Odisha entered the top 25 percentile list of most employable states while Punjab and Uttarakhand dropped to the 2nd and 3rd places.
Absence of Gender Bias: Both Genders Equally Unemployable
The employability trend projects an interesting statistic; gender discrimination shouldn't exist in the employment scene as both male and female engineers have been found to be equally competent. In fact, some positions like sales engineer non-IT, associate ITeS or BPO and content developer, are skewed slightly towards the employability of females.
Though technical acumen forms an enormous part for employability, some of the other important ways involve internship and networking. This provides the perfect path for our final segment where we look at the various nuances of the job market and whether if, engineering remains a valid career choice for science students in India.
Our Take on The Education System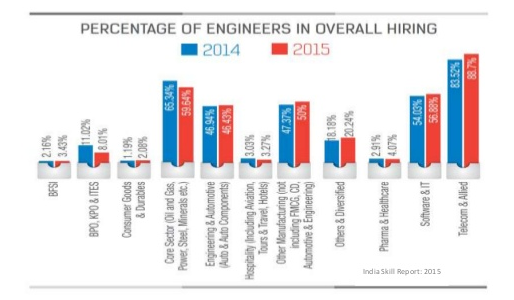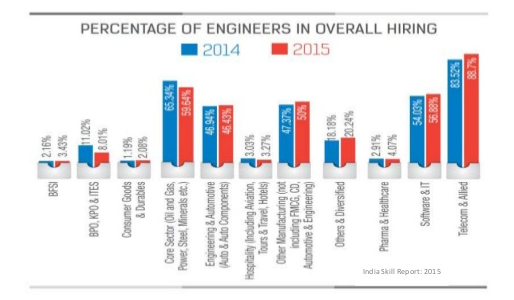 The graph above, reveals that there is, in fact, a good demand for engineers in various key sectors in India. The core sectors of engineering have 10,000 plus vacancies, but the number of engineers who are qualified to take up core positions is desperately low. This leads us straight to the crux of the matter, why can not the education system produce capable engineers who are good enough to hold their own, without having to be trained for an industrial scenario.
The report singles out two major factors:
The deplorable state of education in the recently established private engineering colleges has been cited as a major detriment to the quality of engineering graduates from India.
The courses taught at most universities are theory based and thus, offer little or no practical experience and knowledge of working at project scenarios.
The first one can be easily rectified by governmental regulations on the quality of teaching equipment and instructors hired by such colleges. The ever-soaring high, archetypal engineering bubble has burst, and an alarming number of seats are being left vacant at the private engineering colleges across the country. Had it not been for the seat reservation debacle in the government colleges this year, these numbers would have been worse.
"However, along with improving the education standards, it is quintessential that we evolve our undergraduate programs to make them more job centric," says Aspiring Minds CTO Varun Aggarwal.
The curriculum that is being taught at most Indian Engineering colleges is woefully outdated and that is why, despite having some of the brightest minds studying at institutes such as the IITs and NITs, we fail to make the numbers count among the top engineering colleges across the world.
The numbers look worse if we include all streams, as CNR Rao, eminent scientist and Head of the Scientific Advisory Council to the Prime Minister, recently stated that 90% Indian universities have an outdated curriculum.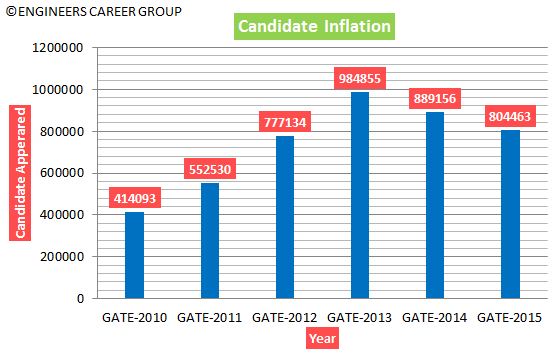 The increasing number of engineering graduates looking to take GATE exam and pursue post graduation is another pricking indication that the undergraduate courses are sorely lacking in preparing a candidate for most jobs and that the higher education has become necessary to fill in the gaps.
Behold! The engineering aspirants across the country do not lose your hearts. We have an answer to your dilemma. The caveat is, that there is no cookie cutter formula for deciding either a "Yes" or "No".
The huge gulf among the maximum and minimum salary expected is a testimony to one significant fact. In India, to succeed and to land a job in an engineering field, admitting into a good college is paramount. The mean of three lakhs per annum for most engineering students is an assurance that these students don't have high expectations and if a renowned company will go in for campus placements
While a couple of years have rolled by, nothing seems to have blamed the situation. The two keys to being an engineer with a satisfactory job are:
Getting admitted to a good institute
 and most importantly, having an interest in engineering
It's imperative that parents and the student alike must understand that what he or she is passionate about. Peer pressure, parental pressure and lack of aspiration may lead you into a dead field like engineering. Before one decides what he aspires to be, it is absolutely essential to know what you are passionate about and whether your passion will make you earn a decent living or not. Linguistics is another pivotal criterion, but that can always be worked upon at a later stage.