Content streaming has critically changed how internet users around the world consume their music through audio and video formats. In 2014, more than 1 billion YouTube users consumed at least 6 billion hours of video per month, through the platform. With more than 300 hours of video content being uploaded to YouTube every minute, the video-streaming site generated a revenue of $4 billion in 2014. Another exhibit born on the similar lines of YouTube is 'on-demand music streaming' portals like Spotify, Pandora, and the recently acclaimed Apple Music. Numbers talk, and in the case of music streaming, the growth is huge.
In March 2013, Spotify first revealed that it had 6 million paying subscribers globally; the number shot up to 20 million, in June 2015—up from 10 million paying subscribers as of May 2014. While Apple Music has garnered 10 million paying users in just over six months, it took Spotify almost six years to reach the same breakthrough! With the launch of Spotify in 2008, the crackdown on piracy and P2P networking sites became prevalent; but at the same time, on-demand streaming was growing. Even YouTube jumped into the music streaming bandwagon with their ad-free premium streaming platform named 'YouTube Red'.
Now, the blame that P2P sites like thepiratebay, extratorrents, etc. are huge, and the amount of alleged losses that they cost to record labels has been a concern since the launch of 'Napster'. Napster is a  (P2P) file-sharing service that allowed sharing of audio files, typically music, encoded in MP3 format among their users. The original company ran into legal difficulties over copyright infringement; they ceased operations but later got acquired by Roxio. Napster was liable to pay $26 million in settlements for 'unauthorized distribution of music'! With the crackdown on P2P getting stricter, and with legal streaming services going big, let us examine how the music industry has changed, and whether P2P sharing sites are actually amounting losses to the music industry.
According to data compiled by Statista, Ovum projected that physical music would generate $10.3 billion in 2015, globally, while digital music sales could generate at least $11.7 billion dollars in 2015. By omitting Apple Music from its research, Nielsen reported that there was a whopping 92.8% hike Year-over-Year in on-demand music streams. That is 164.5 billion streams in 2014 to a 317.2 billion streams in 2015. Concurrently, there was huge growth in video streaming as well—a 101.9% Year-over-Year growth from 2014 to 2015.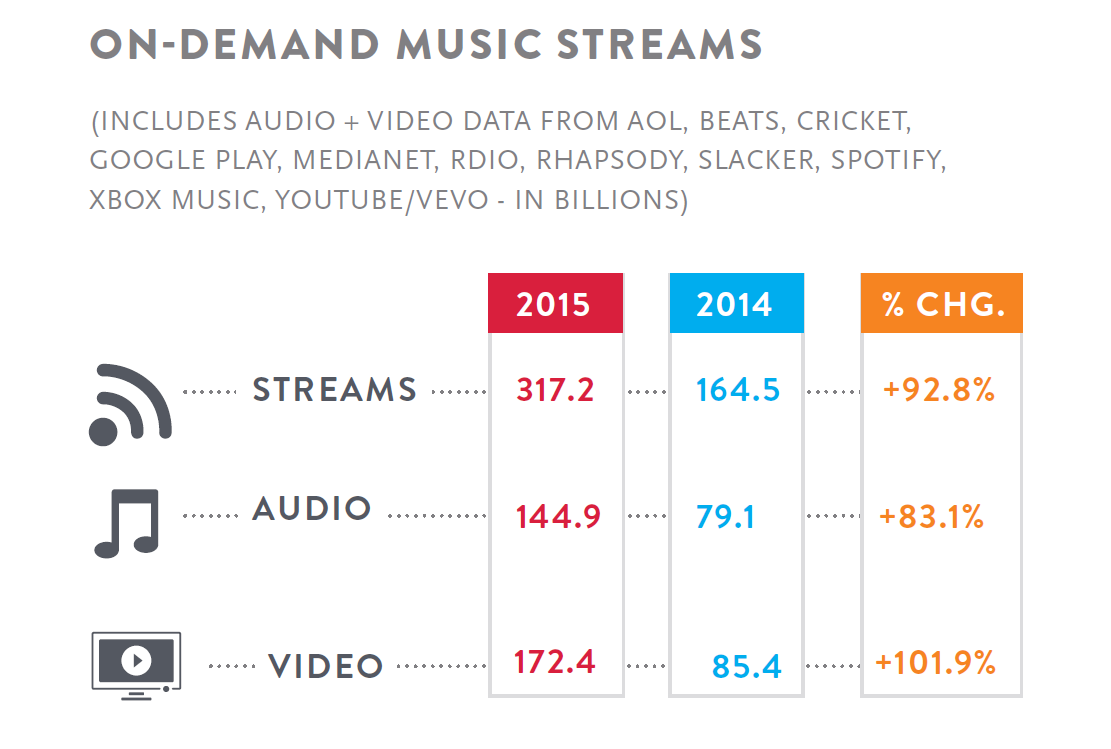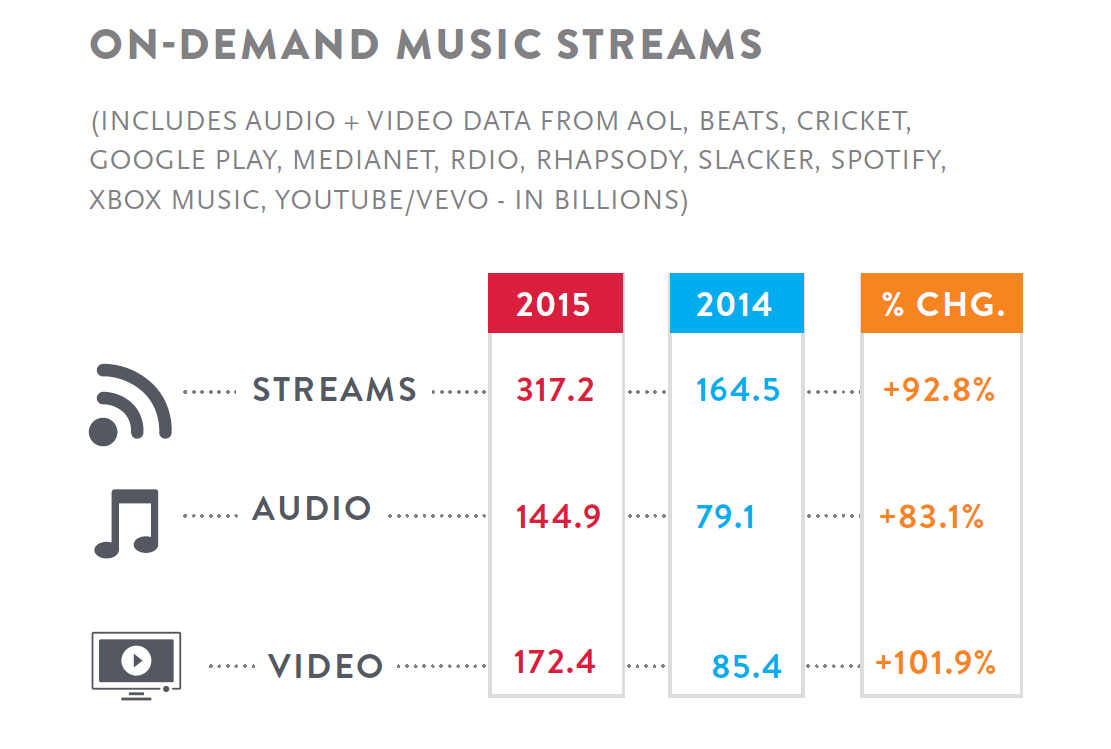 By closing in on the U.S market, Statista says that there was a 92.8% rise Year-over-Year between 2014 to 2015 in On-Demand streams in the country. While in 2014, the Year-over-Year growth in On-demand streams remained at 55%. Physical sales of CD Albums and Digital Albums declined by 11% and 3% respectively and Digital Track dropped at an average of 12% in 2015. Astonishingly, Vinyl Album sales portrayed a 51% growth in the U.S between 2014 to 2015; vinyl sales also posted a growth of 29% in the U.S between 2013-2014.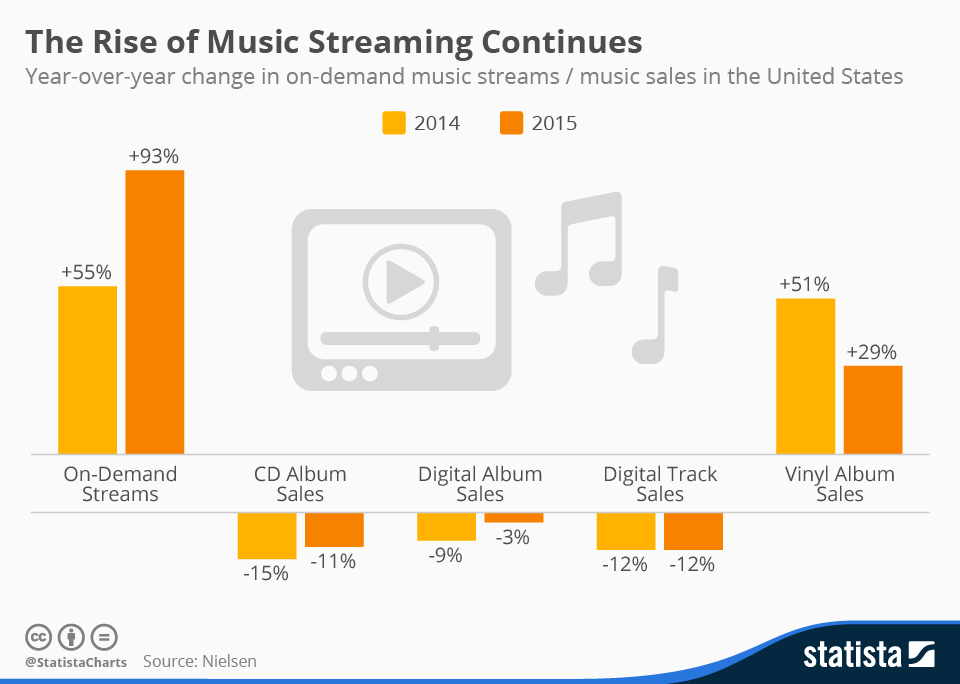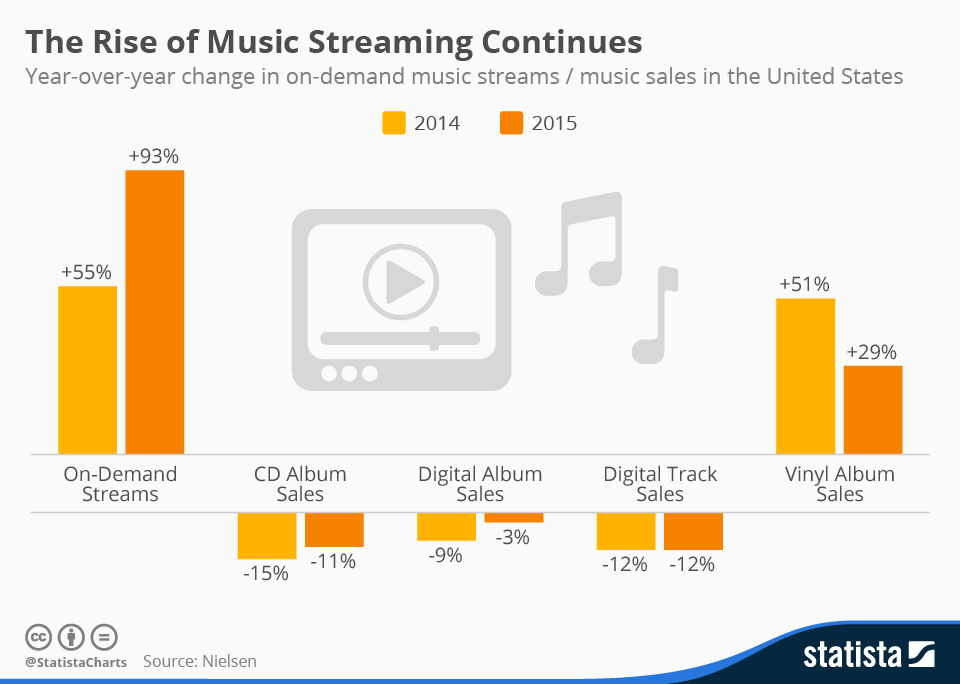 The Case Of Music Piracy: An Example
Strangely, in 2015, at least, 12 music streaming services shut down, got acquired or sold their assets to a bigger player. While, in 2014, the number was just 4. Apple dropped their iTunes Radio service in 2015 to launch Apple Music in the same year. With such high growth in the industry and players exiting the market, Apple probably saw an opening in the music streaming business and managed to garner a huge number of users in just months after its launch. One peculiar case was 'Grooveshark'—the service allowed users to upload audio files, which could then be streamed and organized into playlists. The service was forcefully shut down in 2015, over a lawsuit that mostly favored mainstream record dealers like Universal Music Group, Sony Music, and Warner Music Group. Grooveshark's owners were told that they could be accountable of losses up to $736 million in damages! That is roughly 7.2% of the projected global physical music sales of 10.3 billion in 2015. So, how much has the music industry lost with the rise of such free services? Or, do the losses actually come from piracy? Again, the numbers tell a tale!
Peter Sunde, said that he built a device that made 100 copies of a particular track. This translates to more than 8 million copies per day and roughly, $10 million in losses, as Downtown Records and Warner Music together claimed that each copy of a music file amounted to $1.25 per piece. Sunde tells TorrentFreak in an interview that his device made 120 million copies, equaling to a whopping $150 million in losses to the recording industry. What the industry does not understand (or probably just ignorance) is that the economics of a global networked (Internet) work differently, and making copies of a digital file really doesn't cause any 'actual damage' to global revenue or sales.
"I want to show the absurdity on the process of putting a value to a copy. The machine is made to be very blunt and open about the fact that it's not a danger to any industry at all," Sunde tells TF.
Music Streaming/Downloads Exceeds Physical Sales in 2015
The American music industry generated roughly $15 billion in 2012, which is 30% of the total $50 billion generated by the global music industry. With the rise of legal file-sharing sites and on-demand streaming portals, from January 2012 to 2013 the total unpaid acquisition volume was down by at least 32%. In addition, between 2011 and 2012, revenue from music subscription and streaming rose from $650 million U.S. dollars to $1billion, globally–these are the signs of a good year ahead for artists and the industry alike!
Interestingly, in the United States, music downloads generated roughly $1.3 million in the first-half of 2015, while streaming services generated more than $1 million in revenue. While, physical sales stood at $905 million in 2015.
The International Federation of the Phonographic Industry(IFPI) has broken down how the music industry has fared in 2014. The report, compiled by IFPI says that both digital and physical sales accounted for 46% each, while performance rights garnered 6% of the revenue, and the rest 2% came from synchronization revenue. More importantly, the industry's digital revenues grew by 6.9 % in 2014 to $6.9 billion and was on par with the physical sector. The rise of streaming services drove the growth of the global music industry—in 2004, digital music revenue amounted to $400 million; however, this value has increased by approximately 17 times as of 2014. The United States alone accounted roughly $4.36 billion of the global digital music revenue, approximately 74% of the entire world's earnings.
It is obvious without a doubt that piracy has affected global music revenue, but not that much as you think. Even though there is a consistent drop in overall revenue in the global music industry since 2010, the streaming era is set to boost revenue growth in the coming years; The music industry now has very one less reason to complain about when it comes to Piracy, especially the U.S industry!