There is a new 'buzz' going around in the investment game—crowdfunding investment. Though crowdfunding is a relatively new investment practice, existing businesses, individual, and startups are increasingly looking to raise funds through this method. Let's examine some facts and figures to understand the crowdfunding sector has progressed over the years: Juniper suggests that the crowdfunding industry has seen an "accelerated growth", especially in the equity crowdfunding sector. According to Massolution crowdfunding report 2015, the global crowdfunding industry grew immensely in 2014—expanded by 167% to reach $16.2 billion, up from $6.1 billion in 2013. The industry has raised more than double once again and reached to $34.4 billion, in 2015.
Further, Massolution adds that the consistent growth in 2014 was due to a spike in crowdfunding projects from Asia; the Asian crowdfunding volumes grew by 320%, to $3.4 billion raised from various projects. This puts Asia ahead of Europe with $3.26 billion as the second-largest region by crowdfunding volume. North America took the lead position in the world in terms of crowdfunding volumes, growing by 145% and raising a total of $9.46 billion in 2014. Business and entrepreneurship were the most popular crowdfunding category, collecting $6.7 billion in 2014, adds Massolution.
Closing in on the equity crowdfunding sector, a Forbes analysis claims that venture capital averaged to roughly $30 billion per year; and in 2014 accounted for roughly $45 billion in investments, whereas angel capital averages roughly $20 billion per year invested. Equity crowdfunding was opened to the public in the U.S on September 2013, under the JOBS Act. But, it was restricted to 'accredited investors only'; even then there was a $1 billion investment made online through equity crowdfunding while 2015 is estimated to have over $2.5 billion in total crowdfunded equity investments.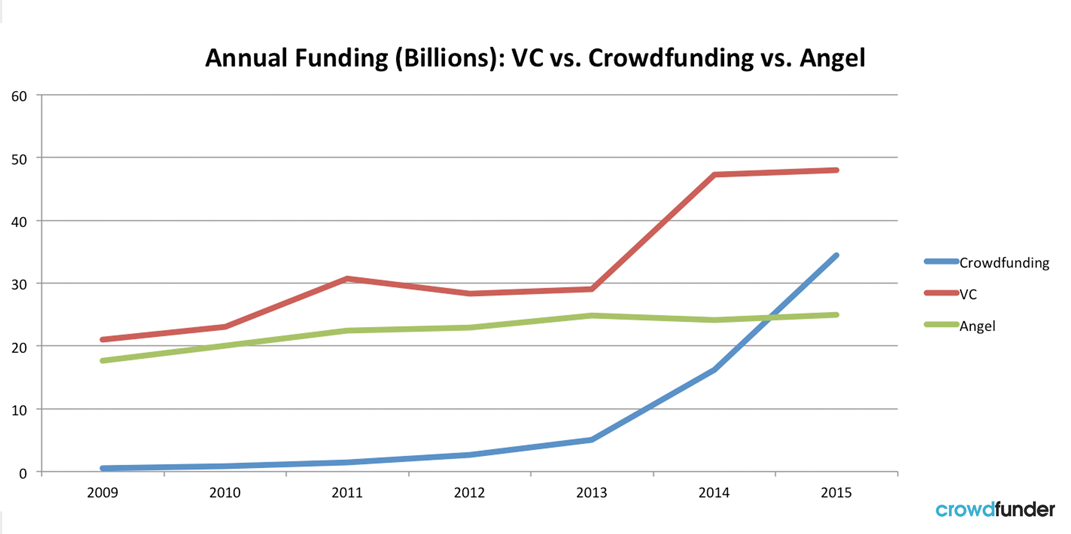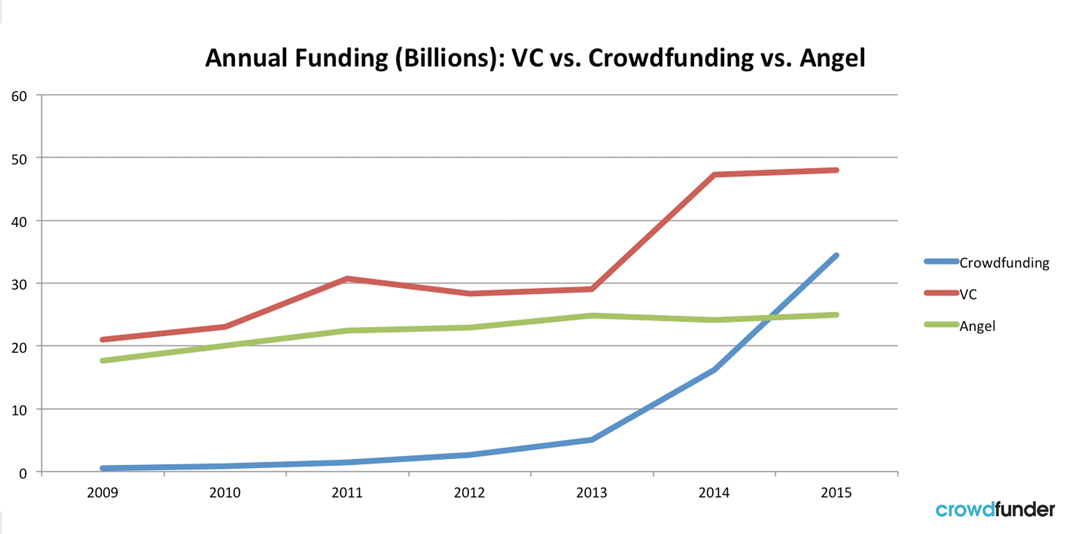 Drawbacks Have Not Stumped Businesses From Considering Crowdfunding
Remember that equity crowdfunding investments also sees participation from VCs and angel investors—the only difference is that equity crowdfunding platforms can scale if their business models have strategies kept in place previously. According to data collected by Interest, equity crowd funding platforms have raised $11.6 million in 2,765 separate investments or almost $4,200 per investor. With the launch of the industry in August 2014, a total of roughly $13.7 million has been raised in 24 successful offers. However, another 11 have failed to raise the minimum target. This adds up to a 'success rate' of just 69% of the projects launched, but 90% of the funding met.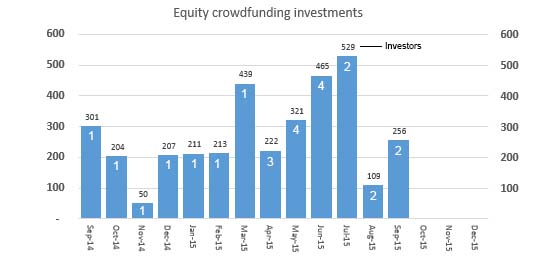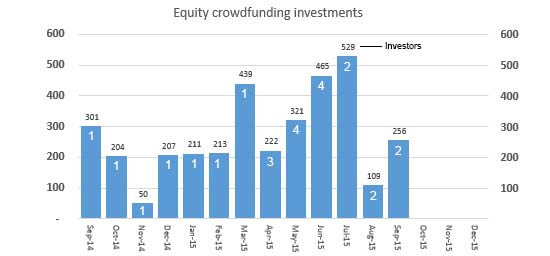 Even though the growth is huge, the equity crowdfunding sector has seen some 'unavoidable disadvantages', when compared to other types of investments. Following are examples of four crowdfunding platforms from the United States that missed their targets, and how it haunted their future:
According to AltFi Data and law firm Nabarro, in the United Kingdom, one in five companies that raised money from equity crowdfunding platforms between 2011 and 2013 have failed. A look into the 'Companies House records' of 367 businesses that sought investment via UK's five major crowdfunding platforms during the 2012-2013 period revealed that £18m investments were made in total, but 20% of those businesses are not trading anymore today.
Even though the equity crowdfunding industry is risky, and shows obvious signs of instability, according to the UK Alternative Finance Industry Report 2014, 80% of ventures that failed to reach their funding target felt that they would be willing to try it again and half would recommend equity–based crowdfunding to others. They also identified some important that led to their failure, which includes:
Failure to generate momentum in the early stages of the campaign
Insufficient support from the platform
Not doing enough marketing to support the pitch
The crowdfunding 'buzz' is apparent, here to stay with huge growth promises, but hurdles, including lack of research, lack of marketing in campaigns, and the urge to scale faster have been the leading reasons why crowdfunding campaigns could fail. Businesses, startups, or even individuals need to understand that just by refining requirements and signing up for a crowdfunding platform will not guarantee success. Equity crowdfunding is still an 'unstable' option to raise funds, and going ahead with a crowdfunding campaign without sketching down a budget plan could lead to serious downfalls in the future.