Tata continues to rule the charts once again being the epitome of the recently released Interbrand's list of 30 Best Indian Brands 2015. Similarly, Reliance and Airtel occupied 2nd and 3rd position simultaneously unchanged from last year's list. Interbrand India is a part of Omnicom Group.
"As one of the fastest-growing economies in the world, India presents a host of opportunities and unique challenges to its brands," said Jez Frampton, Global CEO – Interbrand.
Financial services grabbed the largest chunk of the total pie, with 27%, followed by Auto (10%) while Telecom, Energy and Technology sectors recorded 7% apiece.
Top Risers
The HCL, Kotak and Tanishq have emerged as the 3 top raisers in the list this year, receiving the increase of 27%, 24% and 19% in their brand value. Infosys and Asian Paints are the other top gainers in the list carrying brand value of  Rs. 206 billion and Rs. 53.06 billion.
If we rearrange the list by the position, LIC India Ltd moved up to 4th spot from 5th position last year. Maruti, Axis Bank and Asian paints also improved their rankings up at 14th, 15th and 20th respectively.
Top Losers
Larsen & Toubro slipped a position down to 12th, Oil and Natural Gas Corporation (ONGC) slipped 4 positions to 19th, Idea slipped 2 positions to 24 while State Bank of India (SBI) slipped one position to end up at 5.
New Entrant
With Rs. 41.95 billion as brand value Zee Entertainment Enterprises Ltd. (ZEEL) entered the list at the 26th position.
Dropped
Jindal Steel and Power which held the 30th position in the last year's Interbrand's rankings has dropped out of the list and Kingfisher which was 32nd in the 2014 Interbrand's List also could not make to the list.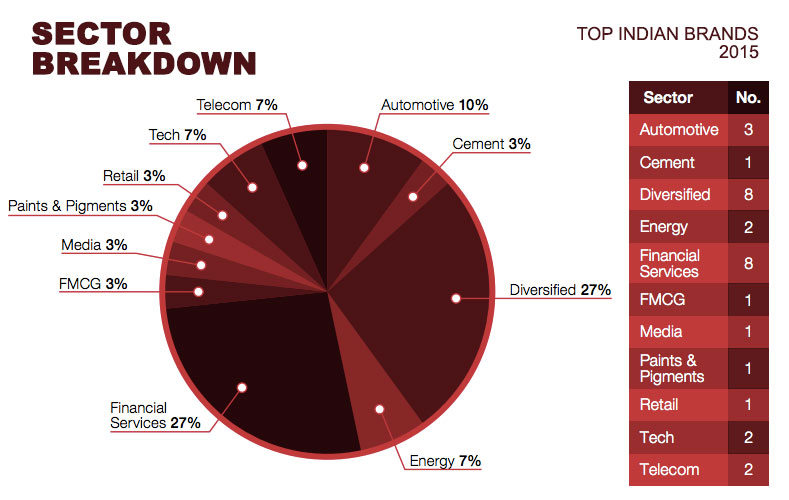 How the Information Technology companies fared
Despite doubling the revenue of many IT companies and soaring valuation of companies like Flipkart and Ola, Technology as a category failed to create a significant impact on the list. Overall, only 2 tech companies, Infosys and HCL, made to the list this year. The IT-BPO (Information Technology-Business Process Outsourcing) sector in India, however, will see a boom in the next few years, reaching $350 billion by 2025, according to a recent report by Nasscom-McKinsey. Therefore, it may be presumed that in the coming years we'll be having more IT companies in this list.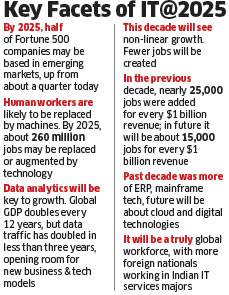 Once again, Tata Consultancy Services (TCS), played a major role in Tata Group topping the list this year. This is mainly due to the some of the much-appreciated initiates taken by TCS. Tata Consultancy Services has granted Rs. 1,100 crore for interest-free salary advances and is creating a Rs. 50 crore direct grant funds to help its employees hit by the recent floods in Chennai.
The behemoth of Indian IT Industry Infosys Ltd. endured its last year's 7th position with a huge surge of 19% in its Brand Value clocking at Rs. 206.46 billion in 2015. The company added 79 clients in April-June, taking its total to 987. Its bets on automation and other high-margin, such as artificial intelligence and digital technology have returned much encouraging returns to the company.
Wipro recorded a surge of 9% in its Brand value, increased to Rs. 135.54 billion in 2015 from Rs. 124.32 in 2014. Wipro hired 6,607 people to take the total headcount to 1,68,396 as of September 30, 2015. It has also added 52 new clients taking the total number to 978.
HCL's remains the other technology company that made to the list. The company's brand value increased to Rs. 76.22 billion, a surge of 27%, in 2015. During the Q2 FY15 HCL signed 14 deals with a total contract value of over $1bn. The company made a significant investment in expanding its global presence.
Criteria of evaluation
A brand must be of Indian origin and there should be sufficient publicly available financial data in the market.
The brand should have a broad public profile and awareness and must be positioned to play a significant role in the consumer's purchase decision
The economic profit from the brand must be positive.
Brand Valuation and Methodology
Interbrand's methodology comprises of following elements:
Financial analysis: This measures overall financial return to an organization investors, or its 'economic profit' and its future prospects.
The Role of brands: Role of brand measures the portion of purchase decision that is attributable to the brand, relative to other factors (for example, purchase drivers like price, convenience, or product features). The Role of Brand Index (RBI) quantifies this as a percentage.
Other factors include Brand strength and Brand value.
The Gladiators

*BV- Brand Value
The above chart highlights the changed positions of the brand in 2015 compared to the last year. While the top 3 brands remained unfazed on their position, LIC leapfrogged SBI to become the 4th best brand in India in 2015. Similarly, M&M (Mahendra & Mahendra) also went down 10th position, slipping down one position only to make way for Godrej.