The simple answer is: yes, it is. And not only that, but businesses cannot afford to ignore it. The topic might be shrouded in misconception because text messaging is viewed as a personal thing. This means that when we think about text messaging, we instantly think emoticons, "lols" and abbreviations. But how about running your business and closing deals with clients via texts?
When people think about business communication, they think about classic, over the phone chats, emailing and face-to-face discussion. Businesses communicate differently with staff, clients, shareholders and suppliers. Not so long ago, it was simple to decide whether you should formally or informally address a business partner, customer or potential shareholder (and correctly, I might add) single out the communication channel. But the fast advancement of technology and the way it seeped into our day to day lives has made it increasingly harder. For example, people are wondering if using Skype or other tools such as Citrix's GoToMeeting is "business" or "official" enough to be used with their clients or partners. Or if they are too "official" to use when engaging their staff.
Building on this logic, text messaging has always been seen as an extremely personal and informal means of communicating and was thusly avoided. But sociological and psychological studies have shown that we were wrong. In the world where technology has literally taken over and has brought on the so-called "age of the robot", where computers and different types of machines replace human contact more and more, people have begun to crave texting explicitly for its informality and personal aspect. The mobile phone has become an extension of one's persona. Leaving the house without a mobile device is almost inconceivable for most of us. Psychologists explain that it is because of this aspect we enjoy texting so much. In this day and age, it has become the closest thing to personal human contact possible.
And this mental aspect is what businesses are feasting upon. So much so, that studies show how more than two-thirds of business people use messages as opposed to other communication means to handle their day-to-day business agenda.
An astounding 50% of business professionals text their clients on a regular basis and more than 70% text their colleagues. And it's proving to be more than beneficial that they are doing so. There are numerous ways in which texting managed to be a lot better than calling on the phone, on Skype or emailing back and forth. The added value of texting is immense and you should think about harnessing it your way.
First of all, texting is very cheap. In 2012, Oracle published a Forrester report on their website called The Total Economic Impact Of Click To Call And Click To Chat. Among other things, it interestingly showed how it costs an average of $6-20 to call someone, while web chat costs even less, only $2-5 per session. But, as far as prices go, nothing can beat texting. Because automating texts bring down the costs to around 25 cents per session. Therefore, more and more businesses have directed as much as 1/3 of their calls and emails towards business texting services. There are providers out there, companies who are ready to supply you and your business with special packages including email to SMS, call to SMS or SMS pieces of software for PC and Mac.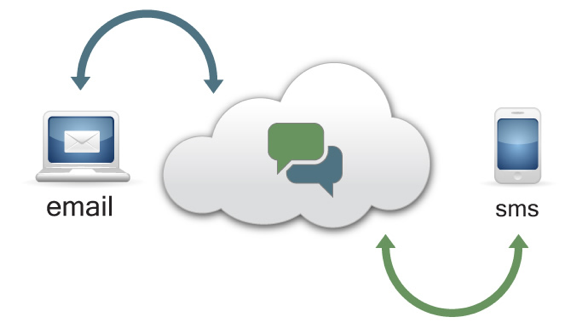 Another important thing about text messaging in relation to businesses is the fact that it's short. I believe we all know that brevity is our best friend when it comes to business communication.
It's a consensus that long emails are rarely read (if they are read at all). Long online calls and meetings cannot keep the participants engaged for too long, either.  Actually, long and poorly written emails are the death of the relationship between you and your clients, colleagues and staff. Not only does no one read an email that's too long, but, if you don't know how to write a business email, things can be misinterpreted and can get out of hand really quickly.
That danger is avoided, however, via text messaging. The format of the text message will literally force you to keep it short, clear and casual. Your message will come across as direct, simple and straight forward. No misunderstandings, no second thoughts, no splitting the hairs to see what he/she meant by that.
More importantly, research shows how over 40% of the customers that receive text messages are prone to understand that you value their time, their schedule and their privacy. It also leads them to believe that, given this demonstrated brevity, you are a company capable of handling matters very quickly and effectively.
Another great aspect of business text messaging is the fact that it's done in real time. Messaging does not require a person to have access to the internet, create an account somewhere, download and install an app or a tool, such as Skype or GoToMeeting, have a laptop or tablet around, or any other kind of performance device.
They simply need a phone and not even a smartphone. Not depending on the mentioned factors, messages are received in real time, which also guarantees them to be read in the following 3 minutes. You might take a call or not or you might leave your emails to linger in the inbox. But almost all the time, messages are read immediately after they have been received.
That ensures a higher answer rate as well because it's just as easy to write them as it is to read them.
Flexibility is the last big trick up text messaging's sleeve. The world is on the move. The easiest and most evident argument for that is the increasingly high-performance smartphones we now possess, that can do almost anything: calling, texting, sending pictures, internet connection, Excel sheets, graphics and so much more. Therefore, emailing and classic calling are being avoided by modern business people. Why? Because they keep you chained to a device, like your laptop.
Yes, even though the laptop itself was originally designed for being on the go, the invention of tablets and smartphones has made it heavy to drag around with you everywhere you go. So people have begun to resent being forced to sit through a call or through reading an email. Texting, however, can be done instantly almost everywhere you are, from your office, to the privacy of your home. It's also very private. Having to share delicate or confidential information can sometimes prove difficult via phone call or email. A short text message goes to your correspondent's locked phone for his eyes only, a thing which he will surely appreciate.
So, if you thought text messaging was obsolete and a thing of the 2000s, think again. It is precisely because technology has evolved so much and so fast that we now crave intimacy again. We have smart phones, which we love because they are universally able to do everything we need, but we keep them locked at all times. What does that tell you?
Author: Helen Daniels is a business communication expert with a degree in psychology and ten years of experience in working as a customer relationship specialist. She is a big fan of pumpkin spiced lattes and has a cat called Goldfish.