The slowdown in tablet shipment over the past couple of years has been a worrying sign for most major device OEMs, regardless of which side of the OS pool they fall on. The Apple iPad despite it's remarkable debut in 2010 has been failing to attract the masses of late. Their closest competitor in terms of sheer volume of tablets sold, Samsung hasn't tasted much success with their various Android-based Galaxy tablets either. And while the Windows offering of the Surface Tablets has always been good, the price to performance ratio wasn't balanced.
Among the various reasons, that has been put forward by various experts to explain this slump in sales, a few salient points have come up.
The average size of smartphone screens have increased drastically from 2010 and most smartphones now are in the 5 inch-5.5 inch phablet range. This has eaten away at the market share of the 7-inch tablet.
The update cycle for tablets is much longer as compared to smartphones which generally hovers around the 1-1.5 year range as most of them are brought on contracts.
The technology and usefulness of tablet have plateaued with most new consumers considering Ultrabooks for productivity and even educational needs.
So can companies come up with something to reinvigorate the consumer interest in the tablet market share? We look at the latest offerings from Apple, Microsoft, Samsung and Xiaomi to figure out if their innovative products have the spark that the consumers are looking for.
Apple's New iPad: Does the Pro get the Professionals?
Apple Inc. (NASDAQ:AAPL) has gone no holes barred for the new iPad, fitting it with the fastest dual-core chipset on the market the A9x and pairing that with 4 Gigs of RAM, a gorgeous 12.9-inch display and 4 speakers for the ultimate productivity and media experience.
In fact, in an interview with The Telegraph, Apple CEO, Tim Cook has been quoted as saying that
"the iPad Pro is a replacement for a notebook or a desktop for many, many people"
Without going into much technical detail, the iPad Pro fails to deliver on the comprehensive desktop experience on a few points
iOS 9 is still not adept enough as a platform to perform true multitasking. The split screen features are nice but are limited both in terms of app choices and functionality.
For it to be truly useful, one must spend more on the keyboard accessory along with the Pencil. This makes the total go over a 1,000$ at which price point a Macbook starts to look far more appealing.
However, the iPad redeems itself as it really is the best tablet available right now for multimedia experiences. The fact that this remains just a larger iPad with a few bells and whistles will drastically reduce its user base and relegate it to being a niche product at best.
Microsft and Their Surface Book: The Macbook Air That Apple Didn't Make?
There was a fair bit of pondering on our side if we should allow the Surface Book into this list or rather consider the Surface Pro 4. However, since we are talking about radical design choices, it seemed nitpicking to leave out the most innovative device of the year simply because it's not a tablet but a 2-in-1. All things considered, we feel like the iPad Pro was probably Apple's weak effort to capture the same enterprise audience.
While we did an in-depth discussion of the Surface Book at an earlier date, today we will just glance over the pros and cons of this device fairly quickly.
One of the main cons is the complexity involved in making such a device and early reports of buyers are coming in that most of the software problems that we feared would manifest themselves, did just that.
Other than that, one could say that the 1,500$ is a tad too but that's a price most of us are willing to pay for being on the cutting edge of technology.
However, we have a lot to like about the surface book and it makes a ton of sense in the enterprise market. With a touch friendly OS in Windows 10 and a discrete GPU in the dock for power users, the Surface Book is good for anything from casual media consumption to strenuous workloads.
Is it a Plane? Is it a Spaceship? No, it's the Galaxy View
The Galaxy View is large. Abnormally so. Weighing in at 2.5Kg, this behemoth of a tablet boasts an 18.4-inch screen. The specs are middle of the line and the priced at $600 for the Wifi Only version makes it a Tablet-TV hybrid. Yes with this tablet, Samsung is branching out to what could ostensibly be a new genre. And while people may laugh at them for trying it, the phablet trend started off with another such unwieldy device the Galaxy Note.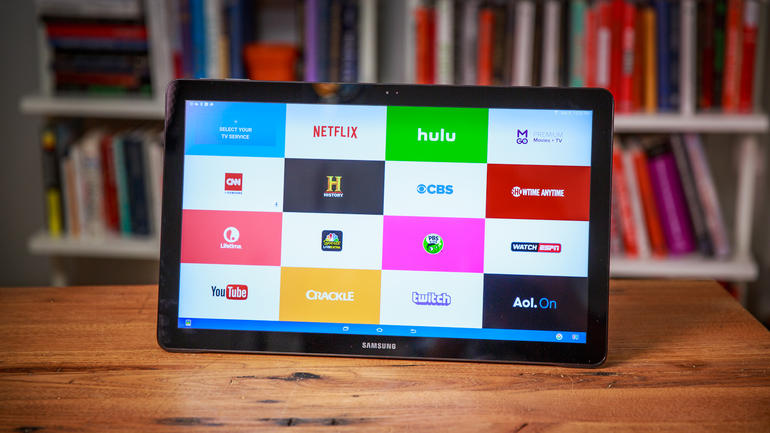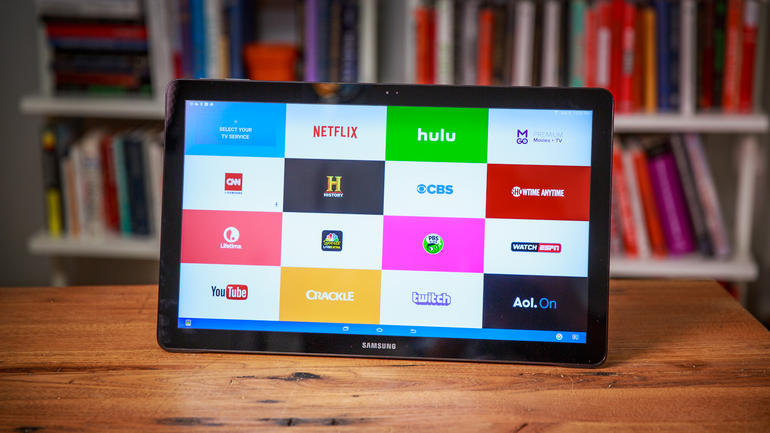 The cons for this device could be many but as the first device of a new product category, we will look into the few that Samsung should look into immediately if a next version od the View is in the works.
The included stand feels plasticky and takes away from the experience and makes lugging it around a hassle. A better implementation would work wonders.
For a device looking to take over the media consumption from the TV, Samsung should have fitted it with a better screen.
Opinions are widely divided among reviewers while some loving it as a portable TV replacement while others seeing no use for it at all. With that being said, we think that educational institutions and even conference rooms could benefit from a portable Tablet-TV hybrid, and this particular device may find its way into more places than in the homes of just a few couch potatoes.
Xiaomi Mi Pad 2: The Best of Both Worlds
Tablets or convertibles running both Android and Windows are nothing new, but where Xiaomi manages to impress us with their new tablet, the MiPad 2 is its price point. Coming in at just $155 (RMB 999) and $200 (RMB 1,200) for the 16 and 64 GB options respectively, the MiPAd 2 features a metal body and an Intel ATOM X5-Z8500 14nm quad-core processor clocked at 2.2GHz.
While it is too early to be noticing any potential con of this device without having hands-on time with the unit itself, there are a few things that might prove to be a deterrent to this one being a commercial success.
The 7.9-inch screen size is very close to the 7inch tablets and is thus in danger of having their potential customers lured away by a phablet-class device.
The lack of cellular connectivity will prove to be a major turn off for people in places like India where broadband penetration remains fairly low even to this day.
The verdict is still out on this device, but Xiaomi will be looking to climb up the ladder in the tablet market space and take advantage of the doldrums surrounding the tablet market right now to cement their place in the top 5 tablet manufacturers.
Final Thoughts
The future appears bleak for the tablet market as large, with independent reports from both IDC and Canalys pointing to a rapidly increasing downward spiral. IDC reports points to a 12% YoY decrease in the sale of tablets from 2014 to 2015. While we have discussed all the major causes of this perceived slowdown, we believe that there is another added cause, the transition of the tablet from an entertainment device to its expansion into more professional and educational uses as 2-in-1 hybrids. 
Till now tablets with detachable keyboards have held just a single digit percentage of the overall tablet market, IDC expects this share to increase dramatically over the next 18 months. We can see the trend in as Apple the largest tablet manufacturer along with Microsoft is betting heavily on the idea with their latest products. Xiaomi seems to be on the same boat as well with their Android-Windows hybrid tablet embracing the productivity needs of consumers.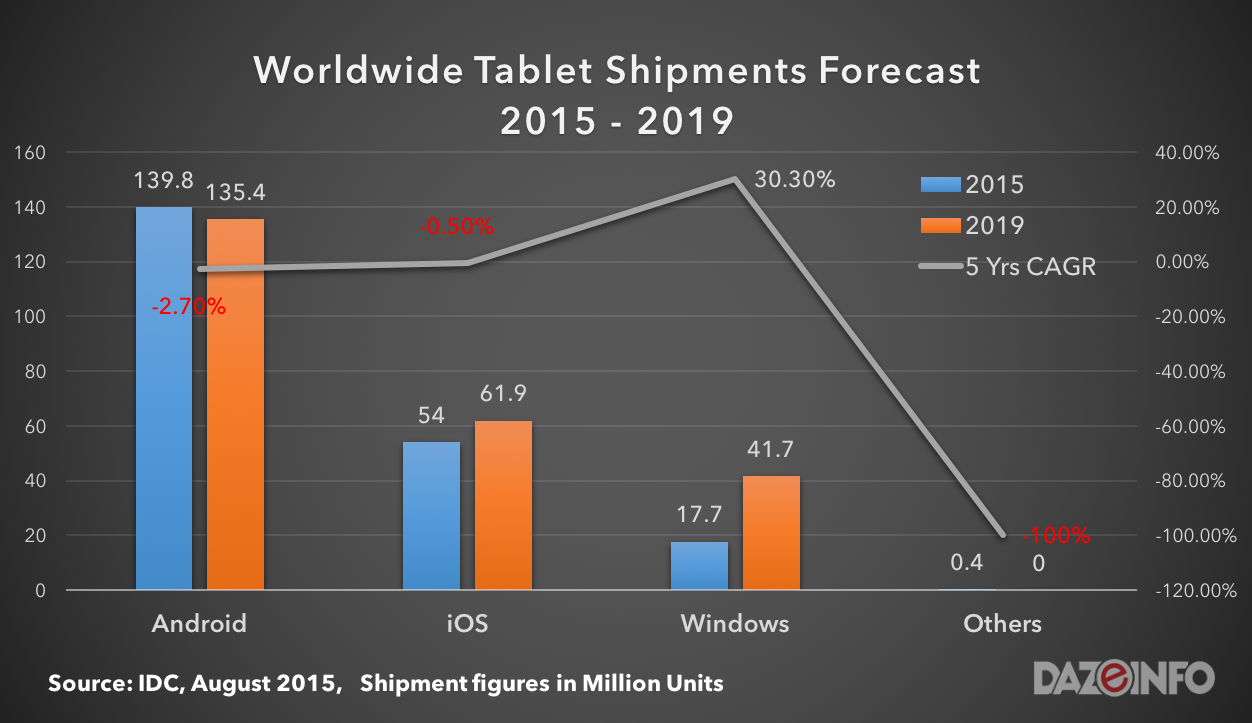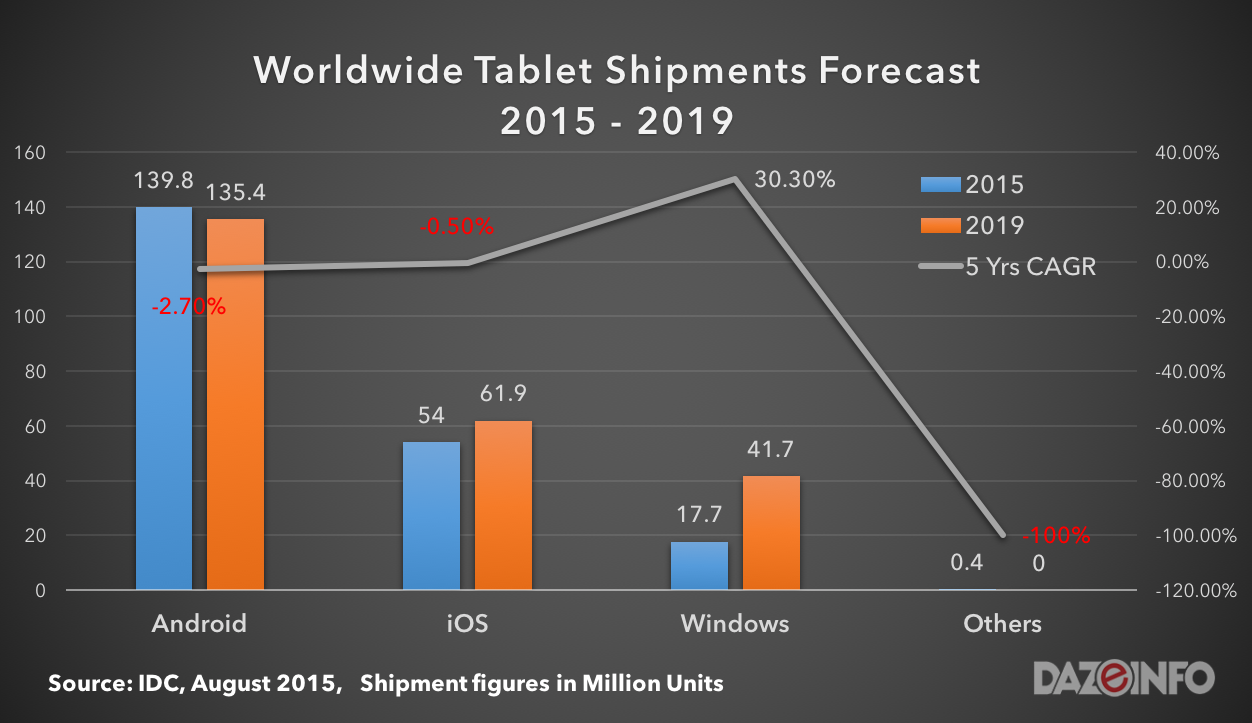 The share of larger screen (>10″) tablets and 2-in-1's is expected to grow from 18.6% in 2014 to 39.5% in 2019 and Samsung with their new offering would like to reap the early benefits of this growth spur. They will, however, face stiff competition from traditional PC manufacturers like Asus, who are looking to enter the hybrid market as well with Windows 10 and the second generation of more capable and refined convertibles.
Which one of these companies will ride through the trend and strike gold in 2016? If we were to rank these tablets in their order of impact on the industry, it would probably be the Surface Book, Xiaomi MiPad 2, the Samsung View with the iPad Pro bringing up the rear. However, there should be a lot more hybrid devices coming up shortly, heating up the tablet space in the near future. 2016 seems to be the year tablets go big. Literally!