With the exploded adoption of social networks people have started showing their back to traditional online registration process required to log in to online websites and apps. The social networking giant Facebook Inc. (NASDAQ:FB) has been ruling the social login industry for over 3 years in a row, winning internet users confidence with each passing quarter. It is, however, the first time in the last 2 years when Facebook has lost ground to its arch rival Google+, according to the latest report from Gigya, titled "Social Login Q3 2015".
Two out of every three social login sessions are powered by Facebook which has beaten all its competitors with a distant margin. This also indicates how active Facebook users are on the internet, especially when worldwide penetration (internet users) of Facebook has reached only to 50%. Despite the fact that Facebook lost 2% point share in Q3 2015 compared to the previous quarter, the market share of the social network titan has improved by 6% point in the last one year to 64%.
Google+ has emerged as the second most favorite social network accounting for 22% of total social login sessions. The network has strengthened its market share by 2% point – exactly the same that is lost by Facebook in Q3 2015. Interestingly, it's the first time since the beginning 2014 when Google+ has registered a growth in its social login market share.
On the other hand, the micro-blogging network Twitter and Yahoo!, together, power 10% of total login sessions now. Facebook and Google are the only networks that enjoy double-digit market share and together they captured 86% of total social login market in Q3, 2015.
Facebook Login Is A Must for Mobile Apps and eCommerce Site
The Gigya report also highlights few interesting insights for mobile app developers and eCommerce websites. According to the report, 3 out of 4 mobile app users who log in to apps using a third party authentication provider, use Facebook. The share of Facebook, though, has decreased marginally in Q3 2015, still, Facebook is the undisputed king of social logins in apps. Once again, Google+ gained what Facebook lost, accounting for 16% of total social logins market for apps.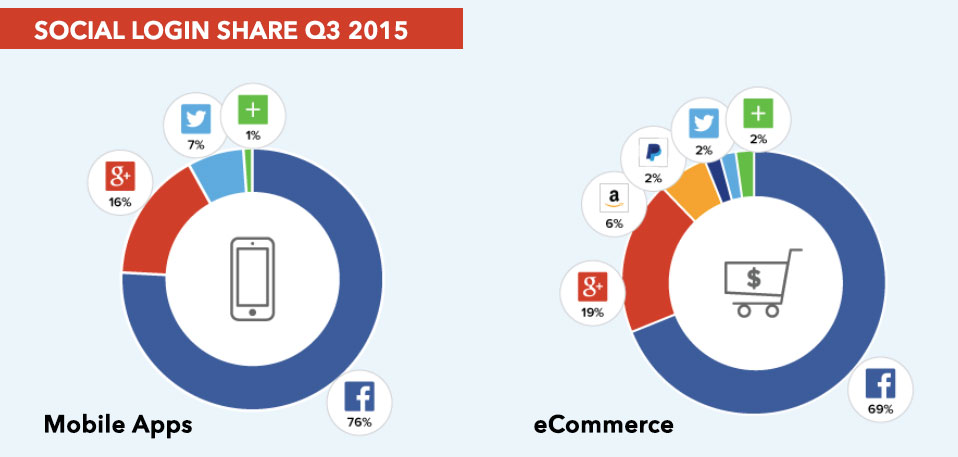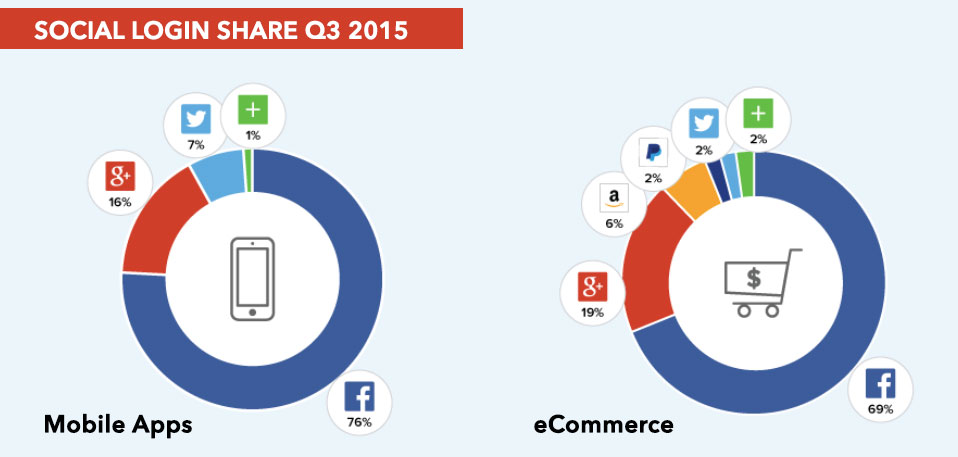 Twitter, which has more than 80% users on mobile, could grab only 7% of social login market when it comes to mobile apps.
The rising confidence in Google+ among online shoppers is quite surprising. While Facebook lost neglected share (1%), to 69% compared to Q2 2015, Google+ recorded a jump of 4% point in its market share to 19% from 15% in Q2 2015. The growth of Google+ came at the cost for Amazon and PayPal, who lost their grounds in Q3 2015.
Internet Users in Asia-Pacific And South America Trust Facebook The Most
The Gigya report also tracks the social login behaviour on the region wise. Central & South America and Asia-Pacific regions emerge as the most loyal to Facebook. Nearly 3 out of every 4 social login sessions were powered by Facebook in Q3 2015.
The internet users in Europe believe only on two networks, as Facebook and Google+, together, powered 91% of social login sessions in Q3 2015.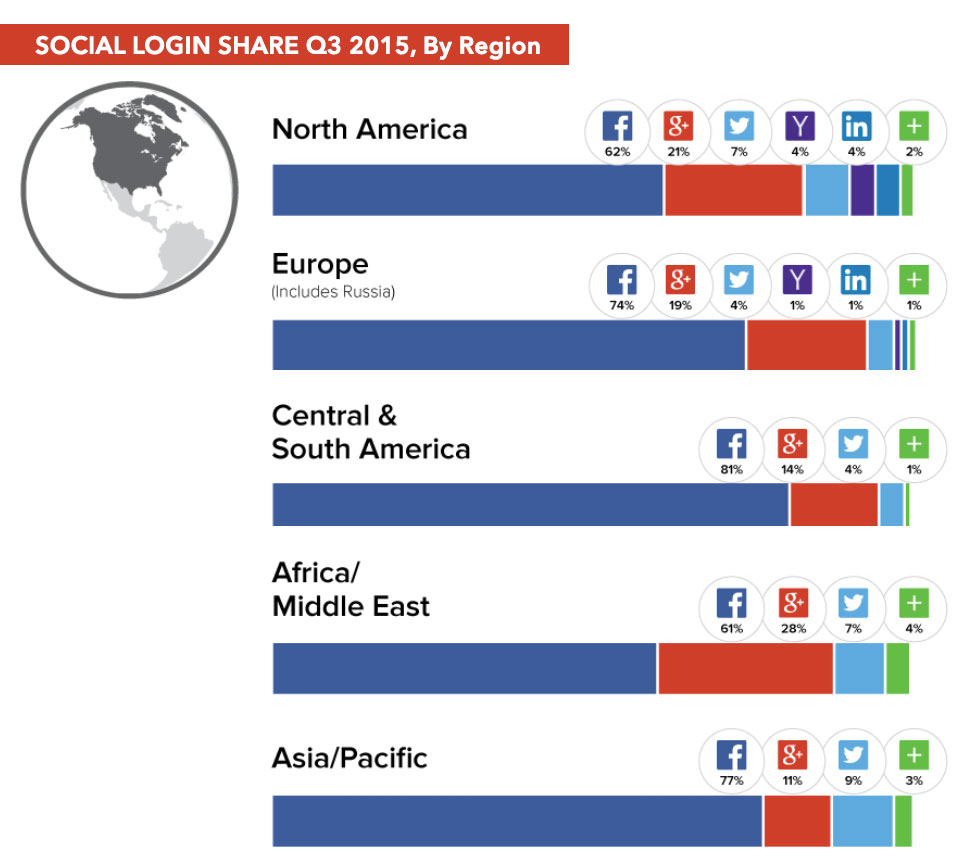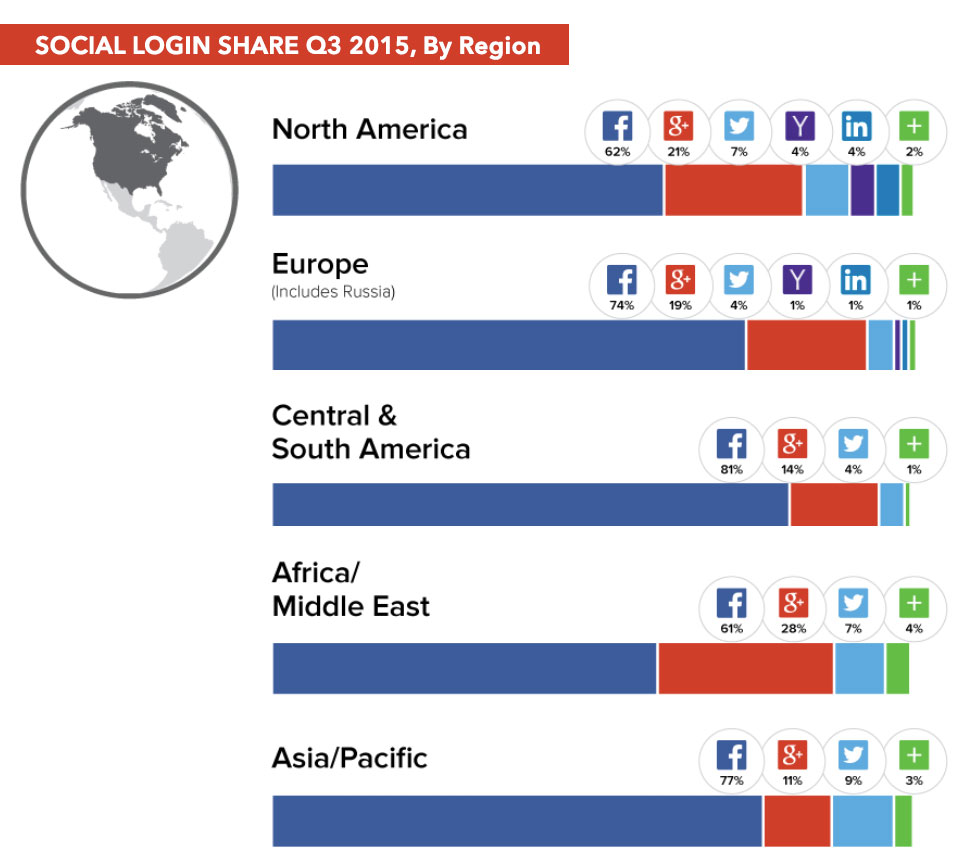 Africa & Middle East remains the weakest region for Facebook, the social login share remains the lowest as compared to other regions. However, this is also the only region where Facebook has strengthened its market domination by adding 2% point share in Q3 2015 at the cost of Google+.
Actionable Insights:
Owing to the increasing penetration and easy for use, online properties must provide social login facility to their visitors.
Mobile apps and e-Commerce sites must integrate Facebook and Google+.
The integration of Facebook login for online businesses in Asia-Pacific and Central & South America region is a must. Nearly 4 out of 5 people like to authorize themselves through Facebook.
Online business fall under Media and Educational sector should also focus on Google+, besides Facebook.