For the past few years, Korean electronics giant Samsung Electronics Co Ltd. (KRX:005930) has been the undisputed king of the Android smartphones hill. In fact, their Galaxy line up of phones have become synonymous with Android and as such had led many to believe that the Android juggernaut will power them to on to new heights. But, even as we see Android follow it's predicted path of greater market share and dominance well into the future; Samsung seems to be struggling to keep up with the sales projections.
Samsung is acutely aware of this problem and according to a statement by Kwon Oh-hyun, the Vice Chairman – Samsung Group, the company is looking to innovate in all key technological areas.
In order to overcome the current crisis, we need an extraordinary transition. If we resist changes, then we won't survive…We must become a leader in the new era with a new start…
Said Kwon Oh-hyun on Samsung's 46th anniversary on November 1st. However, there is no new start, according to the latest report by Ben Bajarin as he predicts that Samsung will be out of the smartphone industry within the next 5 years. Sensational as the claim may be, is there any truth to it? And will it signal the decline of Android and bring an abrupt end to Apple vs. Samsung, the greatest rivalry in the smartphone world? These are the questions that cloud our mind as we head out to find answers.
No More Samsung Smartphone: Theory Behind
Even before we look into the numbers, let's look into the theory put forward by Ben Bajarin and boil it down to its basics to see if the logic stands under our scrutiny. At the heart of his prediction on Samsung's decline and eventual exit lies a concept is known as The Innovator's Dilemma.
In layman's terms, this phenomenon can be best described as the situation when the early adopters of a maturing market are pushed out by newcomers who offer better or similar products but at a radically lower price point. The early adopters have no way of maintaining their previous margins and are hence forced to give way to their newer counterparts, often exiting the market altogether.
In the changing landscape of Android smartphones, the early adopters namely Samsung, HTC and Sony seem to be in troubled waters. Samsung, till now has retained its supremacy with 19% of the total smartphone shipment in Q2 2015, but the future looks murky for them as smartphone sales have hit a slump especially on the Android front. The threat from Chinese manufacturers like Huawei and Xiaomi is very real and if current growth patterns are extrapolated the prediction seems to hold up, at least mathematically.
And The Numbers Behind Them
While the logic may appear sound, the time frame of 5 years looks like an exaggeration. But to debate the estimate without looking at the numbers that influenced the prediction would be pure folly.
If we take a look at Q3 2015, the South Korean giant posted quarterly revenue of 51.68 trillion Korean won, or $45 billion, which points to an 8.9% YoY growth. Profit margins beat the estimates, landing in at $6.45 billion, up a dramatic 82%. However, the rosy picture might be misleading as the growth was fueled by the Display and Chip Manufacturing units. Taking a look at the smartphone manufacturing unit, Samsung shipped 84.5 million units in the last quarter with an increase of 6.4 million units compared to Q3 2014.
The raw sales numbers, however, mean very little as we find that the blended ASP (Active Sales Price) of all Samsung smartphones in the quarter to be around $180. The low ASP reflects the fact that the high-end market hasn't been doing that well for them with the majority of the sales coming in at $150 range. This seems to be in line with the growing trend in the Android market where the price of the premium smartphone has dropped considerably and is now at $300-$400 price point with the sub-$300 phone being the one for the masses.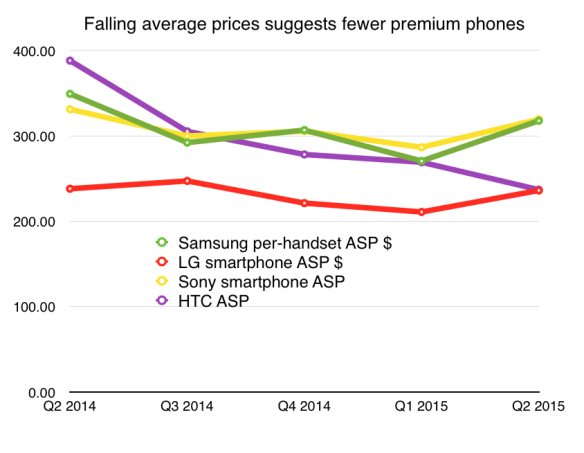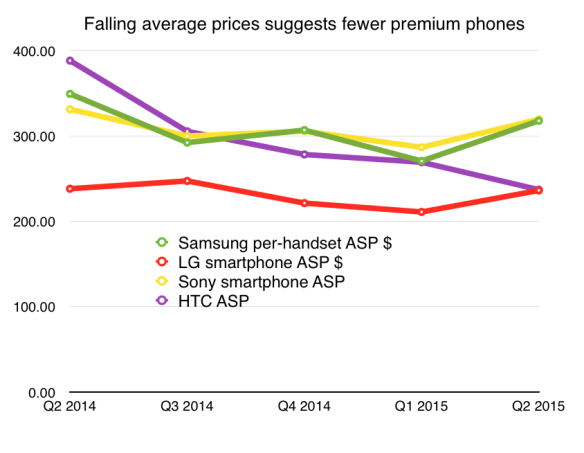 This is partly due to the fact that the developed markets of China and USA have reached a saturation point and India is the new battlefield for smartphone OEMs. The budget conscious Indian audiences tend to favour the Chinese Huawei, Xiaomi and Lenovo. Even when they opt for Samsung and other branded devices, the focus is primarily on the lower end of the market. The fall in profit margins ties in directly to the slump in the sale of flagships. What this does is it stifles innovation as the profit margin of high-end devices enables Samsung to continue investing in RnD. While Google bolstered by the high sale of Android phones continues to innovate on the software side, a slump in the hardware development will lead to further widening the gap between the two mobile OS's. So this trend may not only lead to Samsung's untimely demise but bring the entire Android ecosystem to a halt.
All of this may very well happen if things continue the way they are. However, it is seldom we see that a king throw in the towel without even putting up a good fight and Samsung with its vast resources would seem very unlikely to do so. In fact, if anything, the latest quotes from their Vice Chairman seems to indicate they acknowledge the problem and are hard at work to rectify it. So is this a futile exercise? Ben Bajarin certainly believes so.
Where is all this Heading?
Let's start off by saying, we, here at Dazeinfo disagree with this prediction. But, and this is a very critical but, we also do believe that there are some merits to the arguments, and some of it may come to pass as Samsung will lose their grip on the Android market in the coming years.
Let us first quickly glance over a few factors that was overlooked in the report but played as much a part in Samsung's current predicament as did Innovator's Dilemma.
Too Much of Anything is Bad
The main problem of Android as an OS is its issue of fragmentation. It is partly fuelled by its major manufacturer Samsung who has made numerous devices with little variations to capture every conceivable demographic. While this looks good in theory, the practice of throwing everything at the wall and seeing what sticks has given rise to its own crop of issues
Millions of dollars wasted in RnD and engineering what are essentially same devices with minor differences
Disgruntled consumers who feel betrayed by a better version coming out days after they've purchased an earlier model.
Android fragmentation poses a major problem as the huge number of devices proves impossible for Samsung to update in a timely manner.
Dilution of brand value as even the lower end Galaxy devices share the same design statement as higher end ones leading to a loss of exclusivity.
These problems, however, are easily combatted. But another major problem exists for them that has no clear solution in sight.
Touchwiz: Samsung's Software Debacle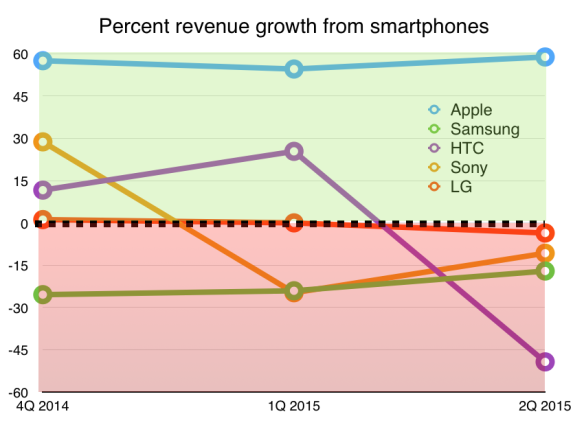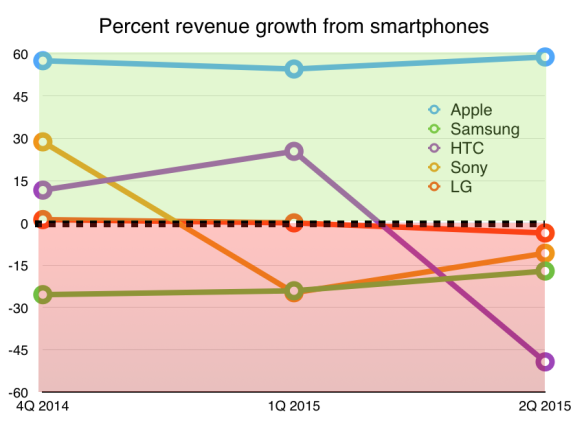 One of the main reasons that the growth of Apple Inc. (NASDAQ:AAPL) has been a function of their iPhone sales is due to the fact that Apple is the only ones making phones based on iOS. So, even if someone wanted something cheaper that runs iOS, their only choice would be restricted to older generation of iPhones. Because Samsung runs Android, a freely available OS, newer competitors are able to undercut them on a price to performance ratio.
Samsung did try to remedy this problem by introducing their own flavour on top of Android called Touchwiz. While it was highly successful and had innovative features in earlier Android versions, the evolution of Touchwiz made it a bloated and gimmicky set of functions that hindered rather than added value to the underlying OS. Touchwiz, which could have been Samsung's deciding factor, turned out to be their bane that turned away many fans to other less intrusive and faster skins.
They made yet another attempt at software with their new OS, Tizen, but that failed to take off due to a lack of developer support and enthusiasm from consumers.
Bringing it Back on Track
While it would be tough nigh impossible to gain back the glory days of Samsung, they still hold a few aces up their sleeves that, if played correctly, could give them the much needed time to think of an alternate business strategy.
 Vertical integration is key for Samsung. They own everything from the displays to the chips, and if they want to, they can take the game to the Chinese OEMs and compete at a similar price point.
Product Consolidation should be their next concern. While laying off workers might work temporarily, to fuel the profits back up again they need real innovation. With lower margins on smartphones, they cannot afford to waste precious RnD budgets on useless variations of the same phone.
Software Refinement and Brand Recognition are two of the most important factors that have slipped the minds of the Korean giants. They have the resources to make truly innovative software and with features like Knox they can make a name for themselves in the corporate world where security is paramount. That will bring them brand recognition and justify the high price tags of their flagships.
The only reason that Apple can ask for exorbitant prices and get away with is because people are willing to pay for it. Samsung needs to follow the same trail and use a part of their enormous marketing budget to create an aura of exclusivity around their premium flagships.
The Future
The global economy is going through a slump, and it has affected many tech companies. While some of them look to escape the ire of the stock markets through mergers (Dell-EMC $67 billion merger), others look to innovate with new products like Microsoft, yet others have looked to go the Sony route and spin off their holdings into separate entities.
Be it Apple or any other company, everyone has been affected, and each one of them is combatting it in their own way. All eyes are now on Samsung! Which way will their cookie crumble?