Visual media appeals more eyeballs as it captures one's attention easily than words. The ongoing social media trends are in line with this thought. The unheralded king of social media Facebook Inc. (NASDAQ:FB) also stands to be subsided when it comes to visuals. For all surprise, Instagram stands to be the top most engaging media when it comes to brands. Instagram opened up its platform for more brands to showcase their products. According to the latest GlobalWebIndex study 53% of Instagram users follow their favorite brands, contrarily, only 44% of the Facebook users follow brands making it stands last among eight social networking sites. Twitter claimed the second position on the list of 'popular social media networks to follow favorite brands' with 50% of the users, followed by LinkedIn.
What's so special about Instagram to lead the brand race with a high score of followers? The young user base is the prime reason for huge brand following. The majority of the Instagrammers belong to the age group of 16-24 years and 70% of the Instagrammers are below 35 years. Moreover, the follower base on the Instagram has seen a tremendous rise of 237% across the five industries namely Beauty, Apparel, Big Box, Electronics, and Home Goods recently. Unfortunately, Instagram is yet to get adopted for the brands to use the photo sharing medium as their primary source of sharing.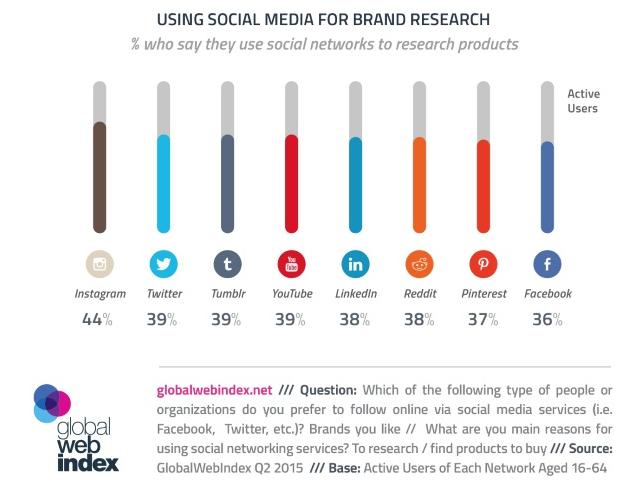 On the other hand, when it comes to usage of social media for Brand Research, once again Instagram tops the list. Around 44% of the users make Instagram as the tool to learn about the brand before making a purchasing decision. Like the brand following, Twitter secures the second position with 39% of users utilizing the micro-blogging site and Facebook secures the last position with 36% users approaching the social media network for brand research. However, the gap between Twitter and Facebook is meager 3% point as compared to 5% point between the most popular network and the second one for brand research. This clearly indicates marketers and internet users rely on Instagram over any other social network. While other networks, namely Tumblr, YouTube, LinkedIn, Reddit, and Pinterest whereas, Instagram are treated by users for brand research almost equally.
It is surprising to learn that despite having the 1.49 billion internet users onboard Facebook fails to attract internet users when it comes to branding and brand research. Facebook, though, accounts for 48% of the active usage, which is the highest among all the social network, Instagram cannot be missed when it comes to branding and brand positioning.