Imagining a day without smartphones may choke our routines. Indeed, it is true. One hardly can be a part of tech-dominated society without connectivity. In India, the smartphone users soon cross the 200 million user base predicts a report. Therefore, it is imperative for the enterprises to reach the smart devices. Owing to the development of smartphone market enterprises look smartphones to be the cost effective yet an efficient means of reach.
According to the latest infographic released by VMware, smartphones have emerged as the main driving force behind the growth of Enterprise Mobility Solutions, which is predicted to grow from US$22 billion in 2015 to US$26.7 billion by 2017 in APAC countries excluding Japan.
The Indian enterprise mobility market is driven by the three major factors: smartphones shipped in the Q2 2015, growth of smartphone market, and India's position at the global smartphone market. The enterprise mobility industry in India is expected to grow from $1.7 billion in 2015 to $2.3 billion in 2017.
The infographic also highlights few more interesting statistics of the smartphone market in India:
In Q2 2015 smartphone shipment in India reached to 26.5 million units, up by 44% of the Q2 2014.
Over the next year, the Indian smartphone market expected to be attaining double-digit growth.
India is expected to overtake the USA by 2017 to become the second largest smartphone market after China.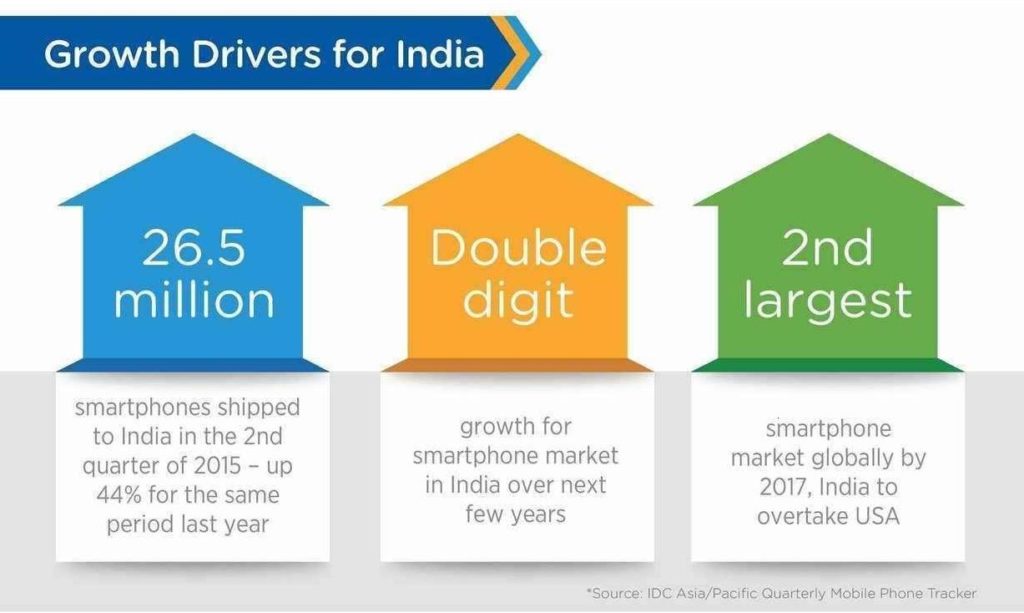 India has been emerging as the new hub of smart devices. The wireless market in India is expected to overtake China as the year over year growth of the latter has sharply come down to 1.9% in Q2 2015, which is way below than 19.7% in 2014.
If we segregate the smartphone market in India among vendors, Samsung leads the race with 23% share followed by Micromax with 17%, Intex accounting for 11%, Lava 7%, Lenovo 6%, and others 37%. Though, Samsung experienced a decline in the shipment in QoQ shipment it is still on the rise on the YoY basis.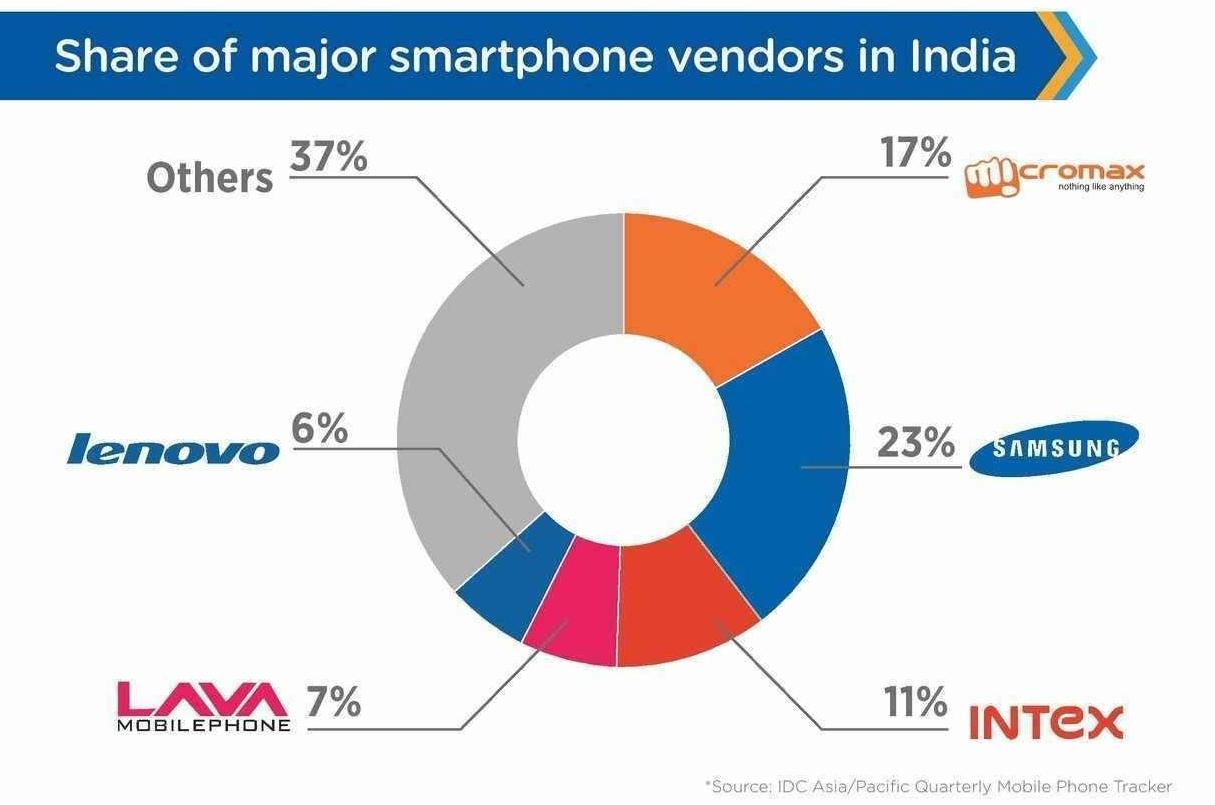 India being the second most populated country with 1.268 billion people has 19% internet penetration, amounting to 243 million active internet users. With this huge populace, India is home for 124 million active social media users. The number of active mobile social users stand at 108 million whereas the country has 946 million mobile connections.
Though, active mobile social users are growing multifold with addition of 50% since January 2014 the increase in the mobile subscriptions remain +6% from January 2014. The number of mobile internet users in India reached 177.5 million by March 2015, adding 37.9 million new users since March 2014, states the MEDIANAMA report. The growth is likely to continue in the next few years as the total number of users are expected rise 314 million by 2017 states IAMAI-KPMG report.
As shown in the infographic the number of 2G connections rose from 139.6 million in March 2014 to 177.5 million in March 2015. However, the 3G connections almost doubled from 36.47 million to 70.75 million. On the other hand, a study from MBit Index by Nokia networks demonstrated 3G connections to be increased by 3X as compared to 2G owing to cheaper entry level smartphones catering to high-speed internet connections. Additionally, 4G is still in the nascent state in India with Airtel launching services in few states and Vodafone to start the service soon by the end of 2015. By the end of 2015, the adoption of 4G network is expected to grow by multifold as Reliance is all set to roll out its 4G network across 800 cities in India.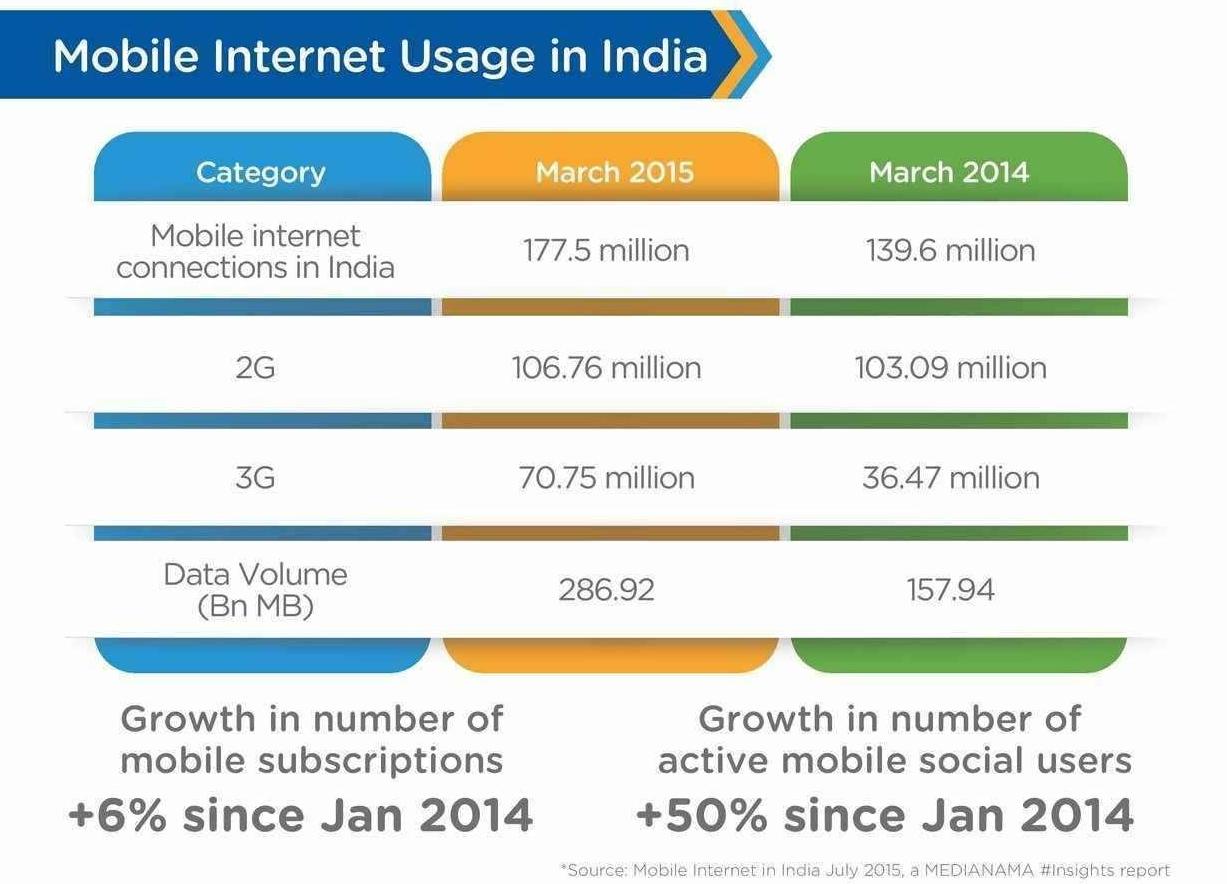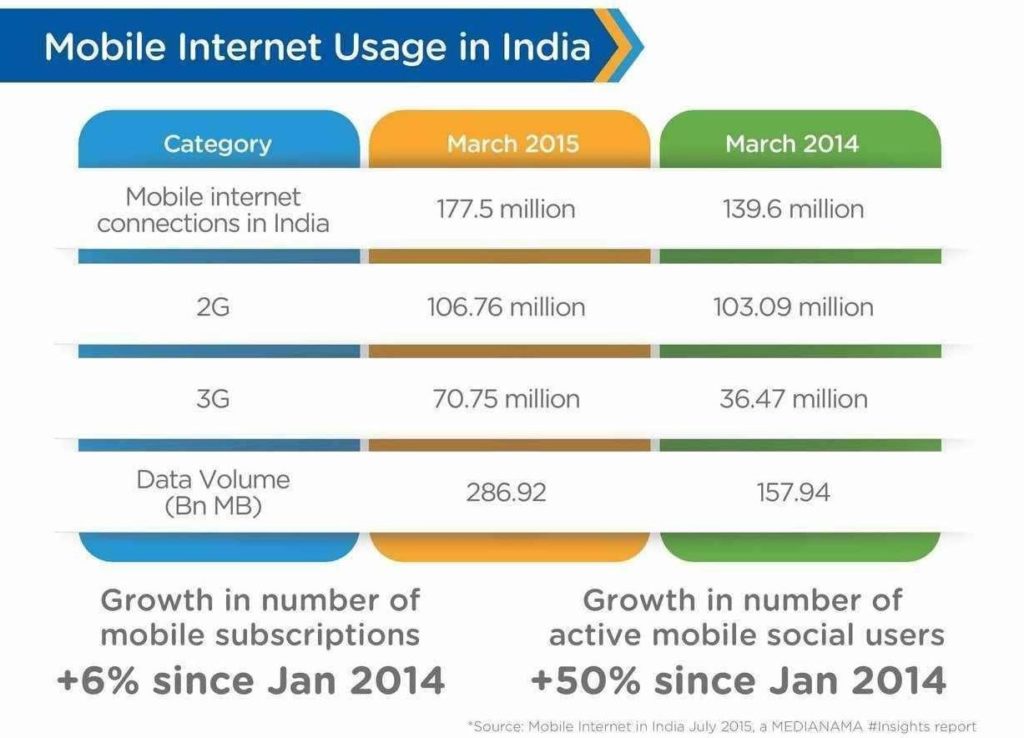 With the growing influence and interference of the internet in daily life, people in APAC are spending 5 hr 4 min on an average on the internet through PC or tablet. Comparatively, people are spending less time on the internet through mobile devices. Overall, in the Southeast Asian countries an average internet user spends about 4 hours and 25 minutes each day on internet states a research conducted by the GlobalWebIndex.
But it is interesting to know that despite a person spending less time on mobile as compared to Desktop, mobile phone takes the lion share of total internet traffic with +5% increase in usage accounting for 68% of the total internet traffic in India. The growth in mobile phones has come at a cost of Desktop and laptops usage, which recorded a Y-o-Y decline of 10% to one-third of the total internet traffic. The usage of mobile via Tablets increased by 1% YoY accounting to +12%.
Mobility Emerged As A New Driver of Ecommerce
The adoption of smartphone and growth in mobile internet traffic are making a significant impact of app installation. mobile phone users are slowly moving from mobile web to mobile app usage and this is evident with the changing traffic to few top eCommerce Stores in India. 50% of the Amazon traffic is coming through mobile devices as per January 2015. The poster boy of Indian eCommerce industry, Flipkart receives 70-75% traffic from mobile app alone and Snapdeal's 75% sales are from mobile platforms. Referring the GMV (Gross Merchandise Value), 70% of Paytm business order is sourced through Snapdeal and Flipkart mobile apps. Paytm achieved the 20 million app downloads milestone in March 2015 and its 80% of orders are through mobile.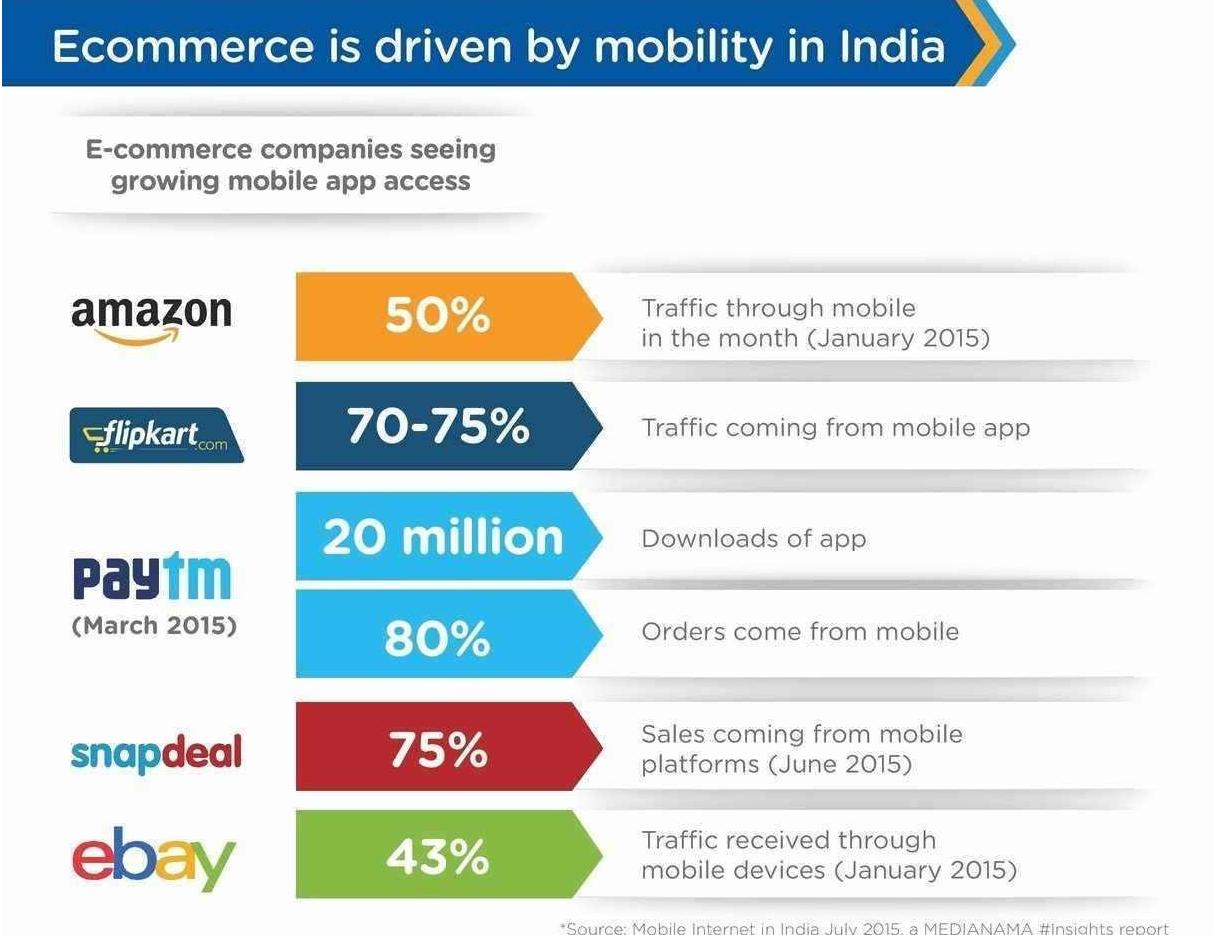 With these increase in numbers it is clearly evident that mobile phones lead the E-commerce market it is imperative for the enterprises to be part of the mobile phones to reach the new helm in terms of sales and widen the reach.