Smartphones have become an integral part of today's life. Hourly updates have become a routine, users check their smartphone at least 150 times in a day. The situation is so intense that smartphones have replaced literally everything in our lives. This is clearly evident with the latest smartphone sales figure in the 1H 2015. Between January and June 2015, smartphones sales to end users clocked 665 million units, up by 13.4% compared to the same duration last year, according to Gartner. In 2Q 2105 alone, 329 million units of smartphones were sold to were sold to end user, an increase of 13.5% over the same period in 2014. However, first time ever, smartphone sales in 2Q 2015 have declined as compared to the previous quarter.
The history of present day smartphone may be traced back to as far as the Blackberry 5810 which was then the only device equipped to browse the web and receive emails. With consistent development in technology and implementation of smart features, today we have Smartphones which assist us in every aspect of our life. The growth, unfortunately, is restricted to few countries, which are controlling more than two-third of the smartphone market.
Global Smartphone Sales Q2 2015: China Plays the Spoiler
Since the launch of Apple's first iPhone the smartphone market has gone through many revolutions. The standards set up by these devices led to the development of the industry beyond all expectations. Consequently, people are becoming more smartphone friendly and relying on it big time. This has led the global sales of smartphone shot up from as low as 61 million units in 2Q 2010 to 329 million units in 2Q 2015. This is around 445% increase in a span of 5 years, which is quite impressive.
However, the industry has recorded the slowest quarterly growth in 2Q 2015 since 2013. The saturating market of China and the US could be blamed for the slow growth. In 2Q 2015, China had accounted for 30% of the global smartphone sales – the largest share of the sales. However, the trend in China indicates a constant decrease from 20% YoY shipment growth in 4Q 2014 to -5% in 1Q 2015. This was primarily due to a large reduction in the number of first-time buyers and prevalence of replacement model in the market. Recording a YoY 4% decline, Smartphone sales in China fell for the first time ever.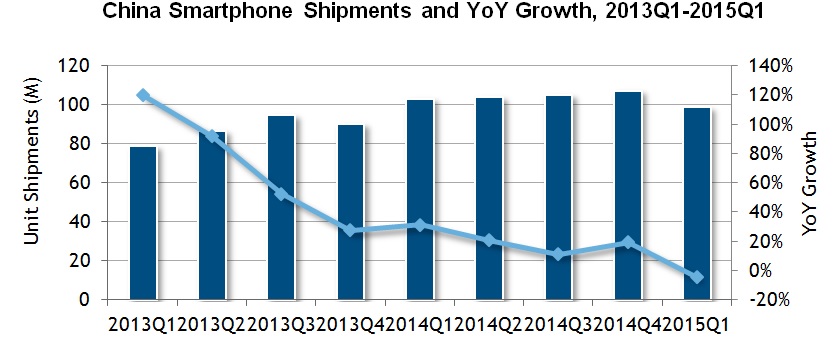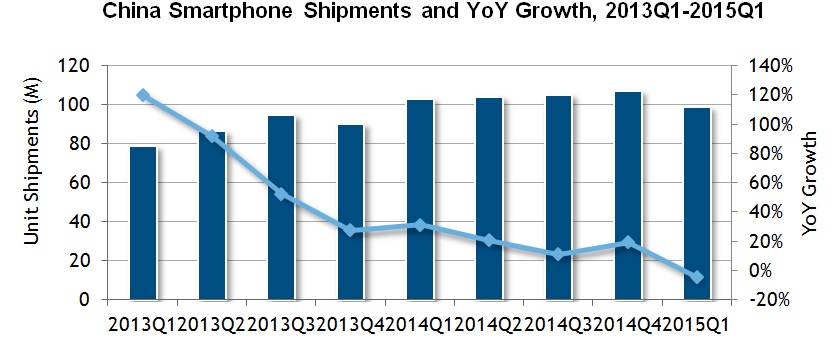 Samsung Gets Tough Challenge by Apple
Samsung was successful in retaining the Numero Uno position with 21.9% of market share again in 2Q 2015, but it suffered a 4.3% point decrease in market share since 2Q 2014. Apple had the second largest market share of 14.6%, registering a 36% YoY growth in smartphone sales. This had helped the company to increase its smartphone sales market share 2.4% point compared to the same quarter last year.
China proved to be the best market for iPhones for 2Q 2105. Apple sold 11.9 million units of iPhone in the country, registering a 68% increase in sales over last year. Huawei had the greatest YoY sales growth of 46.3%, retaining 7.8% of the market. This was largely driven by overseas sales and 4G sales in China. Lenovo and Xiaomi trailed the chart with 5% and 4.9% market share respectively.
Apple iPhone: Major threat to Android Smartphone
Android OS emerged to have the largest smartphone sales share of 82.2%, albeit a reduction of 1.6% point from the same duration last year. Apple continued to eat into Android's market share, which resulted in an increase of 2.4% YoY, to 14.6% of the total sales in 2Q 2015. Microsoft's struggle continued to be futile this quarter also. The uncertainty of its hardware business might be one of the primary reasons for the poor performance of Windows phones. Windows and The smartphone sales market share of Blackberry also declined as compared to last year.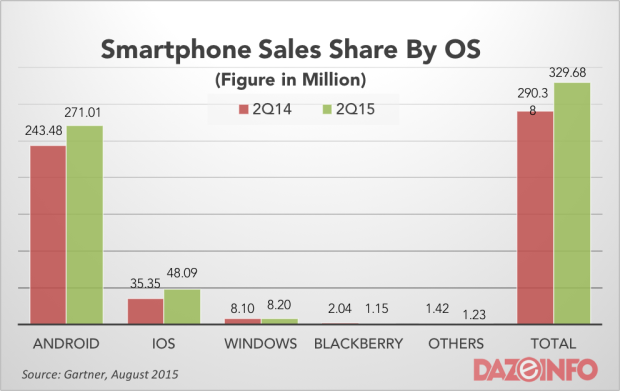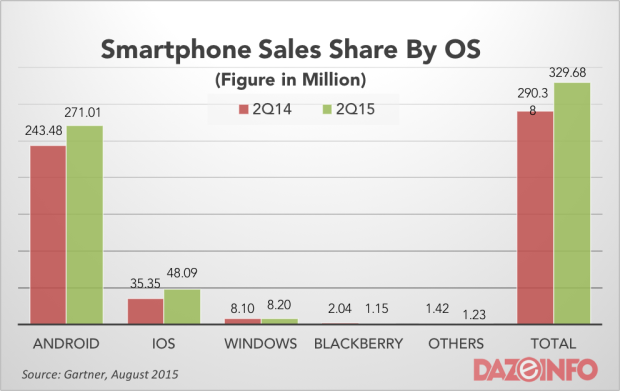 Apple's growth is largely coming at the heels of large-screen iPhone. Most of the matured Android Smartphone users with deep pockets were apparently found themselves stuck with Android due to the unavailability of large-screen with iPhone. However, the table finally turned in September last year when Apple announced iPhone 6 and iPhone 6 Plus sporting 4.7-inch and 5.5-inch screen respectively. Since then sales of iPhone has been skyrocketed with each passing quarter. This was clearly evident with the sales figure of Samsung's premium smartphone Galaxy S6 that was continued to be challenged with the growing popularity and sale figure of Apple's large-screen iPhones.
With several forces acting together in the global smartphone market, the dice has been set rolling. The strategy is going to be most important now than ever before. Creating markets for high-end smartphones is going to be a challenge while retaining market shares are becoming tougher. Apple is all set for creating major turnarounds both in the product and market space. Competitive pricing is going to be in favor of the customers as clearing inventory will become a challenge for several vendors. Android, with open gates to all, will attract several new players. This might create new scenarios which are not quite predictable predict right now.