A Customer Loyalty Program is an engagement by Marketers to engage with customers with the intent to increase brand loyalty which in turn leads to increased brand purchases. These programs are often in terms of discounts, freebies, event invitations, etc. How do customers react to such programs? A survey conducted by Bond Brand Loyalty with over 11,000 North American Consumers on the subject of Customer Loyalty Programs shared some interesting findings.
As expected such programs have been given the thumbs up by customers, for various reasons, not all of them easily discernible. Customer participation in such programs has increased from 10.9 in 2015 to 13.3 over 2014. Despite this, the average number of programs where the consumers after enrolling in actually made a purchase fell from 7.8 to 6.7. So is participation in a Customer Loyalty not an indication of Customer satisfaction? Look again, a high 34% customers admit that if not for the loyalty program, their loyalty to the brand may have shifted, hence a safe conclusion would be that such programs tend to increase brand stickiness.
The High Drivers for Customer Loyalty Programs.
The Customer is not only King, but a selfish being. Hence, not astonishingly, the drivers for Loyalty Programs are the rewards, easy redemption, amount or points accumulated, timely rewards and various other reward generating methods.
Not unsurprisingly then, Loyalty Reward Programs were the third biggest driver with a rating of 7 points, against the number 1 driver, "quality or service of a product" with a high 10 and "brand meets my needs" scoring 7 points.
This poses a huge challenge of the Marketer whilst fulfilling the other requirements of the customer such as a quality product that fulfils customer need, not to make a customer too dependent on Customer Loyalty Programs as the marketer will then need to maintain offerings of discounting, freebies, etc.
The Mobile takes centre stage of Customer Loyalty Programs.
Everyday experiences prove that the mobile today has become the center of the customer's life. With the mobile device gaining popularity, 48% of Loyalty Members agree that they would like to engage with the handsets for the programs with 42% being highly satisfied with the programs. Despite this, just 12% download a program whilst a good 60% are not even aware if the program is available on their handsets. The customer sure is an enigma! Again, and as expected, website usage dropped from 37% in 2014 to 31% in 2015.
Customer satisfaction rather than Loyalty programs is the Key.
Although Customer Loyalty Programs may increase brand popularity, certain popular brands like Nike+, apple's iTunes Genius, attain high loyalty ratings even without a structured program, because they not only fulfil customer needs but also make the customer feel recognised and valued. Whilst Loyalty programs may be important, the crux is to increase customer loyalty through customer satisfaction.
Possession of Loyalty Cards did not increase Usage.
Loyalty Members satisfaction levels went up to 43% in 2105 against 39% in 2014. Whilst 13.3% customers possessed Loyalty Cards in 2015, (against 10.9% in 2014), the actual usage of such cards declined from 7.8 in 2014 to 6.7 in 2015. So possession is not an indication of usage.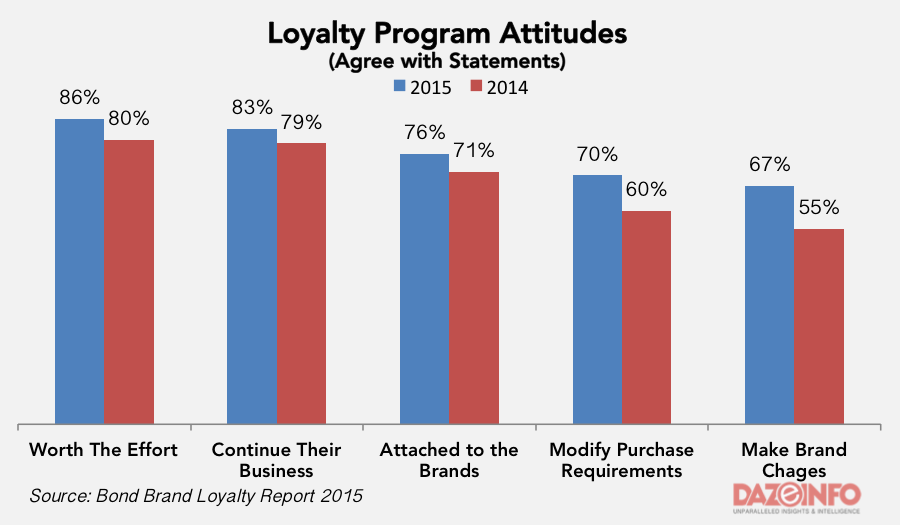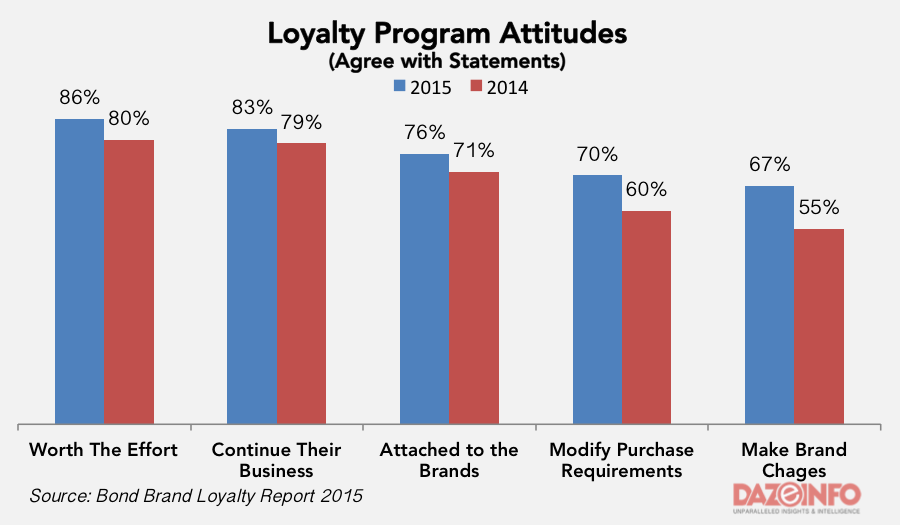 On all scores, 2015 seems to be a better year for customers than 2014.
86% thought the programs were worth the effort, against 80%
83% were more likely to continue their business, vis-à-vis 79%
76% felt attached to the brands as part of a relationship than 71%
70% modified their purchase requirements to maximize benefits, against 60%
67% made brand changes to maximize benefits vis a vis 55%. 
Does a Marketer benefit by such programs?
Given time pressures, there is a limit to the number of programs and brands that customers would like to engage with. It is interesting to note that less than 50% customers increase their spends after engaging with a program which could perhaps imply that marketers need to relook at their programs to ensure that customer engagements match with increased sales.
How Unique are such programs – a wasted branding opportunity?
To the dismay of the marketer, 44% Customer Loyalty Program customers agree that the loyalty programs could be easily replaced with a competitors program, suggesting therefore that content uniqueness is lacking. A customer loyalty program offers a super opportunity whereby the marketer through the program content, if creatively and well designed, can accentuate the difference between the brand and competition. Hence an improperly designed program can become a wasted opportunity for brand differentiation.
Welcome news for marketers.
The programs seem to be gaining customer trust from 31% in 2014 to 37% in 2015.
34% customers would recommend the programs to friends and relatives.
The satisfaction levels of the personalised experience of the program went up to 28% in 2015, vis a vis 21% in 2014
About the Author
With 30+ years of branding/communications experience under his belt, from some of the best ad agencies in the country, Ivan Couto's rise to the top has been a slow and painful journey, not having focused on the corner office. His goal has always been professional learning, which led him, from the start of his journey, to paper chases, one diploma after another, from PR to advertising to Radio & TV Broadcasting from XIC.