Ever since Reputation Institute started Country RepTrackTM (which ranks countries by their reputation), India is seeing a sinusoidal curve with ups and downs. However, this year, India closed at an all-time high at 52.7, with an overall 7.4% rise from 2014, which again is the highest gain for the country in any year. India is one of the top 5 gainers on the list of global reputation ranking of 2015. The overall stats of the country for previous years is as below.
Though the country's reputation points have been well within the range, India suffered in its rankings. India saw a downward trend moving from 25th position to close at 36th position in 2014. However to its advantage in 2015 India ranked at 33rd position gaining 3 positions.
While the External perceptions of the country has always been in the mid-range, India has managed to keep itself in the top 5 list when it comes to internal reputation or self-image or reputation from the perspective of its citizens. India's reputation in the last 5-year Internal Reputation Scores are as follows.
It can be noted that the country's internal reputation has always been high and 2015 saw a come back to 8.17 from 79.4 in 2014 (marginal growth of 2.9%). India has always managed to be in the top 5 countries in terms of internal reputation.
India's reputation in comparison with neighbours and BRICS nations
This year has been very good for India when compared with its neighbors. China has been ranked at 46th with a score of 42.5 whereas Pakistan is ranked at 53rd position with a score of 31.5.
Compared to the BRICS nations, India again enjoys being a better-reputed country to be scored at second position with Brazil on the top. The Scores & Ranks of the countries are
| | | |
| --- | --- | --- |
| Country | Ranking | Reputation Score |
| Brazil | 26 | 56.1 |
| Russia | 52 | 35.1 |
| China | 46 | 42.5 |
| South Africa | 40 | 49.7 |
What are the factors that led to increase in India's Reputation?
The country's reputation was evaluated based on 3 dimensions namely Effective government, Appealing Environment and Advanced Economy. These dimensions constitute various sub-elements that are identified for the country. The following chart identifies India's position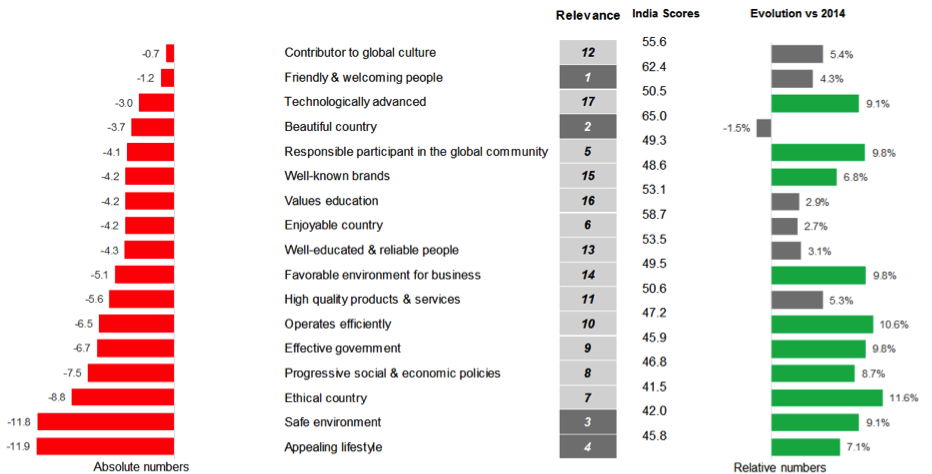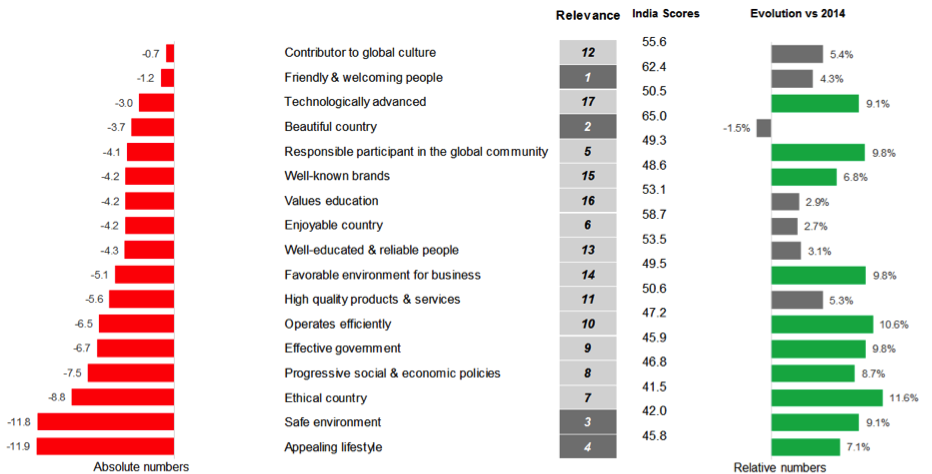 The report identifies that India fare poorly on every factor with the deviation from the average being lowest (-0.7) in case of the contribution to global culture to highest (-11.9) in terms of appealing lifestyle.
However, the rejoicing information for India is that the country has seen positive growth from 2014 in almost all areas with only losing 1.5% as a beautiful country but gaining a good 11.6% as an Ethical country.
Take Away
"Reputation is all about perceptions; it might not be the reality always. India is such a beautiful country but it is receiving a low score. The reputation of India is below the average and there is a lot of communication opportunities for India to explain the world. Though the strengths of India are its culture, friendliness and technology, the weaknesses are appealing life style and not being perceived as a safe place. My recommendation is to do a rigorous check on what is reality and what is perception and communicate well to the world." says Fernando Prado of Reputation Institute
There is a need for the government of India to showcase ourselves as a better country. At least build right stories and communicate to the world that the country welcomes visitors/tourists, investment and buying (export) opportunities, and better study & work opportunities.
The report clearly mentions that India is changing for the good and hope the growth trend remains the same. A better reputation raises the economy which means companies, SMEs and MSMEs have opportunities to trade globally and become global recognized. The first step for companies is to evaluate and assess their reputation and build and improve their image, brand and reputation.