One of the greatest revolutions in mobile history was brought in the year 1999 with the introduction of email on mobile devices. Nokia 9000 was the first mobile phone to have email and internet browsing features. This started an era of mobile dominance over desktop for internet usage. Since then, several developments have been made to reach the current age of smartphones, which have taken mobile data to a level that has never been imagined. According to a study done by Litmus, the share of email access on mobile was a meagre 8% of the total market share in 2011. The steady increase in the penetration of mobiles and advancement in mobile technology have led to a whopping rise of several times to acquire almost half of the email open rate market in 2015.
Email Marketing: Share of mobile email users
Mobile phones have become the most favoured device for viewing emails in the current year. As per the report by Litmus, 48% of all the emails are opened on a mobile device. It goes without saying that this rise of around 500% in the last 4 years has largely been driven by a 200% increase (500 million units in 2011 to 1500 million units in 2015) in the smartphone sales as per data curated by Statistica. As illustrated by the Litmus report, the huge surge in mobile share came at the cost of
the desktop market which saw a deep dive during this period, while webmail lost only a small part of its share. 2012 was the crossover junction when mobiles took over its counterparts to capture the largest market share and never looked back since then.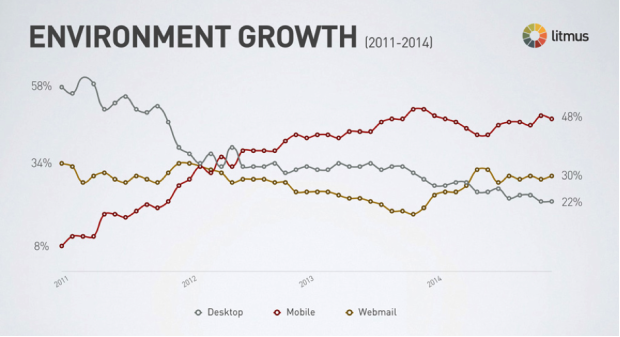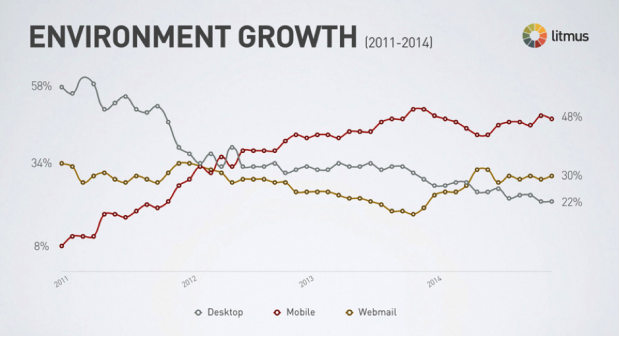 Diving into specific email clients used across the globe, the largest share of 28% was bagged by latest Apple iPhone (owing to the latest release of Yosemite) followed by Gmail at 16%. Yahoo!, Windows Live and AOL stayed around the bottom of the table with 4%, 2% and 1% shares respectively. Overall, Apple ruled the chart with a total share of 48%. This was reported by Litmus in January 2015.
The reports by Campaign Monitor highlighted that of all the initial email hits at least 23% were opened for a second time. The click to open rate for emails reached 13.7% in 2015 with an increase of 8.5% over the last quarter. The same amount of decrease was observed for click to open rate in case of desktops. Mobile usage is also influenced by the design of the content. Receptive content was favoured by customers and clicked more often than its counterpart. A 15% increase in unique clicks was observed for designs that were more approachable as compared to non-responsive content. By the 3Q of 2014, mobiles were estimated to contribute 39% of unique email clicks while desktop had a 61% share.
Time spent on mobile emails
The time spent on an email brought out some interesting results. Almost half (53%) of the Android users tend to linger for more than 15 seconds while the same for desktop stood at 43.9%. A greater proportion of Apple users, on the other hand, were quick readers as 42% of them spent less than 3 seconds on each email.
Too many (44%) and several irrelevant (37%) emails were the top reasons that discouraged users from checking emails on mobile. Too short (32%) and incompatible website designs (26%) were among the other reasons for the same. This may be helpful in concluding that the replies sent via mobiles were 62% shorter and 54% faster as compared to desktops. This brings us to a conclusion that short and targeted emails having links to mobile compatible web pages prove to be most efficient. As can be seen from the 2015 report by Fleximail, mobile compatible design fostered an improvement of 36% for B2B marketers and 25% for B2C. Also, Email Marketing Compass: The Season of Mobile by Litmus reported that the click to open rate for brands sending exclusive responsive emails is 40% higher than the brands sending non-responsive emails. Several marketers took to this trend; as a result, 37% of all emails in 4Q 2014 were responsive. This was a 28% rise over the last quarter.
Another analysis by ExactTarget reported that 91% of users check their emails at least once every day on a mobile device. Almost half of the users (49%) check their email first thing in the morning as reported by Apsis in 2014. A slightly higher group (54%) of users prefer to check emails just before going to bed. This might help the marketing managers to plan email timings that will fetch the maximum attention of respective consumer groups. Overall, email has become the most popular activity on mobile phones with 78% of the users in its share. Internet browsing and Facebook were close competitors at 73% and 70% respectively.
Revenue from mobile email usage
The revenue generated by mobile emails was 20% of total email revenue, according to the latest Yesmail study. This was a 33% increase over the last year (2014). Each mobile click generated revenue of 28 cents which was more than double of that created by a desktop click. In 2014, a major chunk of email transactions (40%) were carried out on Apple mobiles. It also accounted for the highest share of email opens (68%) and clicks (58%) on mobiles. Mobiles also saw a growth of 28% in average order value over the last year. However, android was found to be the favourite with email-generated purchase growing by almost 50% over the last year.
Owing to the huge rise in the role of mobile devices in email marketing, it is evident that desktops are soon going to be out of this race. If predictions by The Radicati Group are to be considered, in the next 3 years, 80% of the email market will be captured by mobiles. Only time will tell if desktops can come up with some great innovative formula to revive its stance in the market or they have already lost the game.