With the rising popularity of social networks around the globe, gone are the days when people relied on a single social networking platform to be active online. Now, as per the analysis by email marketing software provider YesMail, marketers have also started following this suit and begun investing their promotional strategies over multiple social media channels.
To reach this analysis, YesMail studied the social media activities of 50 top retail brands from five different retail industries, Beauty, Apparel, Electronics, Big Box Stores and Home Goods. To validate their findings, YesMail also compared their findings with Pew Research Survey 2014 which measured an increase in growth of multi-platform use among consumers by 10% from the previous year.
According to the study conducted by YesMail, more than 90% of retail brands preferred using two or more social media channels to promote their brands and products online. Among all the five industries, Apparel industry remained active on four or more social media channels. 30 out of 50 brands from the Apparel industry were using all the major five social media channels: Facebook, Twitter, Instagram, Google+ and YouTube, while 86 percent of all Apparel brands were actively engaged on least four social media channels.
Although most of the brands are preferring two or more social media channels, only Home Goods industry fared well with 100% adoption of multiple social media platforms. However, other industries also scored well within expectations placing beauty industry at the bottom of the table with 91%. Also, only 20 electronic brands (i.e 40%) were using 4 major social media platforms actively for promotions.
Facebook is undoubtedly the most favorite social networking platform used by 98% of these retail brands while Twitter is not far behind with 91% as the second most favorite social media channel. YouTube fares well at the third position with 79% of all brands are focused on it.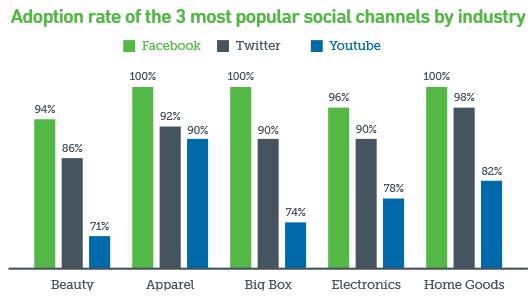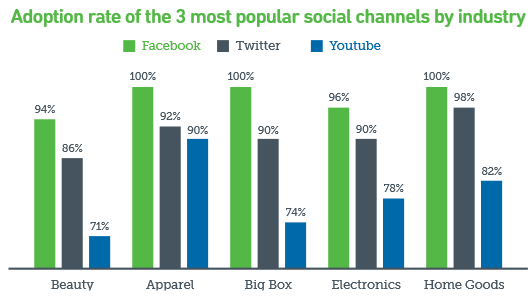 Instagram Records Encouraging Follower Growth
The study also highlights the contribution of these five industries to the total followers count of top social media networks. Although Instagram was found to be the least adopted social media channel across all the categories, this photo-sharing mobile platform saw a tremendous growth of 237% in the followers count across all the five industries. Instagram is currently one of the most favored social media channels among the young mobile internet users, which is actually the main reason for such a huge follower growth for these industries. The highest average follower growth on Instagram was recorded from Apparel industry at 417% while big box store brands registered the least 132% growth.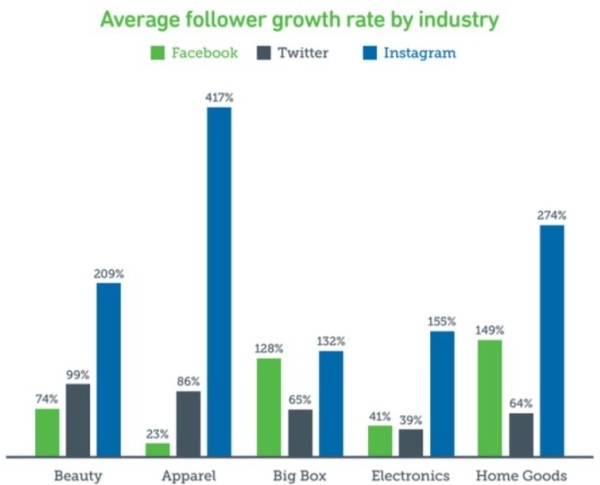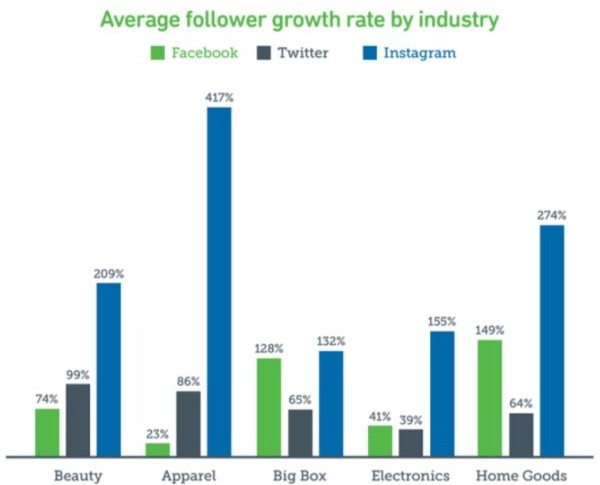 Despite low adoption rate across all categories, Instagram registered an adoption rate of 82% in the Apparel industry. It seems like the Apparel industry have acknowledged the fact that Instagram appeals more to the younger audience who love to spend more time on their smartphones and share photos or selfies regularly. Consequently, most of the brands from Apparel industry have started investing a significant chunk of their marketing budget on Instagram.
Looking at the average month-over-month follower growth across all retail industries being studied by YesMail, Instagram again leads the pack with 93 percent, while Google+ lagged behind with just 80 percent growth. These statistics clearly indicate that the exploded adoption of smartphones across the globe is driving the growth of the retail industry, be it acquiring new customers, engagement or brand followers. While Instagram is completely meant for smartphones, nearly 40% of Facebook users are on mobile and 90% of Twitter users access the microblogging platform from mobile devices.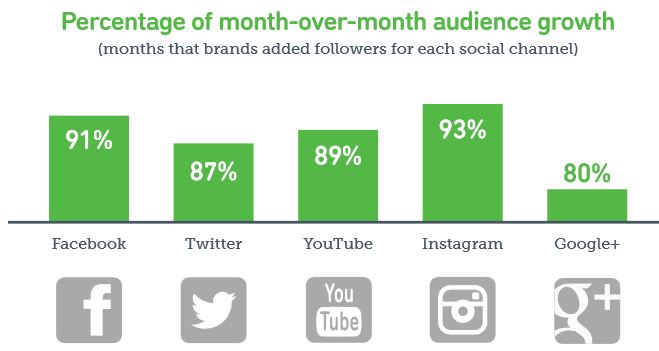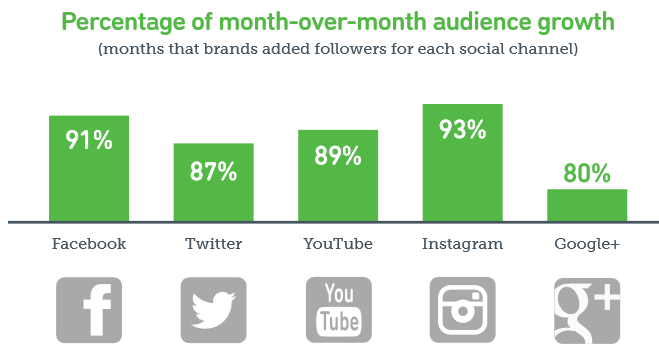 Here are few takeaways that retail brands across the globe can utilize in their social media campaign:
Be active on all major Social Media platforms.
Facebook and Instagram should be the top focused social media marketing channels for retail brands.
Brands from Apparel should double their marketing investment on Instagram.
For Apparel Industry, YouTube is equally important as Twitter. Brands must focus on releasing products reviews, demos and guides in video formats.