The terminology 'Wearable Devices' widely refers to the electronic gadgets which can be worn by people and converges all computing applications in a single device such as Google Glass, Smart Watch, Fitness Band and so on. These wearable are influencing not only the personal life activities but also work-life in order to accomplish the tasks in most effective and efficient manner. Consequently, the adoption of wearable devices in Enterprises and Industrial Markets is expected to increase exponentially by 2020. According to the latest report from Tractica, the revenue from wearable devices market for enterprise and the industrial segment will grow to $6.3 billion by the end of the year 2020 at a Compound Annual Growth Rate (CAGR) of 140% from $14 million in 2013.
Tractica also estimates that wearable devices shipments till 2020 will rise to 27.5 million units from 1.66 million units in 2013 with a CAGR of 108%.
The Corporate and Enterprise Industry of wearable is still small, but it's a growing market. The market accounted for 1% share of the total revenue coming from wearable devices in 2013 but is estimated to account for 17% by 2020. Smart watches and fitness bands are the main drivers of this growth but in the next few years the trend will shift only to smart watches. Despite its higher price, smartwatches would be preferred over fitness bands as the farther ones pack more sensors, offer improved battery life and provide better value for money. The other smart devices, likes of smart clothes, wearable camera, body sensors, will contribute fewer than 10% of total wearable industry coming from enterprise and industrial segment.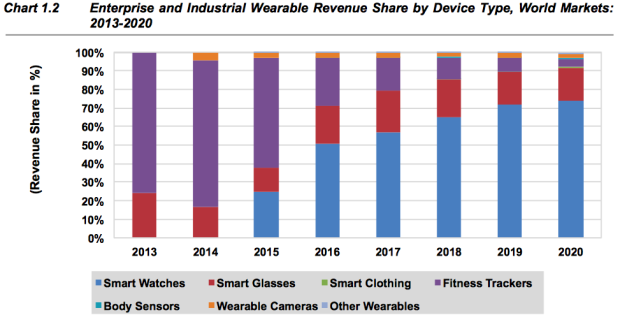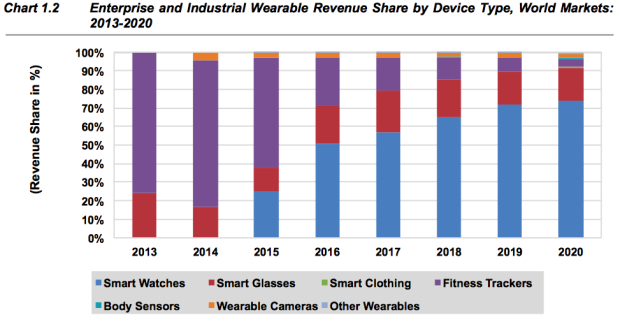 The availability of various useful wearable gadgets need of engaging more effectively with customers and crave for high productivity will drive this trend which is discussed below
Market Drivers:- 
Smartphones are big distraction these days for employees while a smart watch can be a powerful complementary gadget. It will increase the efficiency as it will save time which is wasted in unlocking phone repeatedly (A normal person unlocks his phone 130 times in a day).
Gesture-Controlled devices allow workers to instruct the various processes in the plant and in getting information and communicating with ease.
Wearable Gadgets will make the workers multi-tasking and they will be able to manage more than one site at a time. As these devices are versatile and keep the ubiquity of smartphones alive.
These devices also keep a keen eye on the health of employees. Ultimately which increases the efficiency of employees, so the productivity of a company.
Wearable devices can be used in various fields as:
Eyewear: It allows you see ambient information at the same time when you are interacting with the real world. It is the most innovative wearable device. And most ambitious gadget is Google Glass. Researchers say that Google Glass have great potential.
Bracelets: As health bands have proved its potential in the market, the segment is dominating the wearable gadget market. Bracelets are not limited to the health sector, but they are widely used for other applications as well. According to a report of Tractica, Large number of Company wellness programs use wearable devices to keep their employees fit and fine.
Procurement Applications: Wearable Devices are now widely used as barcode readers, for getting info of a product, know the price and other data for shopping malls. DHL and Ricoh are already using these hi-tech products. DHL shared that in the trial for 3 weeks they noticed an improvement of 25% in performance.
Quality Control and Inspection: Smart Glasses can be used while inspecting manufacturing plants. BMW, the high-end luxury car manufacturer, has adopted smart glasses for inspection and quality assurance of cars in its US plant. This was a successful implement as it allowed workers to take photos and videos to check the deviation from the expected outcome. It made a paper free platform for inspection and also provided an hands-free environment which increases the productivity and serves the purpose of the company.
3-D/ Computer Aided Designs(CAD): Till now engineers and architects were dependent on the 2-D designs on screens. But now with smart glass engineers can get a 3-D look of an object or building designs and even it will allow users to get an inside view of the object.
SmartWatches: Smartwatches are basically used as a companion device of smartphones as these devices are pegged to your smartphone. Users are able to see the notifications on the screen of smart watches which will also allow him to take some primary actions. Smart watches are also able to keep track of your health data as of fitness band.

 C

ompanies claim that watches will reduce the hassle of unlocking your phone every time and going to pocket every time you get the notification.
Market Barriers: But, despite all above benefits, the wearable devices' market has also got certain challenges that are hampering the growth of the industry. There is a number of barriers which can affect adversely the adoption of wearable devices:
The biggest issue is of security; companies are highly concerned about some confidential projects and data, which can be leaked through such devices.
Wearable devices are being recognized more of a style and fashion statement. It is, therefore, important that smart devices' users must have a fleet of accessories, such as band, dialer etc, to match it with their attire. Eventually, making it a costly affair.
Use of wearable in the risk intense companies is not a safe option for sure. As these electronic gadgets can harm people in the industries of oils and other inflammable.