Amazon Web Services (AWS) is the titan of public cloud services, but Microsoft Azure and Google Cloud Platform are getting more competitive every day. According to Goldman Sach, spendings on Cloud Computing will grow at a 30% CAGR between 2013 and 2018 compared with 5% growth of overall enterprise IT. By 2018, 59% of total cloud workloads will be Software-as-a-Service (SaaS), up from 41% in 2013. 28% cloud workloads would be Infrastructure-as-a-Service (IaaS) and 13% will be Platform-as-a-Service(PaaS). Let's do a service-by-service comparison to determine which public cloud is right for your business.
Let's do a service-by-service comparison to determine which public cloud is right for your business.
AWS: The Established Frontrunner
Amazon AWS organizes its services into four main categories: Compute, Databases, Networking, and Storage & Content Delivery. Amazon has its own Hadoop framework called EMR, and it also offers Kinesis, which can process real-time data streams. AWS offers managed NoSQL and relational database services, many third-party integrations, and a strong encryption platform. It also supports Red Hat Enterprise Linux, which Azure doesn't, and its GovCloud provides instant regulatory compliance for government agencies.
According to Gartner, AWS has five times the capacity of the next 14 largest competitors combined. It has an easy-to-use dashboard that makes it simple to scale up and down depending on resource needs, and you can also enable services like CloudWatch that will scale your capacity on-demand. Amazon's cloud also had the highest availability of all three candidates last year. In 2014, Amazon only had 23 outages, resulting in just 2.69 hours of downtime.
AWS tends to be the least expensive option if you're willing to shave off some of the costs by purchasing reserved instances up front instead of only committing to hourly rates. AWS charges extra for optional tasks, like data movement, which can make billing and budgeting complicated, and it requires extensive cloud architecture knowledge to get started. Still, AWS offers a huge partner ecosystem and incomparable scalability. It also offers a 12-month free tier trial for small capacity users.
According to a latest report from Synergy Research, AWS has hit the five years high market share despite increasing competition from Microsoft, Google, IBM. The research that includes SaaS, IaaS and PaaS, claims that AWS has achieved 28% of total cloud market, followed by Microsoft (10%), IBM (7%), Google (5%), Salesforce (4%) and Rackspace (3%).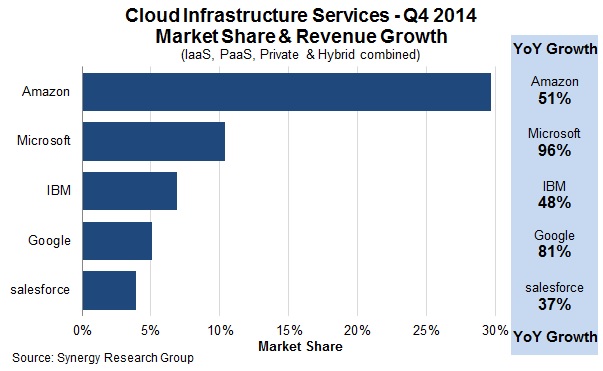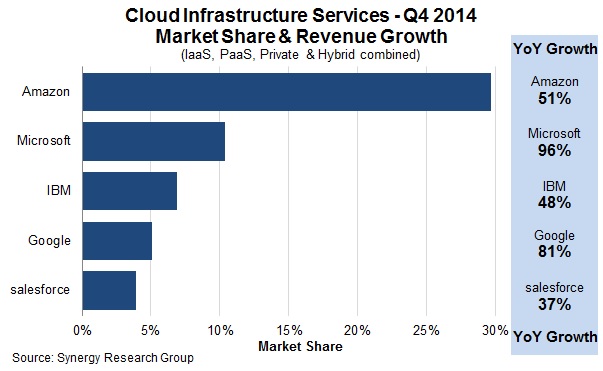 Google Cloud Platform: The Data Cruncher
Google Cloud Platform lags behind AWS in the number of services it offers, and it's not as geographically widespread as AWS. Still, Google is investing in cloud computing, and its service offerings are ramping up quickly. GCP offers robust support for Hadoop, BigTable, and BigQuery — the database engines that it pioneered. It also has better Networking than AWS or Azure, with each instance living on its own network. Before you create an instance, you can set up strong server virtualization security tools, including firewalls, routers, and subnets.
GCP integrates nicely with Google App Engine, although AWS Beanstalk offers more capabilities in terms of supported programming languages. GCP also has instant auto-scaling for Google Compute Engine, and it's not purchased as a separate service the way that CloudWatch is. Google doesn't have as many offerings as AWS, but it's consistently adding new services. Its Nearline cold storage service, designed to complete with Glacier, offers faster retrieval than Glacier for backups and other infrequently accessed information.
Finally, a big advantage for smaller companies: Google charges by the minute with a 10-minute usage minimum. AWS, which charges hourly rates, can end up being more costly and far more complicated. GCP's downtime was significantly less than Azure's, coming in at under five hours. It's not as reliable as AWS, but it's awfully close.
Azure: The Up-and-Comer
Microsoft Azure primarily targets PaaS customers, although its IaaS is expanding. If your company is interested in hybrid cloud services, Microsoft will soon offer Azure Stack for on-premises private clouds that integrate seamlessly with Azure's public cloud. With Azure, developers worry only about maintaining their code. They don't have to maintain their own VMs or worry about patches and security updates.
Sixty-four percent of those who use Azure say that they like it because of Microsoft's relationships with its customers. If you're heavily invested in other Microsoft offerings and applications, like Hyper-V or Office 365, Azure offers seamless integration for your applications. Also, any changes to Azure's SLA are announced at least 90 days in advance. Although AWS has the better family of third-party apps, Azure is leveraging relationships with Microsoft partners to expand its own offerings.
Azure experienced significantly more downtime than AWS or Google Compute Engine last year at 50.74 hours. Despite these connectivity issues, Microsoft has thrown its weight behind Azure. For developers familiar with Windows, Azure's interface is modern, familiar, and easy to use.
The Verdict
If you have a lot of cloud knowledge in-house, no public cloud can compare to the offerings of AWS. If you're mostly in need of PaaS, you want seamless hybrid cloud, and you're already using a lot of Microsoft services, go with Azure. If you're a major data analyzer, Google's data storage and analytics tools are simply fantastic.