Social Media is developing into a virtual world of a kind that reflects our own real life image digitally on the web for the world to observe, review and interact. With such an influence of social media in our lives, many employers around the globe are relying on these social media channels to review the candidate's profile before screening them for the final interviews.
According to an annual social media recruitment survey conducted by CareerBuilder, the percentage of companies that depends on social networking sites to review job applicants' profile has grown up to 52% compared to the previous year's 43%. Today, half of the companies worldwide are considering the social media presence as a vital source of reviewing background information about the candidates before shortlisting them for an interview. Around 35% of these companies confirmed that they are very unlikely to call the candidates for an interview if they are not active in any of the social networking media.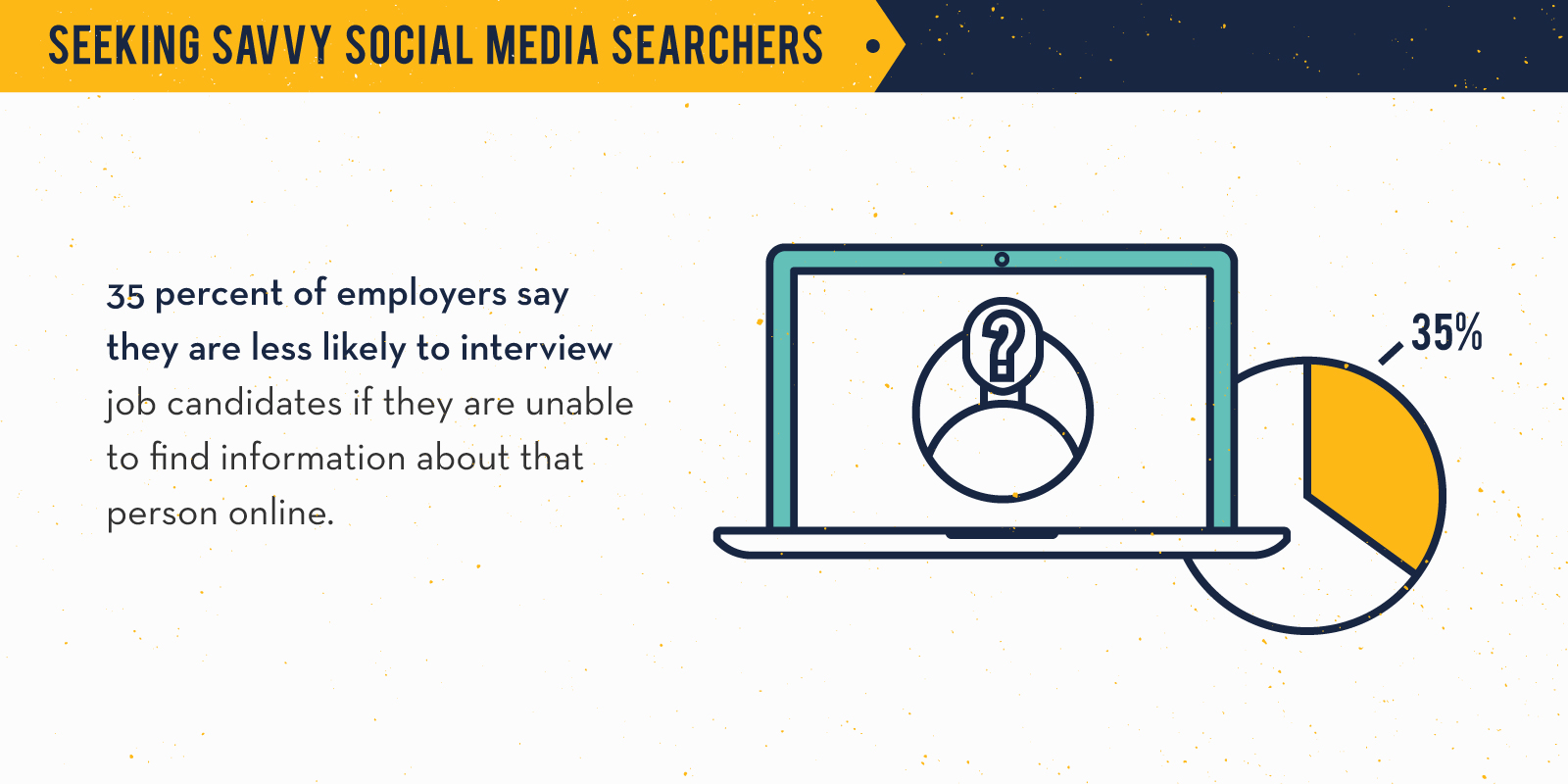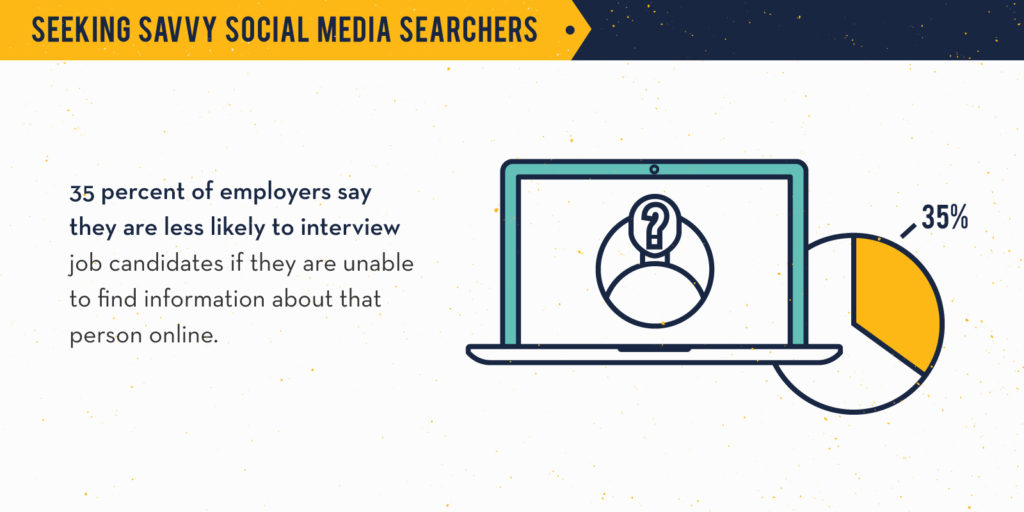 In short, if you are not registered on any social networking channel on the web then more than half of the companies around the globe aren't aware of your existence while a one-third of these companies aren't interested in your job application irrespective of your qualifications.
It's time to get social on the web…
The Internet is no longer a luxury but a utility for our lives. Many people make use of it to find news instantly, communicate with family, friends or acquaintances easily, or research thoroughly. Also, social networking sites are currently the best tools for communication and interaction with people across the globe. According to a report, the social media population worldwide is expected to reach 2.55 billion by 2017.
Such a growing population around social media is the reason why companies consider it as a great source to get to know the candidate better in order to assess if the candidate is fit for the job profile as well as compliant with the company's work culture. Social media has evolved into a huge platform that makes it easy for both companies and candidates network and communicate before the real interview. So, if you're not yet registered on any social networking site then it's high time to take action now.
There's nothing to be skeptical about companies digging into your social media activities as only 21% of employers are looking for reasons to reject the candidate. Whereas, 60% employers are looking for qualities and knowledgebase of the candidates that resonates with the qualifications required for the job and 56% assess the professional online persona of the applicants. Also, 37% are interested in reviewing what others are posting about the candidate.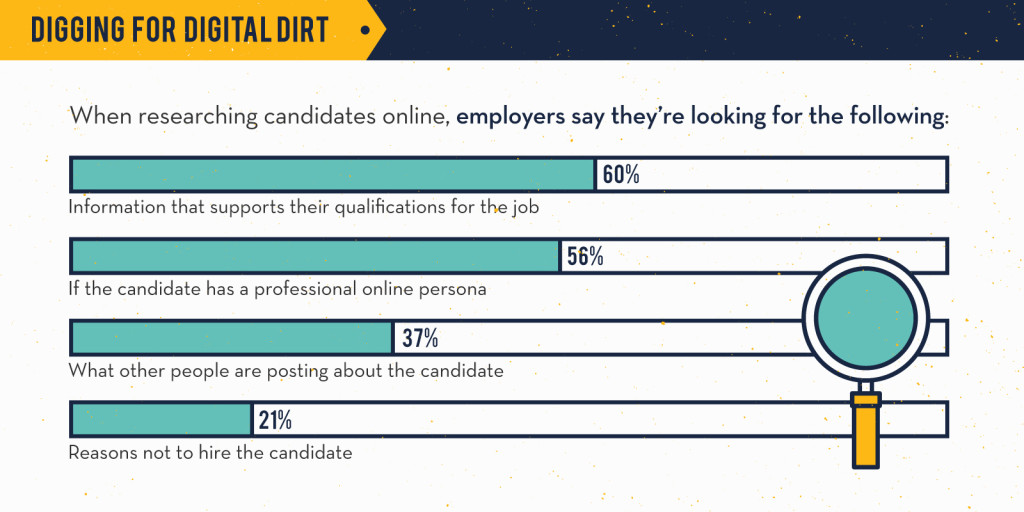 Beware of What You Post Online
The only way companies can review the profile of candidates online is through the content posted by them. According to the survey, around 48% hiring managers, who reviewed social networking profiles of the candidate, stated that they found specific information that prompted them not to hire a candidate in 2015 which is slightly lower than 51% recorded last year.
Here are some of the key findings of the survey that denied a job for the candidate:
Around 46% of the candidates posted indecent or provocative pictures or videos.
Over 40% of the candidates indicated their drinking habits or usage of drugs on their profiles.
34% candidates were badmouthing about the previous company or fellow employee on social media.
30% candidates were rejected because of poor communication skills
29% candidates posted discriminatory comments about race, religion, gender etc.
However, among these reasons for rejecting a candidate, there were some factors that convinced 32% (almost one-third) hiring managers to select a candidate as well.
42% candidates convinced the recruiters with background information supporting the job qualifications through the content posted online.
38% candidates were able to impress through their online persona that complied with the company work culture.
37% candidates build great confidence among the recruiters displaying excellent communication skills.
38% candidates displayed their expertise through their website to impress the hiring managers.
36% candidates turned out be creative.
So, the next time you post something or express your opinion on social media, keep in mind that hiring managers across the globe are keeping an eye on such information that could make or break your chances of getting hired at your desired company. If used well, Social Media can be an essential tool that can improve your chances of finding your desired job.
Try to Connect More!
It's not as easy as it seems for the companies to review the candidate's profile over social media. With privacy settings and other customizations, the hiring managers are hardly able to review the closed network of the candidate online.
Hence, the best way to review a candidate's profile is to connect with them. According to the survey, 35% of the employers who review the online profile of candidates confirmed sending a friend request to candidates or follow those with private accounts. Surprisingly, 20% of these employers are denied permission.
It's good to keep your privacy as well as security settings on social media to avoid unnecessary poking or online harassments. However, it is also important to check the profile before rejecting a friend request or denying a follow request as that person could be representing your next potential employer. You can also take the initiative and try to connect with the people working at your dream company to connect more in order to improve your chances of getting hired.
With over 52% of the employers across the globe considering the online activities of the candidates as one of the key factors of hiring them, it is highly important to think before posting something on social media.
Key Things to Remember While Using Social Media:
Keep your profile clean and friendly. Try to display your skills and expertise every now and then.
Posting your wild experiences can be cool on social media but it could also reflect badly for your career goals. Think twice before posting such updates.
Never post or reshare obscene or implicit content online.
Always be open to accept friend requests or follow request from industry people.
Make sure to use the right grammar and well-formed sentences while posting online.
Sharing an opinion is cool but never discriminate in the name of religion, race or gender.