Although, Smartphone users in India is growing year by year along with better mobile internet reach, the mobile app-only shopping hasn't already picked up yet as expected. To understand the concerns of online shoppers regarding mobile app only shopping, CouponRani conducted a survey in May for all the shoppers who visited the coupons portal.
With 167 million smartphone users in India, eCommerce brands are eyeing on the mobile app segment by developing user-friendly and secure mobile apps offering a risk-free and easy shopping experience to its users. However, in spite of the efforts from these brands to make mobile app shopping easier and safer, people are still not yet fully comfortable with mobile app-only shopping according to the survey.
Are Online Consumers Comfortable With Mobile App Only Shopping?
Online shopping has shifted gears in India with an estimated sales figure of $15 billion by 2016 according to Google. People in India are relying on online shopping for a majority of their purchases due to better rates, discounts, and convenience. To make things more convenient and looking at the growing number of Smartphone users, almost every popular eCommerce brand in India has launched a mobile app across all major platforms. Given the fact that Indian shoppers have shifted towards making purchases through mobile apps in good numbers, there are many others still reluctant to buy using their mobile phone.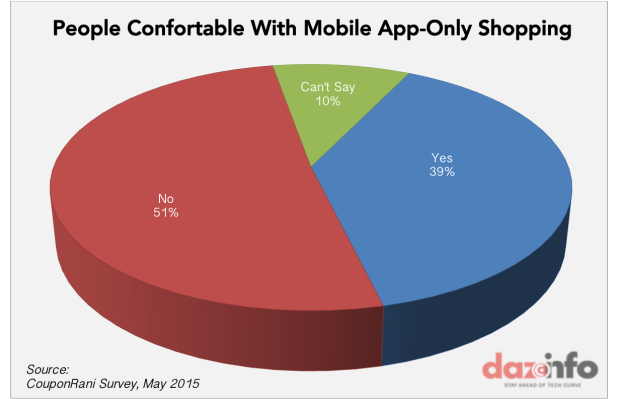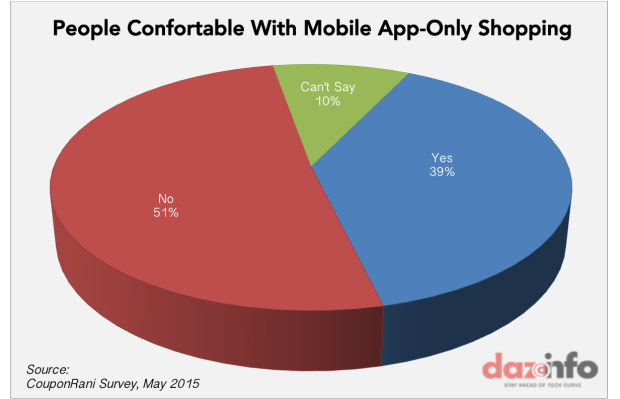 According to the survey, 51% of respondents said that they were not comfortable with mobile app only shopping while only 39% were confident about shopping through mobile apps. Surprisingly, 10% of the respondents were not clear if they were comfortable or not with mobile app only shopping.
Flipkart and PayTM emerged as the hot favorites among the respondents of the survey with 56% of them crowning both as the best Mobile App. On the other hand, Myntra, which was acquired by Flipkart and is all set to quit its desktop portal by shifting exclusively towards selling through its Mobile App, is among the least favorite with 15%.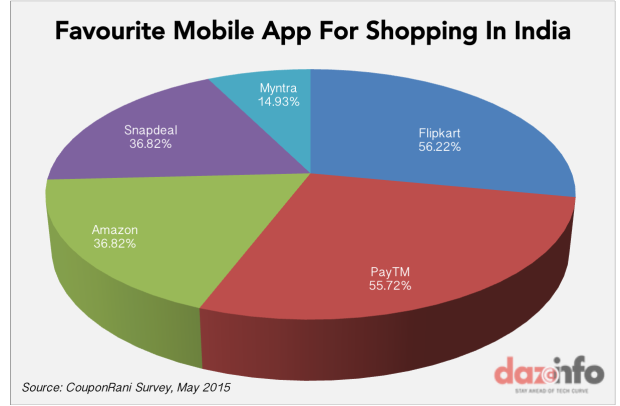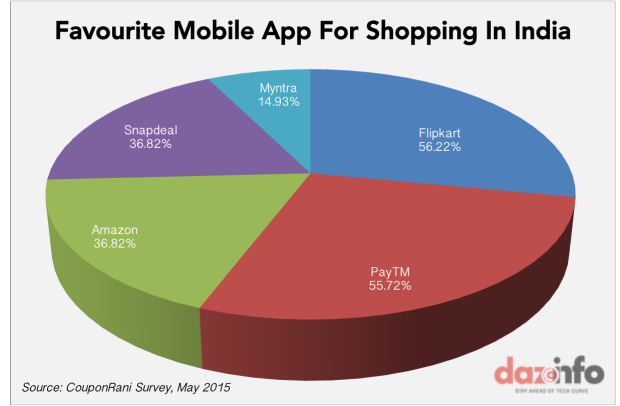 Major Concerns Faced by Consumers While Shopping via Mobile App
In spite of the convenience that mobile app offers where users can make purchases while, on the go, there are some major concerns that are pushing online shoppers away from mobile apps for shopping, the study highlights.
Product Browsing:
According to the survey study, 61% of respondents showed concerns about product viewing time on Mobile Apps due to a smaller screen as compared to desktops. In order to make decisions while shopping online, it is necessary to open multiple tabs to check different options, reviews and price differences compared to other eCommerce sites. While shopping via desktop accommodates these facilities better, mobile apps fail to offer better product viewing time or space.
Desktop seems to be more convenient:
As discussed earlier, product viewing time on the mobile apps is one of the major concerns, which is why 63% of respondents who shop online preferred desktop above mobile apps. Shopping through desktop portal offers enough space for the consumers to browse and review multiple products using tabs on their desktop browsers in order to make the right choices while shopping online.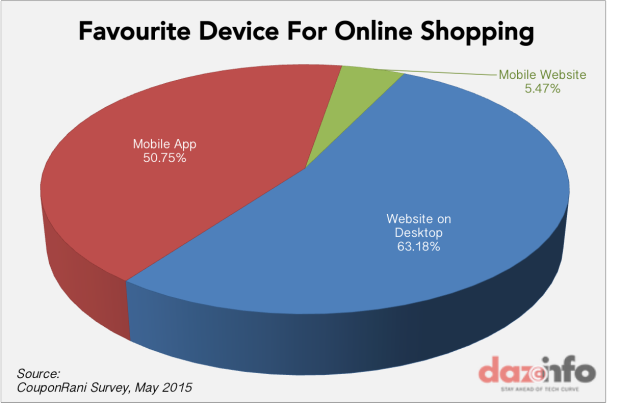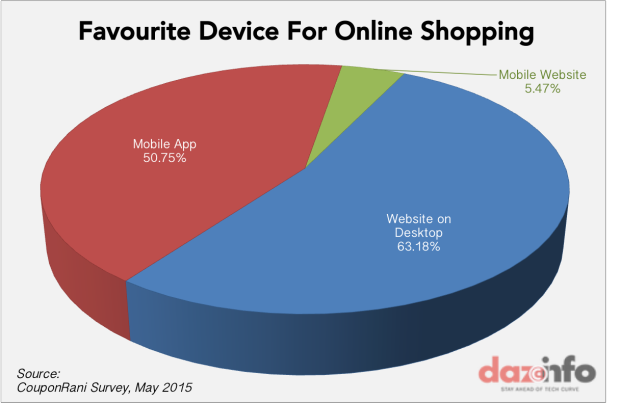 Security Concern:
Security is the another major concern among shoppers; 43% survey respondents are worried about is payment security. Consequently, almost every major eCommerce brand offers multiple payment channels including COD where the consumer gets the luxury of paying cash on delivery of the product. Hence, the concern regarding payment security can be easily resolved by opting for Cash on Delivery mode which is the preferred mode of payment of 35% survey respondents.
Given the fact that Net Banking is considered to be the best mode of payment online, it is no surprise that 30% respondents preferred making payments using their cards or Net Banking facility. Payment using Digital Wallet service offered by PayTM, PayuMoney or Mobikwik is also popular with 35% respondents preferring this payment mode while shopping through Mobile App. Considering these numbers, it is evident that online consumers though reluctant and concerned about payment security are using different forms of payment modes evenly while making purchases through Mobile App.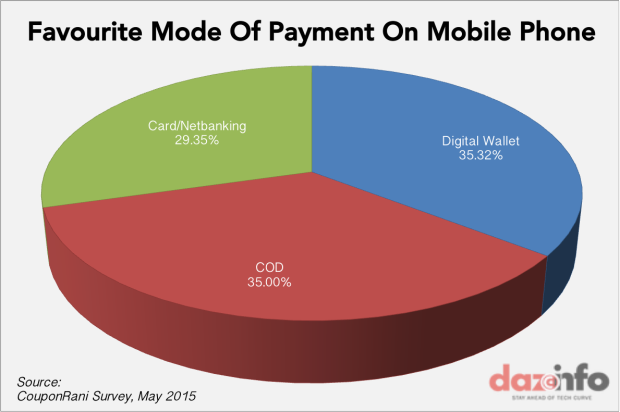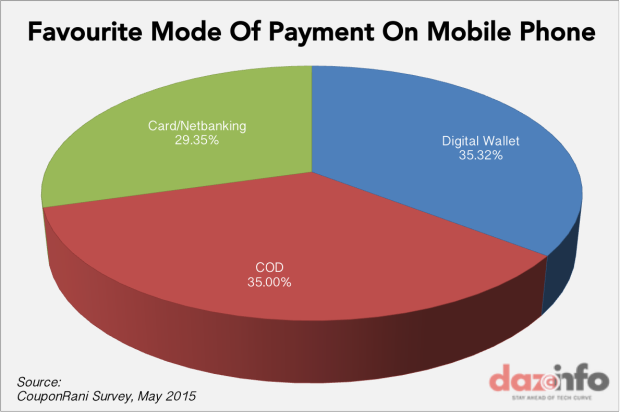 What's the Scope of Shopping via Mobile App in India?
According to the survey, 51% of the respondents were optimistic regarding buying high ticket value products in spite of the concerns mentioned above. In short, convenience is winning over the concerns in M-Commerce world. Many brands are trying to shift their focus on Smartphone users as the main target market in this fast-paced digital world where time is of an essence.
Looking at this vast opportunity, Myntra has acted boldly after planning to shut down their desktop operations while fully relying on sales through Mobile App. Even Big Bazaar which is undoubtedly the No.1 retail outlet in India is all set to launch its mobile app in order to take advantage of the growing tally of Smartphone users in India. Flipkart which owns Myntra today has also decided to shut down its Mobile Website with an intention to redirect all its mobile users to the mobile app in order to increase its sales through smartphones or tablet devices.
"We believe that there is a large group of shoppers who would be alienated in an App only model. It is true that researching product, comparing prices and finding deals and offers are much harder on the Mobile App. There will be progress made to address the experience gaps on mobile apps (e.g. assisted shopping). Till then e-tailers should be available to consumers in all formats", says Ravi Trivedi, Founder, Srijan Capital.
M-Commerce sales is booming globally and eCommerce brands in India are trying to repeat the success of Mobile Commerce in India as well. According to the survey by Coupon Rani, only 25% of the respondents made 50% of their purchases online using their mobile app while 41% of the respondents kept the tally of their purchases using mobile app less than 20%. Although, the figures are relatively low for now, it may go up in the near future once users are confident and equipped with better connectivity.
All the major eCommerce brands in India are trying to lure shoppers to download their mobile apps offering App-Only sale discounts and other great offers on purchases made through Mobile Apps.
The user demographics across both platforms whether desktop or mobile are somewhat similar with 86% of respondents being male while 47% of the respondents being below 25 years of age. In order to achieve success with sales with the mobile app-only model, eCommerce brands should focus on offering better user experience with flexible and easy payment modes.