More than 3 billion smartphone users, 3 million unique mobile apps, 2 billion social media users and the numbers are constantly growing with each passing quarter. People are moving away from Desktop to smartphones, but social sharing on mobile devices are disappointingly low. is the app penetration hurting the social media growth?
Moovweb, a mobile experience optimization firm, in a recently conducted survey found that only 0.2% of the users ever clicked on a mobile sharing button. Also, the mobile users were 35% less likely to click on the share button than the desktop counterparts. Out of 61 million mobile sessions that were studied for this purpose,  it was found that only 0.2% of mobile users did any social sharing.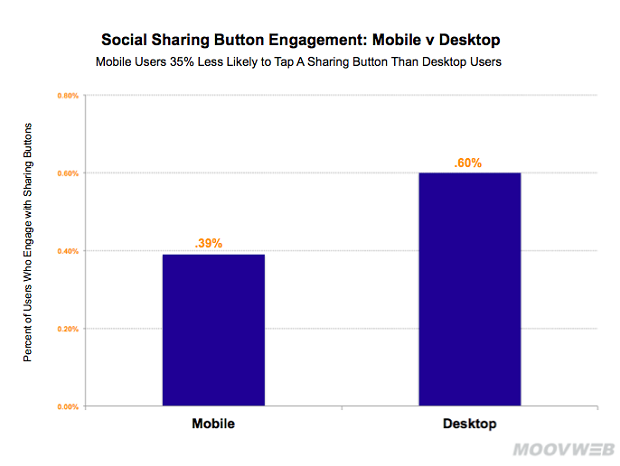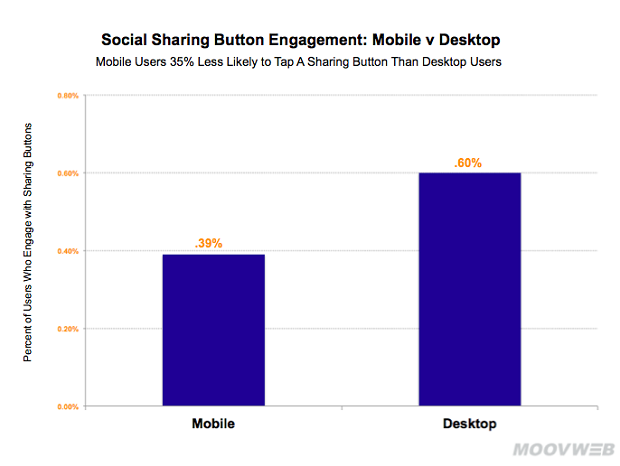 Another interesting finding of the study was that the mobile users were 11.5 times more likely to tap an advertisement than they were to tap on a social sharing button. This came as a bit of surprise as websites these days dedicate precious screen space to social sharing buttons and such a low turnout is something totally unexpected.
Out of the 0.2% users who did use social sharing buttons on mobile, almost half of them (0.09%) clicked to share on Facebook Inc. (NASDAQ:FB). Pinterest accounted for 0.04%, followed by Twitter Inc. (NYSE:TWTR) at the last on the list with only 0.03% of the users sharing.
To the sites which were studies for this survey, 1.32% of users came from Facebook, 0.16% from Pinterest and just 0.04% from Twitter. Facebook accounted for 33X more traffic than Twitter. One thing that was a bit surprising was that Pinterest outperformed Twitter by almost 4 times more traffic.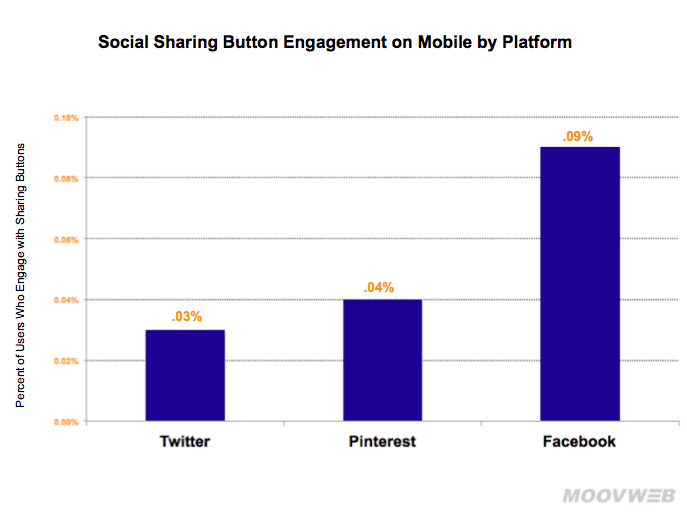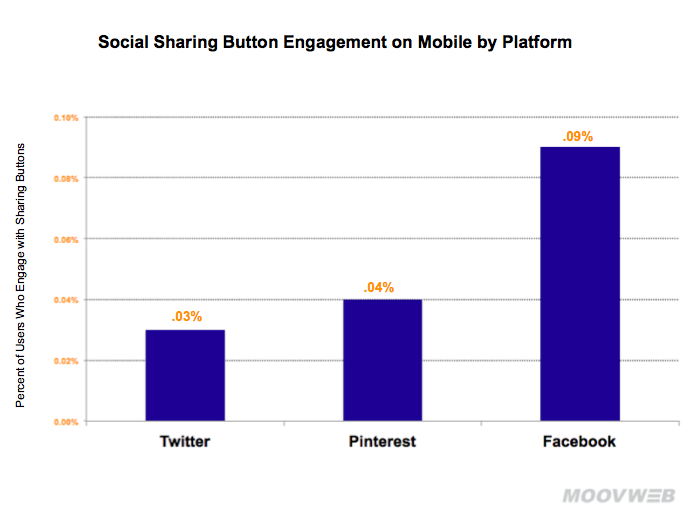 Overall engagement with the social buttons is very low. 0.6 percent of desktop users click on share buttons while only 0.2% of mobile users do so.
Why Social Sharing On Mobile Is Disappointing Low
A question that arises here is despite 1.25 billion mobile Facebook users, 241 million mobile MAU of Twitter, why is the engagement with the social sharing buttons so low? The answer lies in the way social networks have evolved for mobile users.
The mobile users have moved away from the web toward apps. App Store and the Google Play marketplace, boast well over 1.4 million and 1.21 million applications and the overall mobile app usage has increased by 76% in just a year.
40% Internet users actively use social media via apps which is one of the main cause behind low engagement of social sharing buttons. Users which use apps to access their social media accounts are generally not logged into their accounts in the mobile browser. Thus sharing anything becomes a cumbersome process requiring logging into their accounts again and again. However, that's not the case with desktop/laptops. Users generally use their browsers to access social networks and thus are already logged into their accounts, which makes sharing things a lot easier.
Also typing on a mobile device is a bit difficult than typing on a PC. This could also be a reason why users tend to ignore sharing things through their mobiles. In case of forgotten password, resetting it through a mobile device is less convenient than doing the same through a desktop.
Another interesting thing to note is that 69% of social sharing takes place via the dark social which is 3 times more than Facebook's 23% share. The term 'Dark Social' describes the web traffic which comes from sources that cannot be traced through web analytics such as Emails, texts, messages etc. Yet another fascinating fact is that 36% of the sharing across dark social takes place through mobile devices. This indicates that users are using their mobile phones to share things through other channels and not via social media.