Facebook Inc. (NASDAQ:FB) is the hot favorite online social network for several brands to engage their consumers. The user base of Facebook is growing rapidly year after year, reaching 936 million DAUs (Daily Active Users) by the end of March 2015, which is why brands are attracted more towards the social media mogul for engaging with their users.
Looking at the steady growth of user base and popularity of Facebook across the globe, brands are investing hugely in their promotional strategies focused highly on the world's largest online social network. In January 2015, we published an article about how 100 top brands of the world are using Facebook for growing their business and improving brand awareness. Today, once again with the help of the report created by Simply Measured, we are trying to analyze the Facebook promotional strategies of popular brands around the globe.
The overall study is based on 96 brands picked from the Interbrand 2014 Best 100 Global Brands. Simply Measured analyzes the data collected from the Facebook activities involving these brands for Q1 2015 as follows:
11,522 posts by 96 brands
1,172,091,468 total fans
13,849 brand responses to 55,773 community posts and 160,681 comments
The basic findings after analyzing the data states that Facebook likes for these brands decreased by 3% Q-O-Q. The main reason for such a drop could be the update from Facebook where it adopted some strict policies by removing page likes data involving inactive Facebook accounts. It helps the brands achieve better business results as they get accurate insights on the engagement on their business page with consistent data. It is important to mention that most of the top brands are being misguided by the Dirty Social Media Data as 53% of activities on their social media properties are being driven by bots.
Quality Not Quantity Post Is The Key On Facebook
Irrespective of such a drop in the likes count, the engagement for these brands on their Facebook page remained similar with a negligible decrease of 0.11% from Q4 2014, although these brands posted 12% lesser in Q1 2015 compared to number of posts they updated in Q4 2014. The brands also experienced a rise in engagement by 43.5% year-over-year while the posts from the brands were shared 28% times more than the previous quarter.
In short, the new update from Facebook for Business Page didn't affect the overall performance of these brands much other than the visible reduction in the number of likes. From the study it is clear for better engagements on a Facebook page, it is more important to update the page with quality posts rather than filling up the pages with maximum updates.
The fan page engagement also depends upon the type of posts updated by the brand. For instance, posts with videos and photos attract more user engagement and shares compared to other types of status updates. Facebook is spreading its wings all around the globe registering a whopping 890 million daily active users as on December 2014 out of which 82.4% were from outside the US and Canada. Hence, it is vital for global businesses to use such a mega reach of the social media mogul to attract consumers from the farthest corners of the world by strategically posting regular posts of high quality including photos and videos.
Industry-wise Engagement on Facebook Page
Engagement on business pages varies, according to the industry type. Media industry comprising of big names like Discovery, Disney, MTV, and Thomas-Reuters experienced the greatest engagement on Facebook followed by automotive industry led by Audi, BMW, Chevrolet, Ford, Harley-Davidson, Honda, Hyundai, Kia, Land Rover, Mercedes-Benz, Nissan, Porsche, Toyota and Volkswagen. Sporting goods manufacturer brands also managed to increase their fans engagement on Facebook by a good margin with Adidas and Nike leading the pack with 247% more engagement and 451% more engagement per post in Q1 2015 as compared to Q4 2014.
Out of the 96 brands, Business Services industry recorded least fan engagement in spite of being the only industry that registering a positive Facebook fan growth in Q1 2015.
Compared to all other verticals, Technology sector experienced a lot of activities across all its brands that includes names like Cisco, Facebook, Google, HP, Huawei, Intel, Microsoft, Nokia, Oracle, Samsung and SAP. Technology brands registered a boost of 9% in engagement by increasing the posts at the similar rate in Q1 2015 as compared to Q4 2014.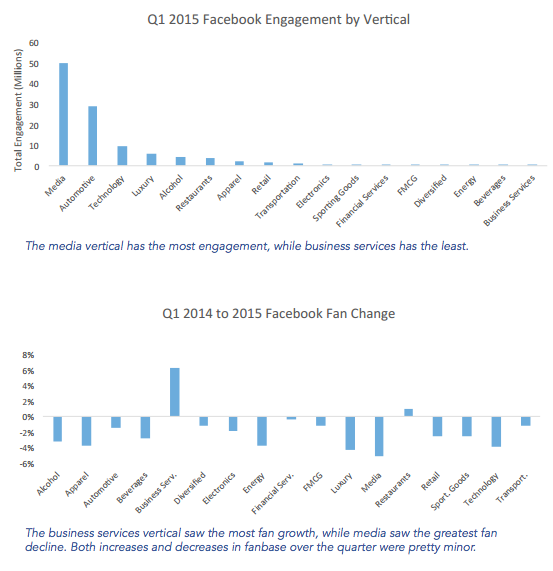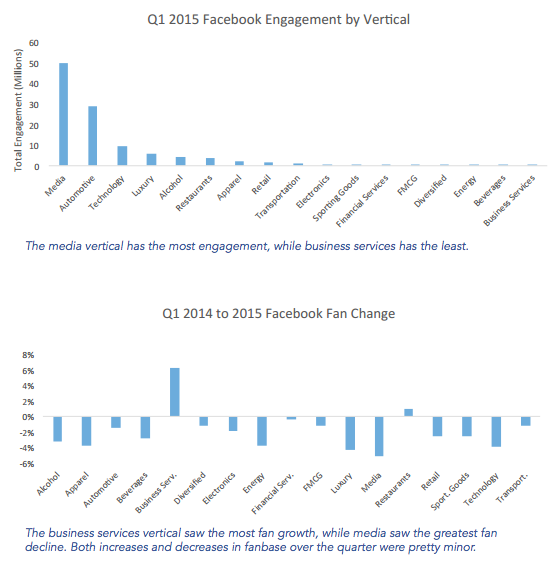 Considering this figures, social media brand managers shouldn't get into a conclusion that Technology brands experienced better engagement as they increased the number of posts. In spite of such a rise in number of posts and engagement, individual numbers varied by a huge margin among different brands. While Cisco led the pack by posting 271 posts, it couldn't beat Facebook in terms of fan engagement. With just 20 posts, Facebook was able to generate a whopping 6 million in total engagement.
Overall performance of Technology Vertical:
With 193,409 comments in Q1 2015, Tech brands received 4% lesser responses from fans than they received during Q4 2015
Tech brands saw a rise of 8% with 8,594,171 likes on its posts in Q1 2015 than they got in Q4 2014.
Posts from Tech brands were shared 549,022 times in Q1 2015 registering a boost of 51% compared to Q4 2014.
How to better the user engagement on Facebook Page?
The overall engagement on the brands improved by 43.5% year-over-year which is a huge leap as per Facebook metrics. Having a huge number of fans or likes on a Facebook page will be useless without proper engagement. Hence, businesses around the globe if wish to achieve better ROI, it should focus on user engagement and reach of their brand on Facebook instead of just counting the number of likes of business page. Given the fact that Facebook contributes 20% of the overall social media referral traffic to the websites, it is highly important for companies to take action towards improving user engagement on their Facebook fan page.
The user engagement is highly dependent on the types of posts updated on the Facebook page. As per the study, links and photo updates dominated other types of posts by registering greater engagement whereas videos and photos yield more shares. By increasing the number of video posts by 2% from the previous quarter, the Interbrand 100 improved their brand engagement by 8% on videos during Q1 2015. Such an increase in engagement on videos is the result of the rise in shares by 43% from the previous quarter.
Also, the engagement on photos rose 6% from the previous quarter due to the rise of 53% in shares. On the contrary, the engagement on text status updates dropped drastically by 72% which may be because the Interbrand 100 posted 40% less text status updates in Q1 2015 compared to previous quarter.
All in all, for brands or companies eying for an improved brand engagement, should invest in posting videos, photos and links more on their business page to improve the number of shares on each post. To generate a healthy number of shares for their posts, businesses should post videos and photos regularly to better their reach on Facebook. However, it is highly advisable to limit your posts to 2-4 updates a day to increase the engagement and improve your reach on the world's most popular social network.