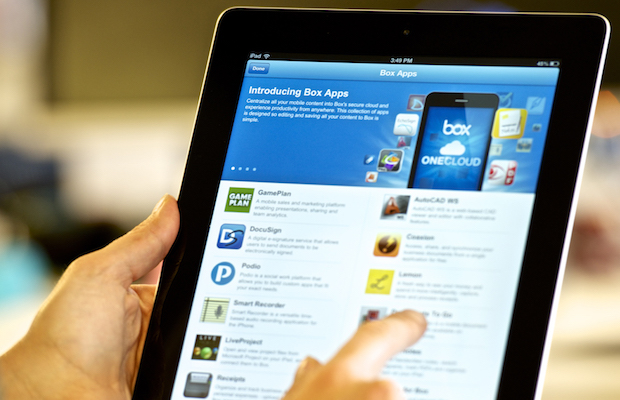 Starting a business is risky — financially as well as psychologically — which means small business owners need to take full advantage of all the time and energy they have at their disposal. Some of the simplest and most cost-effective ways to be more efficient and productive as a business also happen to be one of the trendiest and coolest: mobile apps.
While older companies endure the expense and time-suck of a network of clunky desktop computers, start-ups and SMEs in all industries can use fast, cheap, easy apps on mobile devices to stay organized and on top of business. Apps can help SMEs manage their accounting books, develop checklists and forms, take notes on-the-go, and more. Here's how some new businesses are using apps today.
Restauranteurs
Most people are familiar with the menagerie of apps that cater to restaurant patrons — Yelp, Urban Spoon, Eat24, and others — but app developers are keenly aware of restauranteurs' myriad never-ending needs as well. The restaurant industry is especially complex, which means that budgets are harder to predict and point-of-sale systems must be more flexible and efficient. Here are the top-rated apps used by restaurant managers:
Revel Systems. Revel's iPad POS app is lauded as the "future of the restaurant industry," as it allows restaurant staff to seat, order, serve, and more from one handy screen.
Lettuce. This app's creators recognize that a restaurant's inventory needs are different than typical retailers'; it has keeps inventory lists up-to-date and makes ordering more a breeze.
eZee eMenu. Posting restaurant menus online can be a headache — but not with this app, which integrates text and images on web pages for all devices.
Restauranteur. The next step for a successful restaurant is expansion, and Restauranteur allows restaurateurs to scout new locations, make budgets, and more.
Contractors
Many contractors may receive flack for their inability to complete projects on time, but while a few are just dragging their feet to squeeze more money from their clients, most contractors get delayed by the labyrinth of safety provisions mandated by the law. Contractors keep dozens more to-do lists than the average worker and keeping priorities straight can be a headache. That's why a contractor's greatest tool is the EZ Forms app, which allows them to create checklists that streamline the inspection and construction process.
Software Engineers
Believe it or not, the people who make apps need apps, too. Because technology is ever-changing, software engineers are constantly on their toes, learning as much as possible about new programming methods and exciting software developments. Thus, outside of the apps they download to pick apart and play with, the most popular software engineering apps are educational tools, including:
Software Engineering. Appropriately named, this app contains info on basic SE terminology and offers quizzes for budding engineers to practice their knowledge.
Java Power Link. Java is still fun to play with, and this app provides tutorials and books on programming with in this age-old style.
C 300+ Programs. With more than 300 programs and solutions, this app is a software engineer's perfect playground.
Book Sellers
Those who love reading enough to open a book shop usually aren't the most business-minded folks. Fortunately, there are handful of apps that take care of the money side. For example, our own app translates the financial jargon of accountants into plain English, making balancing checkbooks a breeze. Website building tools like LocalVox are also helpful to bookstore owners who lack computer skill but want to move their brick-and-mortar shop online. With these apps, book lovers can focus on what is truly important: the craft.
Freelancers
Without a dedicated office and reliable team of coworkers, freelancers need as much help as they can get. Because everything about their work is atypical and irregular, freelancers need a toolbox full of useful apps to keep working and bringing in income. These apps are ideal for the innately disorganized freelancer:
Rescue Time. Freelancers who are paid by the hour must have an understanding of how their time is spent. This app compiles data on a freelancer's computer activity for use later.
Text Expander. Emails take time, and to the freelancer, time is usually quite literally money. This app allows freelancers to program certain abbreviations to cut down on the time they spend writing and responding to email.
Remember the Milk. Freelancers usually don't have assistants to tell them what people and projects need seeing to, but they do have this app, which manages tasks, provides reminders and more.