After beating its own prediction of iPhone sales in the first calendar quarter of 2015, Apple Inc. (NASDAQ:AAPL) may see another record-breaking quarter, predict analysts. Apple could sell nearly 46 million units of iPhones in the second quarter ending June 30, 2015, a healthy boost of nearly 30% as compared to the same quarter a year ago.
According to Gene Munster, analyst of Piper Jaffray, Apple has received quite a warm response from the market to the iPhones that sport 4.7-inch and 5.5-inch display. After seeing Apple's Q1 2015 (second fiscal quarter of 2015) results, Munster has revised its prediction for second calendar quarter to 46 million, up from his earlier projection of 41 million.
Munster released an investors' note on late Monday, stating that Apple controls 18 percent of global smartphone market now, up from 16 percent a year ago. The surge has come due to iPhone 6 and iPhone 6 Plus that were launched in September last year.
In its first two fiscal quarters, October 2014 to March 2015, Apple sold 137.5 million units of iPhone and the company may not see the similar response from the market anytime soon. However, in the last two quarters Apple already sold 80% of iPhones that it had sold in fiscal 2014.
On Monday, Apple announced its earnings and sales for fiscal Q2 2015 (calendar Q1 2015), which ended March 28. The company sold 61.2 million units of iPhone during the quarter, thanks to the boosted sales of iPhone in China. Apple managed to beat the industry expectations that eyed nearly 57 million units during the said quarter.
Analysts predict that Apple has got a big window of opportunity for the next few quarters. At one side, after launching the big screen iPhone 6 and iPhone 6 Plus, Apple is eating into Android's market through exchange program, and on the other side, Apple is eyeing on the existing iPhone 5 and iPhone 5S users who are willing to ditch small-screen obsoleted iPhone 5 and iPhone 5S.
On Monday, after announcing quarterly results, Tim Cook estimated that 20 percent of iPhone 6 to till date have been from the current iPhone owners, which is up 7 percent point from 13 percent in the last quarter of 2014.
Cook said, "Our current estimate is that about 20 percent of the active installed base has upgraded to a 6 or a 6 Plus, and as I look at that number, that suggests there's plenty of upgrade headroom in addition to — we want to keep inviting over as many switchers as we can. So between both of those and the first time buyers as well, it seems very good right now."
According to Fiksu iOS data tracker, nearly 30 percent of iPhone users on iPhone 6 and iPhone 6 Plus, while 39 percent of iPhone users are still using iPhne 5 or iPhone 5S. Interestingly, 19 percent are still hanging on with iPhone 4 or iPhone 4S, despite the fact that Apple no more supports or sell these handsets anywhere bit India. These figures clearly indicate that there is a plenty of ground for iPhone 6 and iPhone 6 Plus to cover still.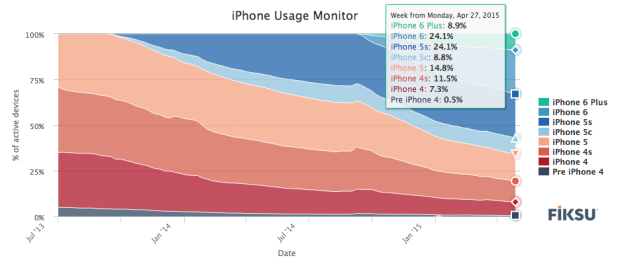 It would be the first time in the history of Apple when the company will surpass 200 million iPhone sales figure mark in a fiscal year. Considering if Apple iPhone sales figure matches the estimated 46 million in Q2 2015, it is safe to assume that company would close the fiscal year 2015, by selling at least 50 million units of iPhone in Q3 2015. For the last three fiscal years, Apple is recording a surge of 10 percent quarter-over-quarter in the last fiscal quarter that ends September 28.