From being a source of entertainment to developing into a serious business, social networks have seen it all. They have developed to become a huge platform for the advertisers to meet their consumers. Advertisers are already investing in billions to ensure their services and products reach their targeted consumers and Facebook Inc. (NASDAQ:FB) being one of the biggest players in the industry is cashing this with both hands.
According to Global Facebook Advertising Benchmark Report released recently by advertising automation software provider Nanigans, the CTRs of Facebook ads has increased by 260% within a year.
The global CTRs for Facebook ads reached 0.81% in Q1 2015, which is a 17% increase from Q4 2014 and a whopping 260% increase from Q1 2014, signalling a better user engagement than ever before.In the e-commerce sector, Nanigans customers saw a 12% increase in the CTRs quarter-over-quarter(QoQ) and a huge 281% increase year-over-year(YoY).
The CTRs for mobile app install ads have gone up by 3% in this quarter, but the companies advertising desktop and mobile games had to face a dip of around 9% CTR, thus bringing the overall average down. However, if we concentrate on the bigger picture, the CTRs have increased around 150% every year.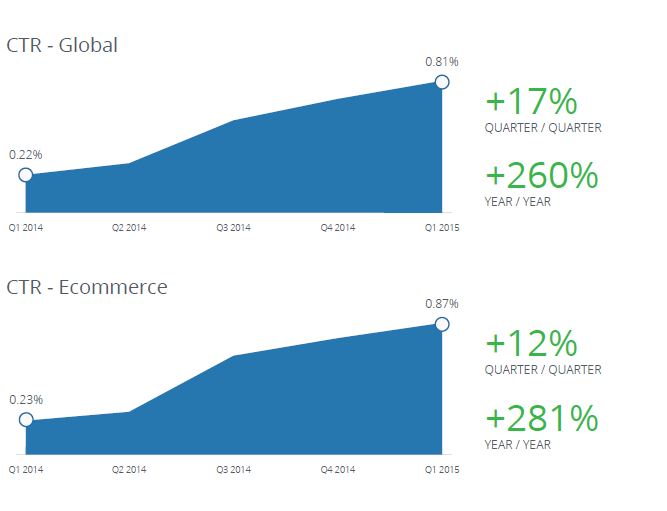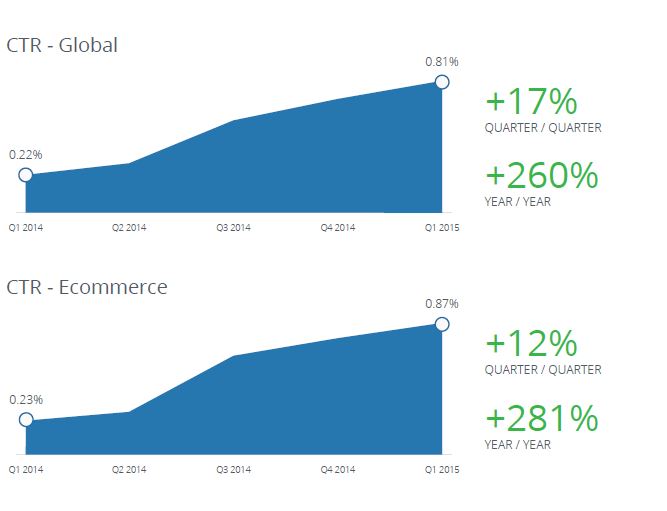 Talking about the CPCs, advertiser paid 17% less per click than the fourth quarter of 2014. The average cost per click dropped down to $0.53 in the first quarter of 2015. The CPC drop was more prominently observed for e-commerce advertisers, who experienced 32% decrease in the quarter and 14% decrease YoY.
The global CPM (cost per thousand impressions) dropped by 3% in this quarter and reached $4.26 primarily because of a drop in CPC. However, it saw an outstanding increase of 273% year-over-year i.e. it rose from $1.14 to $4.26 in just a year. The E-commerce CPMs also saw a 227% gain YoY but had to face a decline of 24% this quarter.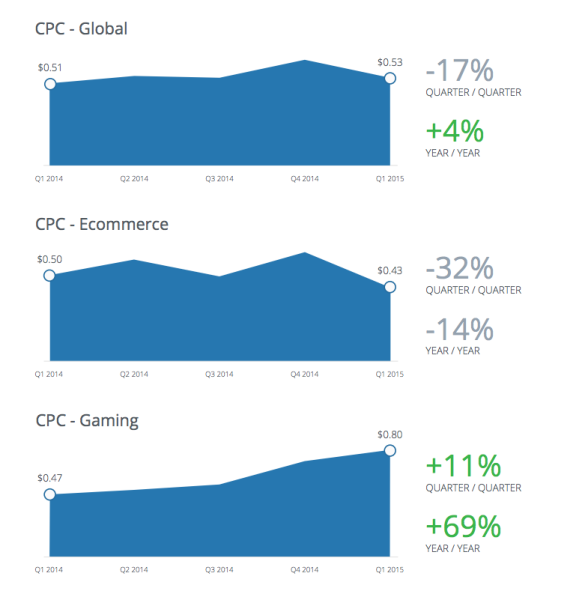 Highlights of the Report:
Global CTRs for Facebook ads reached 0.81% in the first quarter of  2015
CTRs for Facebook ads increased by 281% YoY
CTRs for mobile app install ads have gone up by 3% this quarter.
Mobile games advertisers faced dip of around 9% CTR QoQ
CPC dropped by 17% this quarter.
Average cost per click turned out to be $0.53
CPM also dropeed by 3% QoQ to reach $4.26
Ecommerce CPM observed a 227% increase YoY
The basic cause behind an increased CTR of Facebook ads is a better engagement of the users. According to another report, Facebook accounted For 230 Billion minutes Of engagement in 2014, and thus resulted in a much-improved engagement rate than earlier. Another interesting factor that contributed to this was the fact that Facebook accounted for a staggering 81% reach of the total digital population in the US. Out of the 890 million daily active Facebook users 82.4 percent are from outside the US and Canada, thus providing a global market for advertisers.
Because of such a large user base and that too from almost all demography, advertisers have started to allocate decent budgets for advertising on Facebook. Advertisers worldwide will be spending a whopping $23 billion on social media in 2015 to reach their consumers, out of which Facebook alone captures 65.5% of all social network ad spending worldwide.
The contribution of advertisers in Facebook's revenue is huge. In the first calendar quarter of 2015, Facebook generated a revenue of $3.54 billion, though for the first time in 10 consecutive quarters it failed to achieve the estimated revenue figure of $3.56 billion. The continuous increase in the investment from advertisers has played a major role in the 42% year over year increase in revenue for Facebook.
Facebook is undoubtedly one of the leading social networks and with a constant increase in not only the number of users but also the engagement of users, it has managed to attract advertisers from all over the world. With over 1.41 billion monthly active users, Facebook has left behind every other social network by a huge margin and thus attracts the advertisers to shell out more money to reach their consumers.