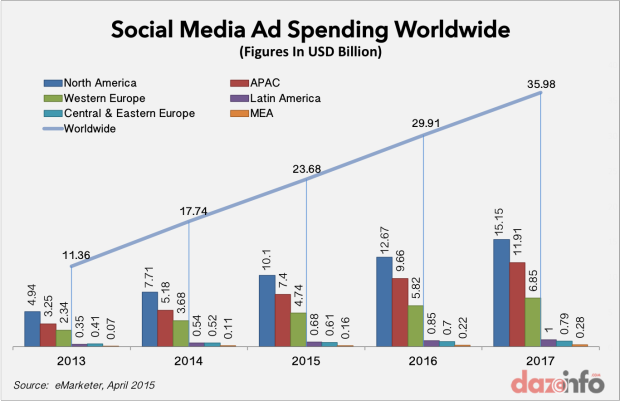 The Social media advertising market is growing very fast. According to a recent report from eMarketer, advertisers worldwide will be spending a whopping $23 billion on social media in 2015 to reach their consumers, a 33.5% increase from 2014.
The report also indicates that by next year this figure will rise up to $29 billion though the percentage increase will drop to 26.3%. The advertisers would be spending around $35 billions on advertising by 2017.
However, one thing that might worry social networks is that the growth percentage is continuously decreasing year over year. From 56.2% in 2014, it drops down to a mere 20.3% in 2017, which isn't a good sign at all, considering half of the internet users across the globe are yet to come on social networks.
The advertisers from North America have been spending the highest amount on ads. Also, the amount spent is constantly increasing every year. It rose from $4.94 billion in 2013 to $15.15 billion in 2017. Advertisers from Asia-Pacific rank second in the list though their growth percentage has declined from 60.7% in 2013 to only 42.7% in 2015 and is further expected to decline to 23.3% by 2017.
There is another aspect of the report that needs to be looked into; Out of the $23 billions spent this year, almost $18 billion comes alone from the advertisers of North America and Asia Pacific combined i.e. they contribute almost 78% of the total amount spent on social advertisements.
Advertisers from Middle East & Africa don't really seem to be interested in paid social media advertising. From $0.07 billion in 2013, the amount has increased only to $0.16 billion in 2015.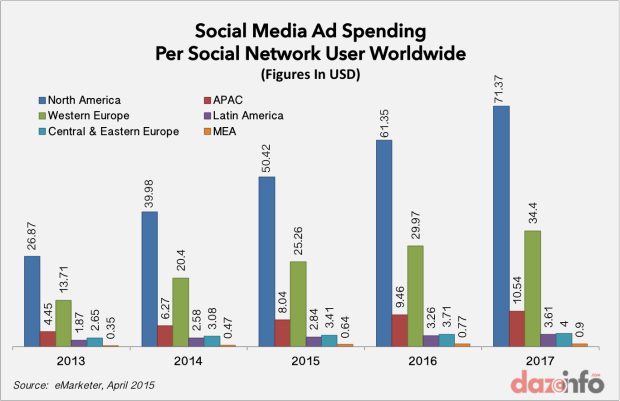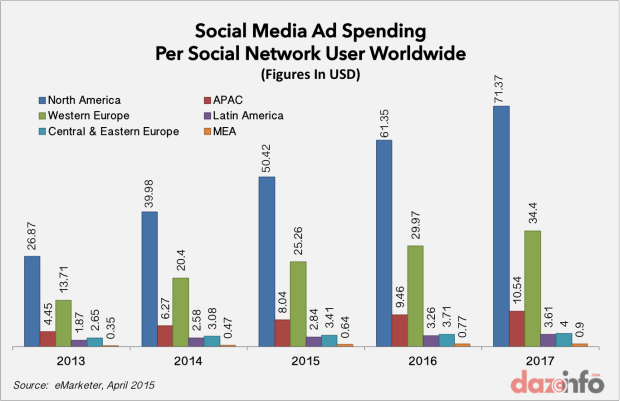 According to the same report, advertisers from USA and Canada will be spending more than $50 for each user and the figure is expected to reach $71.37 in just two years. On the other hand, advertisers from Asia-Pacific have an upper hand as they will have to shell out only $8.04 per user this year and the amount will exceed to only $10.54 by the end of 2017.
US and China are currently the leading individual countries in social network ad spending and are expected to retain the spots in the foreseeable future.
In terms of companies, Facebook Inc. (NASDAQ:FB), as expected, is dominating the paid social advertising market worldwide with $15.50 billion in ad revenues this year. It alone captures 65.5% of all social network ad spending worldwide. While, Twitter Inc. (NYSE:TWTR), at the second position, accounts for only 8.8% of the global social network ad market. LinkedIn Corp (NYSE:LNKD) stands at the third spot with 3.8%, with a decline of 0.4% from last year.
The way social media has expanded in the past few years is something totally unheard of. What earlier was thought of an entertainment source has turned into a huge serious business. The social media networks now provide such an enormous platform for the advertisers to reach their consumers that the Advertisers have came out all guns blazing.
With over 1.41 billion monthly active users, Facebook is leading the social network market with such a huge margin that any other social network doesn't even look close to them. The difference between the market share of Facebook and Twitter, which rank first and second, is almost 57 percent point and this clearly reflects how ahead Facebook stands from other social networks.
The good news here is that slowly but steadily, the user base from regions like Middle East & Africa is increasing and thus advertisers are shelling out more money than earlier.
However, the way growth rate is declining every year is something the social networks need to be worried of. If the same rate continues, in a not so distant future, the growth rate might come to a halt and that is not something social networks would want. So this is one aspect that still remains to be seen.