Over the last couple of years, Social Media as we know it has undergone a paradigm transformation, and apparently there is no single favorite. Like the old saying goes, "one size does not fit all", and so is the case when it comes to the chosen platform we prefer or when it comes to expressing ourselves.
Recently, ComScore released a report highlighting few of the social media trends of 2014 in the US, which also indicate how the industry would shape up in 2015. Though Facebook Inc. (NASDAQ:FB) is ubiquitous, People are turning to different services that inherently cater to their personality and the desired demographic that they attempt to target, report claims. While Teens find Instagram useful, Women seem to have found their niche with Pinterest. However, there's no denying that the lion's share of Social Media activity is still captured by Mark Zuckerberg's behemoth; Facebook.
Generally speaking, people have been spending more time online as evident by the report that in Q4 2014, people in the US spent almost 2.5 hours per day on social media platforms. Facebook accounted for a staggering 81% reach of the total digital population in the US, and nearly 230 billion minutes of engagement in 2014. It is simply stupendous that Facebook has 890 million daily active users on an average as on December 2014, of which 82.4 percent are from outside the US and Canada.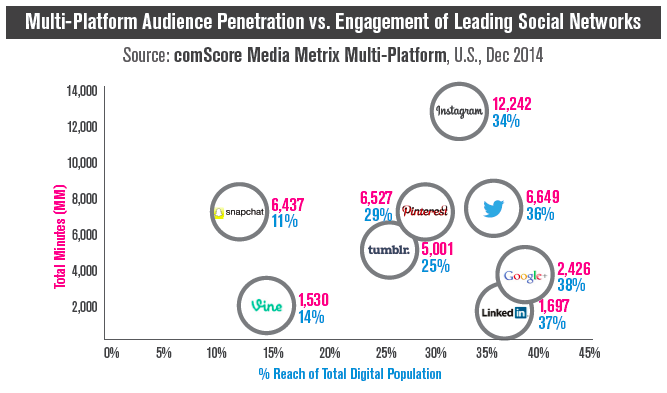 In order to give the other players their due credit to their Social Media contribution, Comscore thought it would be prudent enough to simply discount the influence that Facebook exerts on the market by ignoring it altogether. Quite simply put, Facebook is the like the elephant in the room.
However with ubiquity, comes the inherent desire of mankind to give the underdogs a fair chance; that is why we have been seeing the phenomenon of the other players on an upswing.
Here are few of the interesting highlights of the report:
Instagram leads with 12 billion minutes of time spent by users online in 2014 while Snapchat scored half of it.
Twitter Inc. (NYSE:TWTR) , Google+ and Linkedin remain stable in the market, but engagement on Pinterest and Tumblr improved considerably as compared to the last year.
71% of the social media audience is between the age group of 18 – 34, while 45% make up the age group of 18-24.
Visual content takes the upper hand, as Millennial (Age between 18-34) are more engaged on Snapchat, Tumblr and Instagram.
If a picture can paint a thousand words, a video can probably paint a million. Facebook, which was initially averse to incorporate video, has embraced it with almost a biblical zeal to make itself relevant in the age of YouTube. These are some interesting snippets that help us understand the role of video-on-demand in these times where people have limited attention spans.
Mobile video viewing is on a rise, although desktop viewing is more prominent. Slightly below half of smartphone and tablet users watch video on their device; 1 out of 10 doing the same daily.
YouTube received 159.5 million desktop views in December 2014.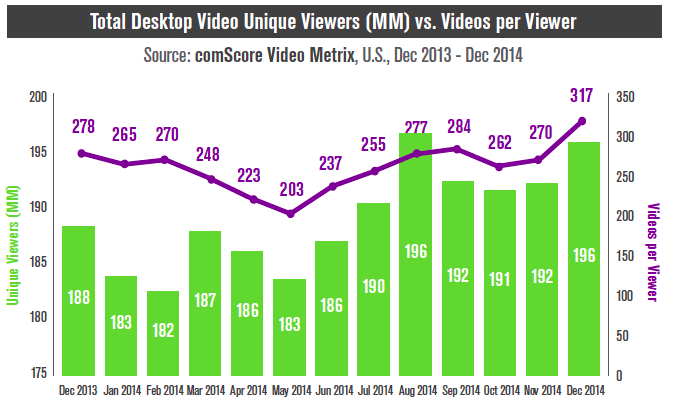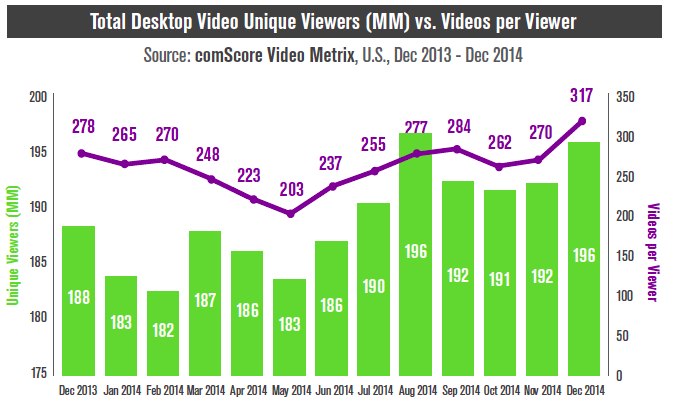 What helped proliferate the consumption of dynamic media such as online videos have been the explosion of smartphone adoption, especially in the US. Also, not all connected devices have to report to human eyes. In an infographic from Think With Google, it reported "Internet of Thing" will be an official thing as burgeoning devices start working together. Almost 4.9 billion connected things will be in use, globally; up by 30% y-o-y. However, "Internet of Things" is now transforming to become "Internet of Me"- making lives seamless to all possible extents. And that is simply because smartphones are now becoming an integral part of our daily to-do(s). One of the interesting facts highlighted in the infographic is that Americans spend around 151 minutes every day on their smartphones, as compared to TV or laptops.
As the evolution of paper currency once gave way to plastic money, it is transcending the next technological boundary by deeply entrenching itself in Online and Mobile Commerce. As these gain popularity along with internet penetration rates rising to an unprecedented rate of  59% in US in 2014, it does not come as a surprise that US population is engaging more and more in social media and associated commercial activity that complements it. While Facebook takes the lead in almost every aspect of our digital lives, the other platforms are trying their best to keep up with this social media behemoth.