On the occasion of its Fifth anniversary on April 6, 2015, Xiaomi – The Apple of China – announced the end of its exclusive online partnership with Flipkart – the poster boy of Indian eCommerce industry. Hugo Barra, the face of Xiaomi in India, tweeted about the new tie-ups with immediate competitors of Flipkart- Snapdeal and Amazon.
The exclusivity of selling Mi Phones through Flipkart in India had already been hammered when Xiaomi partnered with Bharti Airtel and homegrown mobile retailer 'The Mobile Store' to leverage offline sales potential.
Taking a cue from Motorola, Xiaomi partnered with Flipkart in July 2014 when it first entered the Indian smartphone market. Since then, Xiaomi has sold more than 1 million devices on Flipkart. It was only recently when Xiaomi decided to sell its RedMi Note 4G at Bharti Airtel stores. However, the 3G model, RedMi Note was still being sold online. Xiaomi moved to offline partnerships due to the impressive 20-30% of the total sales coming from telecom operators in China, as quoted on Economics Times.
While it has been touted as a good news for customers as they can order Mi phones from multiple retail platforms, what is alarming here is the consistent demand vs supply gap that Xiaomi has ever since it stepped into the Indian smartphone market.
It has been a pattern for Xiaomi- its supply always fell short of the demand. When the company launched Redmi 1S, almost 2 lakh registered for the device but Xiaomi brought in only 40,000 units for the first sale. The same thing happened during the flash sales of Mi 3. Almost 150,000 customers had pre-registered while only 15,000 devices were available for the third flash sale. When the Chinese smartphone giant faced queries on its persistent inability to meet demands, they just said they were trying to increase their production as fast as they can.
Given the continued gap between demand and supply, at least for some of its devices, the announcement of the partnership with two more online retailers Amazon and Snapdeal surprised us a bit.
What confuses us even more is- Why did  Xiaomi decide to bring Amazon and Snapdeal onboard, along with Flipkart!
After the reports of Xiaomi's own Mi store, we thought may be Xiaomi will soon launch its exclusive and self-owned retail platform in India. But now the scenario is different. It is evident that Xiaomi wants to expand its customer reach by joining hands with Amazon and Snapdeal. But again, Flipkart has a huge customer base already. In Indian market, Flipkart is definitely the numero uno in the commerce space. When we tried to dig further and analyse what could be the pressing reason for these new partnerships.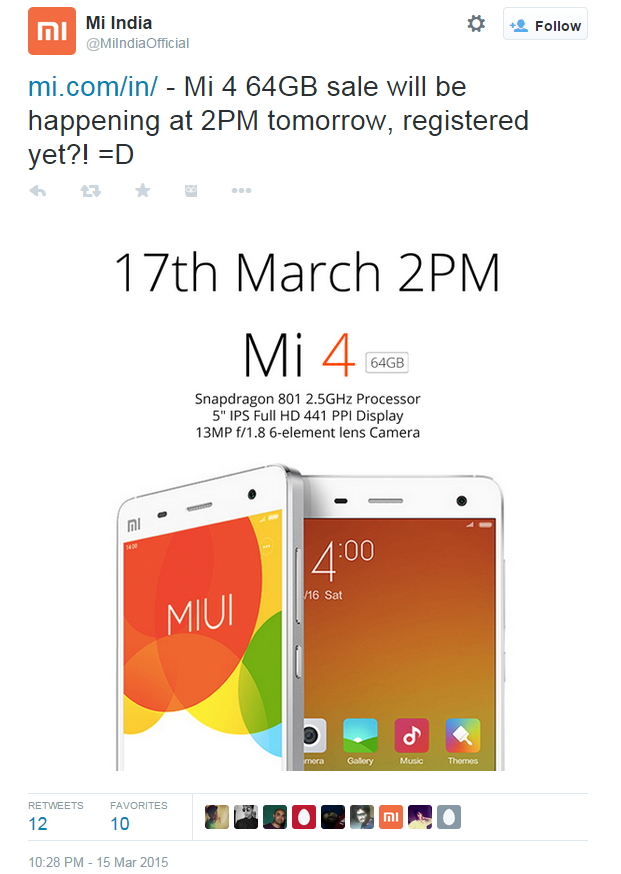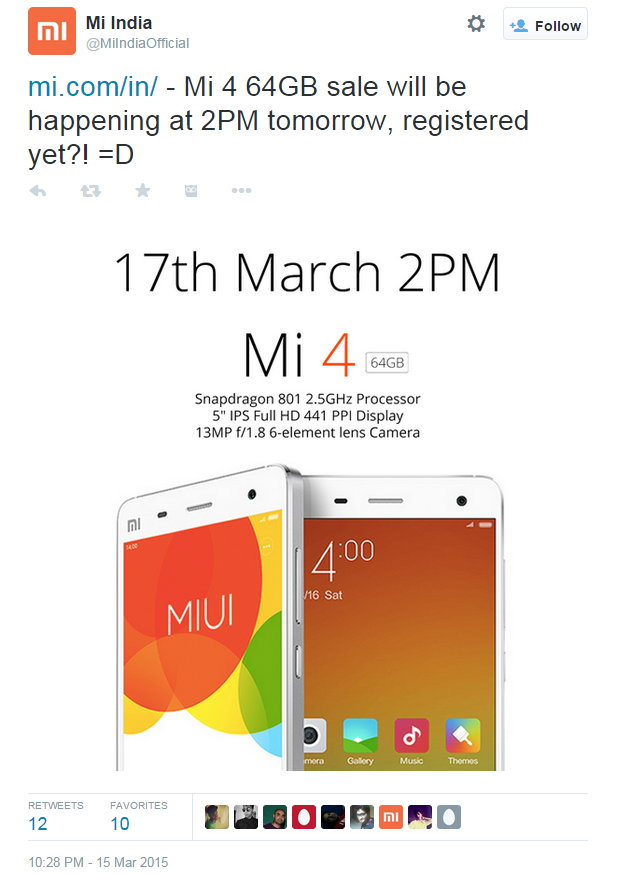 We all are familiar with Xiaomi Tuesdays on Flipkart. Although the partnership of nine months has benefited both the companies, Times Of India reports that Xiaomi is not very happy with the sluggish sales of its phones on Flipkart. Although it is not clear, but this seems to be one of the factors that pushed the Apple of China to look to Amazon India and Snapdeal.
Another reason might be that most of its competitors like Gionee, OnePlus One and Micromax Yureka are exclusively selling their smartphones on Amazon in India. We believe the company decided expand to the platforms where its rivals are selling.
It is still not exactly clear why Xiaomi chose to end its exclusivity with Flipkart, but seems like its Fifth anniversary was a good day to make this announcement.
As a part of the announcement celebration, Xiaomi announced a one-day discount of INR 2000 (US $32.12) on Mi 4 for April 8th, 2015. This means that the 16GB version will be available at INR 17,999 (US$289.09) instead of INR 19,999 (US$321.22) and the 64 GB variant at INR 21,999 (US$353.34) that regular is INR 23,999 (US$385.46). Not only this, buyers can also get a pair of free Mi in-ear headphones when they buy a Redmi Note 4G from any of its three online partners- Flipkart, Amazon and Snapdeal. If buyers purchase the same model from its offline stores- Airtel and The Mobile Store, they will get a 5200 mAh Mi Power bank free.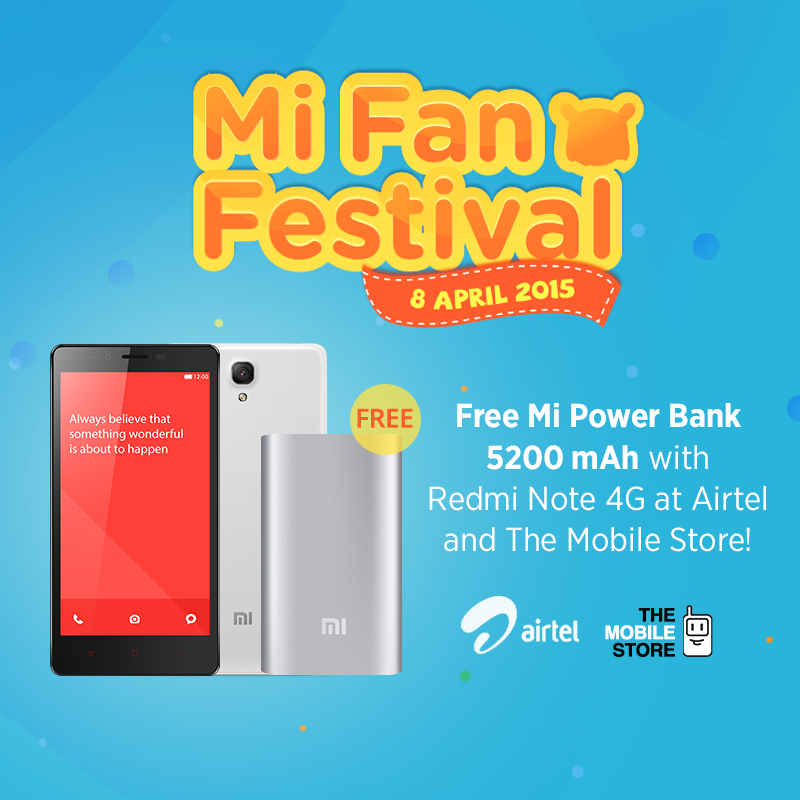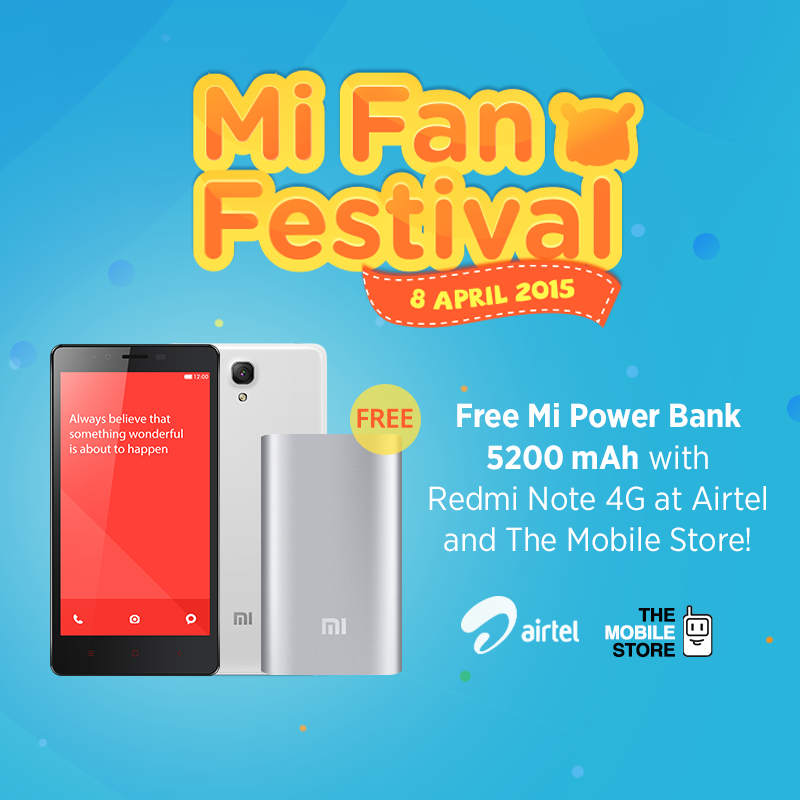 In a span of five years, Xiaomi has tasted immense success since it came into existence in China; and with surprise moves like this, it is only saying that it will not make it easy for the other vendors in the Indian smartphone market. We will, however, be eagerly watching how these partnerships will benefit Xiaomi's popularity in India.