Xiaomi, touted as "Apple of China", has been pushed to the second position by none other than the Cupertino Giant itself Apple Inc. (NASDAQ:AAPL) in China. According to the recent report by market researcher Kantar Worldpanel ComTech, Apple's smartphone sales market share in China went up by 9.7 percent point, to 27.6% in the three months, ended on February 28, 2015, from 17.9% during the same period a year ago. Carolina Milanesi, the chief of research at Kantar Worldpanel ComTech quoted that China is experiencing a strong appetite for iPhone 6 and iPhone 6 Plus.
Homegrown smartphone manufacturer Xiaomi was unbeatable in China with its large-screen smartphones at a lower price. However, with Apple ditching the words of visionary CEO Steve Jobs and venturing into large screen smartphone market, Xiaomi received a jolt that was very much unwelcome!
Almost 15,000 urban mobile phone users were surveyed and it has been concluded that Apple has had an overall 9.7% point increase in China's smartphone market share y-o-y. Nearly 30% of total iPhone sales was recorded in China alone according to Apple's Q1 2015 reports. The country recorded a jump of 70% in iPhone sales figure.
In 2012, China emerged to become the biggest smartphone market, accounting for almost 21% of the global smartphone market share at that time. It was the same time when CEO of Apple, Tim Cook made frequent visits to the country. In the fourth quarter of 2014, total smartphones shipped in China went up by 2 percent, totaling to 107.5 million smartphones. The fourth quarter shipment pushed the year's total number of smartphones shipped to 420.7 million, indicating a 19% y-o-y growth in Q4 2014.
Apple launched iPhone 6 and iPhone 6 Plus at the beginning of the last quarter of 2014 in China. While Xiaomi was leading the smartphone market prior to the launch, after the large-screen iPhones made inroads into the Chinese market, Apple's market share went up by 7.3% point, from 5% to 12.3% in the quarter. On the other hand, Xiaomi fell by 1.1% over the same period.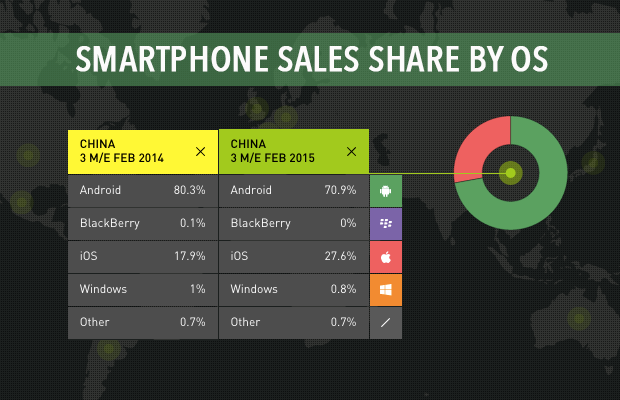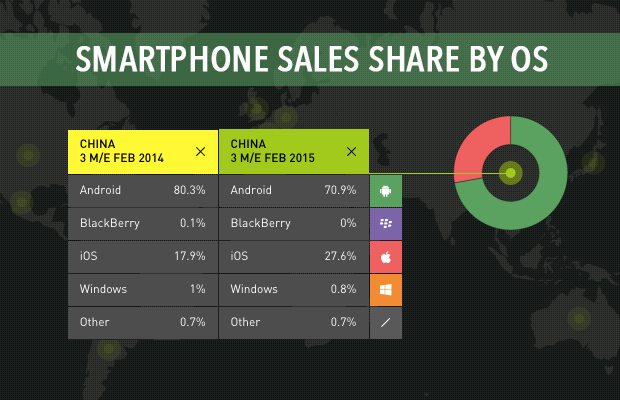 China is the largest market for Apple
Since 2012, the Chinese smartphone market is growing by leaps and bound. Local players like Xiaomi outpaced every other smartphone vendor with its low-priced, power-packed smartphones. Also known as Anti-Apple, Xiaomi lost its ground to Apple after the debut of larger screen iPhone 6 and iPhone 6 Plus into the Chinese smartphone market. In its first fiscal quarter of 2015, Apple garnered a total revenue of $16.1 billion from China alone. It was close to $17.2 billion from Europe. However, America brought in the maximum revenue of almost $30.6 billion.
While visionary CEO Steve Jobs never favored large screen iPhones, it looks like Apple came to terms with the fact that large screens are the future of smartphone! And thus, it hit the bull's eye with its premium iPhones having 4.7-inch and 5.5-inch screens. In China, iPhone 6 remained the best selling smartphone with 10.7% market during the three months sales ended February 2015. iPhone 6 was closely followed by Xiaomi RedMi Note while iPhone 6 Plus remained at third place.
Why The Chinese market is switching to iPhone 6 suddenly?
A recent report from Barron's indicates that China had the maximum switching from Android to iPhone after the launch of iPhone 6 and iPhone 6 Plus worldwide. It records a 30 percent switch in China, with Japan at 14 percent, U.S. at 8 percent and U.K. at 9 percent.
The very recent and quiet launch of the trade-in program for Chinese customers to exchange their old iPhones and iPads for the latest device is one reason that acted as a catalyst behind the increasing sales of iPhone in China. The trade-in program, which is already available in U.S., is now open for Chinese customers as well. They can exchange their old iPhones, as old as iPhone 4, and get store credits to purchase a new unit. However, the constraint is, the company will only accept those units that are officially sold in China. If a device is not sold in China, trade-in program will be denied immediately. The newer iPhone 5 receives store credits as high as 1000 yuan (US$163) while those older than that receives around 800 yuan (US$130.4) to 1000 yuan. Also, in China, the program is limited to iPhones and iPads only. It will not support any non-Apple smartphones, unlike in other regions.
However, China already has many third-party stores who buy second-hand iPhones and then resell it. Hence, the trade-in program for Apple device is not new here. Yet it can be said that an exchange program from the original vendor itself makes everything more safe and reliable for iPhone customers in China.
Increasing 4G market in China accelerated Apple's popularity
China Mobile, China's leading mobile carrier, reports that it has almost 807 million mobile subscribers. From zero in the previous year, subscribers count on 4G network has reached 90 million this year. In December alone it has added 19 million new 4G subscribers, helping Apple iPhone 6 to carve their way into the Chinese smartphone market. Given the way Chinese users are adopting 4G network, China Mobile alone will soon surpass the number of total mobile subscribers in the U.S., which stands at 242 million, by the end of this year. The rising 4G users in China is one of the biggest reason that is acting as a catalyst for Apple's increasing market share in China.
The Price Game did not help Local Player Xiaomi
Apple has always been very reluctant to do anything about its price value. It is more into churning out premium phones in comparison to local player Xiaomi. Previously, the small screen predecessors of iPhone 6 at a high price bracket helped Xiaomi to win the Chinese phone market. However, with the launch of new iPhone 6 series, the Cupertino giant tapped into the market of large screen smartphones giving a tough competition to Xiaomi's premium smartphones line-up. It seemed like a common psychology game Apple played. When people, who were buying premium phones from Xiaomi, could afford a better and reliable phone like Apple's at the same price, it was evident that Android to iOS conversion rate will rapidly increase. That is exactly what happened in China and also elsewhere. The record-breaking sales of iPhone 6 and iPhone 6 Plus have turned the table, thanks to Apple's CEO Tim Cook who decided to detour and played a different and unexpected game altogether.
Aliplay might be another bet for Apple in China
With Apple Pay, the kingpin brand's mobile payment service, the iPhone maker hopes to strengthen its foothold in China market. However, the troubles with Union Pay, China's state owned debit and credit card operator, seems like a hindrance at this moment. Although the company is keen to cooperate with Chinese financial institutions, it has however not yet acknowledged the regulators. It is still unclear if Apple is thinking of making Alibaba's Aliplay the golden ticket to China's mobile payment market or not, given the rumours that Alibaba and Apple are in talks to joining hands.
If that happens, Apple will surely continue to dominate in the Chinese smartphone market, increasing the gap with its closest rival Xiaomi.