After the advent of the smartphones and tablets, the modern workplace has gone through a sea of change. The most significant one is the advent of the BYOD or the Bring Your Own Device phenomenon. With BYOD, enterprises allowed employees to bring in their own devices and work within their enterprise network. This has many advantages, the first is the fact that company spending on buying computing devices is reduced considerably. A well designed and thought out BYOD implementation can improve job satisfaction and optimize business operations. Staying connected to employees also becomes easier as they are active on their personal devices. But it is worth noting that BYOD networks need carefully crafted security implementations that can secure the network from external intrusions and need to be self-learning and self-defending too.
Grand View Research, Inc. a U.S. based market research and consulting firm recently did a study on BYOD and published results. The results of this study are an eye-opener into the current and projected trends in the BYOD segment. And subsequently GlobeNewsWire did an analysis of the findings.
Companies can decrease Capital Expenditure as they do not have to buy devices; also, Operating Costs can be lowered as users will use self-service solutions and then look for tech support for resolution of problems. A well thought out and secure mobility strategy can help deliver considerable benefits to businesses. The increasing use of smartphones, tablets and PCs is expected to contribute to growth to a large extent over the next few years, resulting in market revenue exceeding $225 billion by 2020. Device management, security and managing devices remotely via RDP Clients are the top priority for large or small enterprises dealing with BYOD. Mobile device management (MDM) is the major solution here. Wireless LAN (WLAN) growth has also been accelerated by the BYOD trend, which helps in providing service delivery without losing out on security.
Mobile devices used mostly include smartphones, tablets and PCs, with an average of 1.7 devices per user on a global scale. Most users prefer their own smartphones as the preferred device to help them to combine work and personal lives effectively.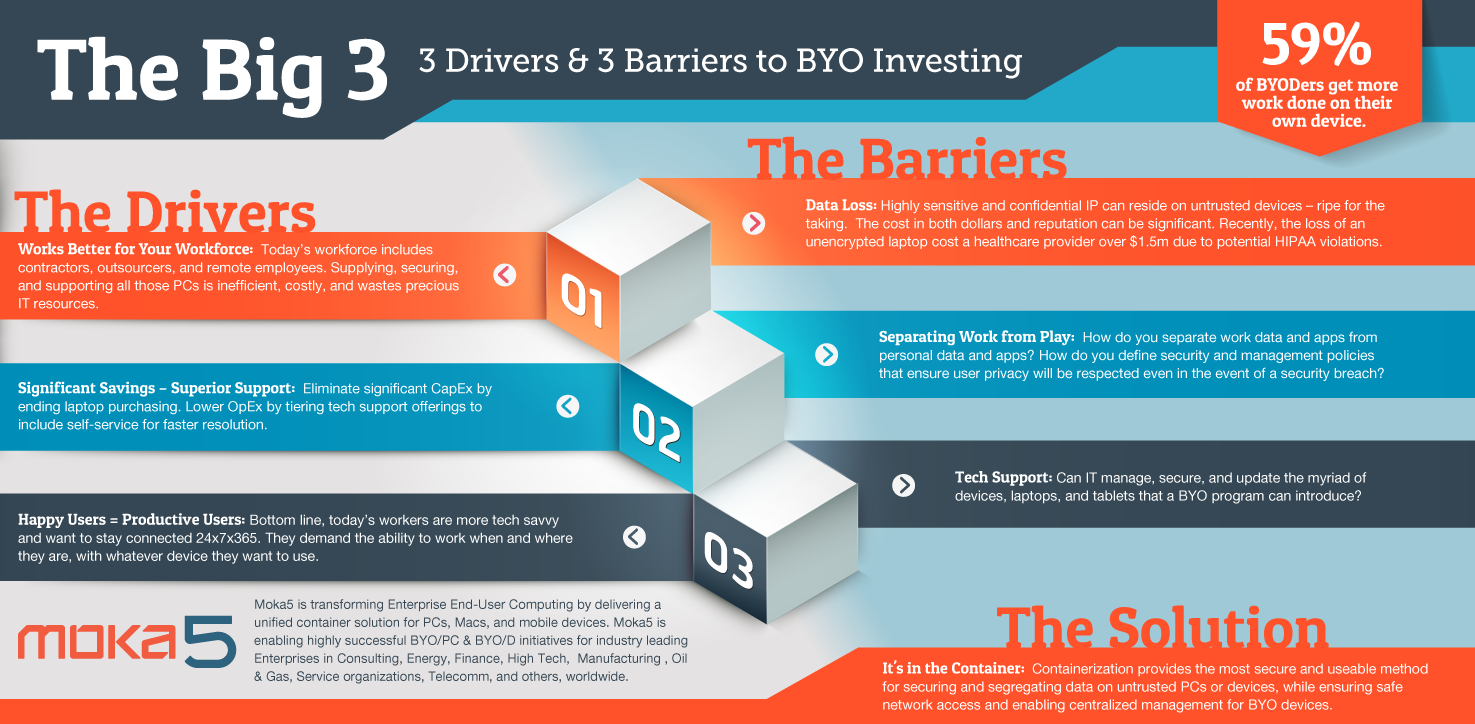 Tablets and phablets are going to emerge as preferred devices owing to larger display size that increases the ease of working on commonly used laptop applications also due to efficient data access and communication. Mid-to-large sized businesses make up for more than 75% of the overall market revenue in 2013. Small businesses are expected to increase share over the forecast period, with BYOD implementation all set to grow at a considerably faster rate over the next six years.
Financial service or insurance and healthcare are currently the most active end-use areas, with strong support policies that help them to use this technology. The rapid increase in the use of mobile devices in the financial services sector has aided well in helping their employees to remotely access account information and collaborate with customers or coworkers. BYOD reduces costs in financial institutions and improves the degree of employee satisfaction to a large extent. Security is critical for the success of a BYOD model in this vertical. In the healthcare space, implementing access to network resources on the basis of device classes or individual permissions is essential.
The BYOD market in Asia Pacific has been growing fast because of the willingness exhibited by users in India and China to use their personal devices for working on their personal devices at home. Presence of sophisticated telecom network and the adoption of flexible timings in organizations has been responsible for increased BYOD initiatives in the U.S. In the European markets like France, employees have a behavioral pattern that prefers separation of personal and work time, therefore resulting in lower adoption.
The study also says that the enterprise mobility management market will witness considerable growth over the next six years to handle the bottlenecks that creep up in BYOD implementation like security, device management and cross-platform application compatibility. The key players in the BYOD sector now are MobileIron, IBM Corporation, Good Technology Inc., Cisco Systems Inc., and Alcatel-Lucent.
Current technologies emphasizing on a mobile application have taken the place of Mobile Device Management (MDM) software solutions. Service offerings are now focused on adding Mobile Content Management (MCM) components to their existing mobile component and application infrastructure. Mobile Enterprise Application Platform (MEAP) has come into focus to handle and scale up cross-platform application development across smartphones, notebooks and tablets. It is worth noting that the key here is to offer scalable and secure services that serve the priorities of sandboxing enterprise content and at the same time retain the comfort and familiarity of working with one's own device. The right mix between both is the key to BYOD success.
So to conclude, it looks like BYOD will be here for a long time. Also, it is one sector that holds the promise of increasing the sales and the margins of the Mobile Device makers and the MDM, MAM and MEAP service providers. BYOD in combination with the highly anticipated IoT look set to drive the mobility and solution markets. But all this is subject to the fact that the security solutions for BYOD have to be scalable and water tight. The virtual sandboxing of enterprise data has to be spot on! If that is in place, BYOD is all set to redefine work places and working environments while setting easy productivity improvement benchmarks.