Social media giant Facebook Inc. (NASDAQ:FB) is in hot waters yet again as reports about its alleged breach of EU privacy laws surfaced on the web recently.
Belgian Data Protection Agency (DPA) did a detailed research and concluded that Facebook tracks our browsing activities all the time irrespective of whether we are logged-in on the social media platform or not. It disclosed that users who do not have an account on Facebook are also tracked when they visit any website that is hosted on the facebook.com domain. It remains no secret that there are millions of websites with Facebook plug-ins that do not require you to sign-in or sign-up on Facebook to access it.
EU Privacy Law clearly notes that tracking information of users who have not given consent is unacceptable. There is no way Facebook can justify its tracking of user information who are not even using the social media platform.
Facebook updated its cookie policy this year. It states that they use cookies to track browsing information of users even if they are not on Facebook or have logged out. The social media giant says they do it to gather data, evaluate and send out relevant ads to users.
The purpose of Facebook is clear- it wants to deliver customized and relevant ads to its users. But, is it legal to track browsing information even if the user does not consent to it, or far worse, have no idea about being tracked?
The Culprit is "Like" button
The company tracks your activities via the "Like" button that is hosted on over a million of websites across the web. This does not mean that Facebook tracks only those users who click on the 'like' button. No, Facebook is not such a lame player! Rather, every time you visit a site that has the "like" button hosted on it, Facebook evidently gets the opportunity to track your browsing activities. It places cookies on your computer which allows it to garner all the relevant information it wants for its advertisement purpose even if you have logged-off from that site which allowed the company to place the cookies in the first place.
There is definitely the option of 'opting out', but unfortunately the entire web settings of Facebook is so immensely complicated that users have a hard time scouting through them and finally reaching the end-goal of opting out. Also, the social media platform does not give any choice to its users to prevent the company from tracking its geographical location or decide which 'sponsored ad' they would like to see.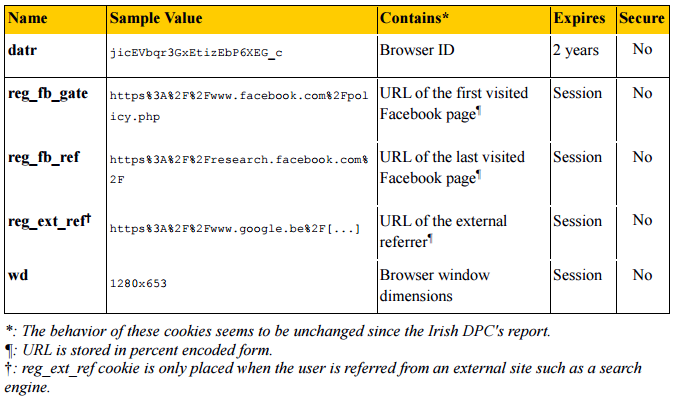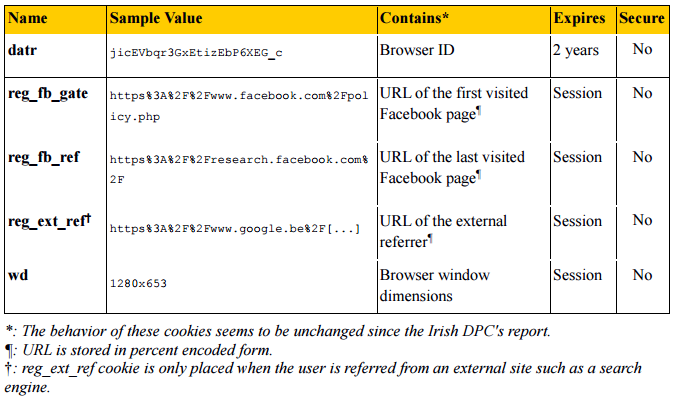 The real jolt came when researchers opined that while opting-out, a user actually aids Facebook to place a long-term and uniquely identifying cookie on his/her computer for a span of two years! Yes, the idea of making the opting-out process more complicated rests on the shoulders of Facebook's tracking purposes. However, the reports have concluded that Facebook places this opt-out cookie, called Datr, on computers of European users only. Such long-term cookie has not been identified in repeated tests on the US or Canadian versions. Why Facebook chose to place Datr on computers of European users is a mystery yet to be solved.
Facebook denies all allegations of privacy breach
Zuckerberg's networking site refutes all the allegations, calling it to be 'factual inaccuracies'. The company vented out its regret on The Independent saying that Belgian DPA authors never bothered to contact them for quotes or at least verify what they are publishing. The social media leader has also extended its urge to meet Belgian DPA to 'fix things'. However, Belgian DPA has apparently turned down Facebook's request, leaving no option for the company but to hope that the research team gets connected to them and update their findings in the long-run.
The question that immediately hits the spotlight is why did Belgian DPA turn down Facebook's request?
Belgian DPA's research report followed on the hinge of Austrian Law Student Maximilian Schrems's filed class-action lawsuit against Facebook for tampering with users' privacy. Schrems has reportedly asked Facebook's 1 billion+ users to join him in support. Almost 60,000 people have joined him in this movement. The Vienna Regional Court in Austria has commanded Facebook to respond to the charges in four weeks' time.
With so much already in news, it isn't surprising that Belgian DPA decided to skip meeting Facebook authorities.
Will this affect its 1.4 billion users? We think Yes
Breaching privacy is a delicate but potentially a strong issue. Ever since its inception in 2004, people have been sharing, liking and commenting on each others' activities. Over the years, this networking giant has become an addiction to almost half the world's population. Although engagement rates might have seen a slip recently on brand pages, there is no denial Facebook has the largest user base in the social media industry. It is a powerful platform where debates, protests and celebrations happen with equal fervor. More than 890 million daily active users and over 1 billion active monthly users, Facebook is definitely under a lot of pressure now.
To keep its users engaged and glued, Zuckerberg has been rolling out new and interesting services to take social sharing to another level. Starting with changed metrics for businesses to UI, money transfer services on Messenger to acquiring startups from different industries, Facebook has done it all to keep the spotlight on itself.
Now, as researchers are questioning its privacy policies, it might hurt Facebook's strong user base. While opting out no more is a viable solution to escape the tracking, it might fall as a thunderbolt affecting the company's  popularity. Rolling out a chain of services with people not willing to use it due to fear of privacy breaches may not be a good deal for this social media giant at the end.
Facebook's tracking tendency might instill and encourage fear of putting anything on the cloud. Though the networking site has said time and again that its users' data are safe and secure on the cloud, with the recent alarming questions and allegations, it might cause a crack on the trust and loyalty the social media giant has gained over so many years.
However, since Facebook is vehemently denying all the allegations all we can do is wait and hope that Facebook comes out clean-chit.