Every Social Media platform has its positives and negatives. One of the biggest positives of Twitter Inc. (NYSE:TWTR) is that, as a platform, it lends itself as an aid in the entire process of retail purchase. The main reason for this is the sheer breadth of information sources and the depth of experience based sharing that has to come to characterize Twitter. Any retail purchase you want to make, Twitter can help you at all stages. From awareness to an expression of interest to an evaluation of brands. From there to the sharing of intent to purchase to the actual purchase. This then leads to post-purchase chats and when a buyer is satisfied and happy, advocacy begins. So Twitter, quite literally is a landmine of opportunity if you are a brand looking to get traction. Twitter recently did a study with Millward Brown and Crimson Hexagon to help retailers understand how people navigate the purchase process and what drives them to buy. Let us try and look at the findings of the study.
The Millward Brown study was commissioned by Twitter last summer, and utilized a ten-minute online questionnaire to survey 1,128 U.S. women age 21-54 who said they had purchased a household cleaning product or an item from a home goods store in the past year. Twitter says Millward Brown compared these Twitter users to the average user of Twitter, Instagram, Facebook, Pinterest, Vine and Tumblr. Twitter partnered with Crimson Hexagon to analyze U.S. retail chatter on Twitter from February 2013 to January 2014. Keyword analysis was used to determine the share of conversation for each stage of the purchase process for each category.
Twitter users shop more often and spend more
The Millward Brown survey of women on Twitter who had recently purchased household staples reveals that Twitter users have bigger budgets and buy more often than non-users.
The study reported that Twitter users planned to spend 21.7% more than non-users over the next six months, and said they had made nearly double the purchases in the past month. And many of these purchases were made online — on average, Twitter users shopped online 6.9 times a month while non-users shopped online just 4.3 times a month.
Twitter supports shoppers at every stage in the purchase cycle
Like we mentioned earlier, there are many stages in the purchase cycle and shoppers rely on Twitter for information and advice. The Millward Brown survey showed that almost half (49%) of female, Twitter shoppers say, Twitter content influenced their purchase decisions, which makes Twitter ideal as a platform for brands.
These shoppers on Twitter are also engaged and aware: they're 160% more likely to be up-to-date on brand news and promotions, 120% more likely to look for deals and sales and 240% more likely to have conversations with a brand than retail shoppers on the average social network.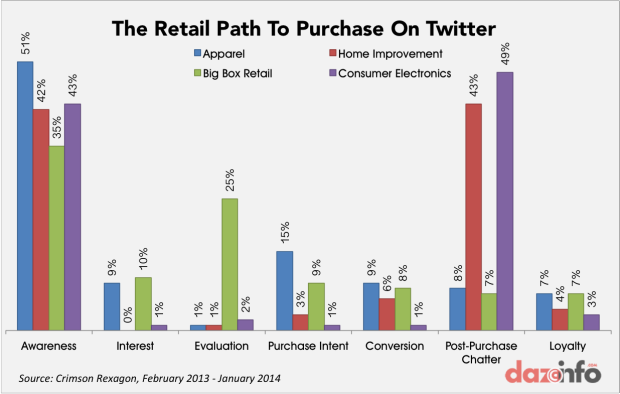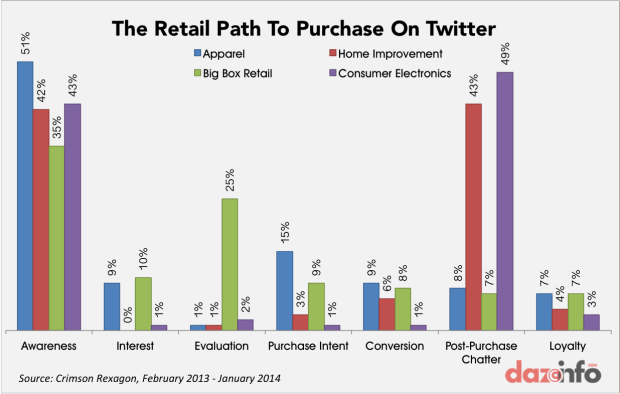 Different kinds of shoppers Use Twitter for different purposes
The Crimson Hexagon study found that though users turn to Twitter at every stage of purchase for every retail category, the share of conversation for each stage can vary. For instance, 51% of apparel-related Twitter retail conversations indicated users were in the "awareness" phase – but this was true for just 8% of grocery/pharmacy conversations. So, in effect analyzing these differences can enable retailers to fine-tune their marketing strategy and subsequently the messaging on Twitter. This in turn will aid in targeting the right demographic and driving conversions.
Twitter conversations reveal what drives retail shoppers to buy
A careful analysis of the share of conversation at each stage of the purchase process for each retail category helps us to learn what ultimately motivates retail shoppers to buy.
Twitter found that purchase motivation varies by retail category. Take an example, when in the purchase intent mindset, consumer electronics shoppers conversations were mostly about advertisements, but apparel shoppers Tweeted mostly about price; and grocery/pharmacy shoppers chatted most about recommendations.
To help brands apply this data to their marketing strategy, the Crimson Hexagon study identified the "purchase funnel hot spot" and "top sales driver" for each retail category. The "hot spot" is the area of the purchase funnel where a high proportion of Twitter chatter happens relative to other retail categories. For example, 25% of the Twitter conversation around big box retail was related to brand or product evaluation — this was higher than for any other retail category. The "top sales driver" tells you what is driving the most purchase-related chatter in each category. For big box, this was a customer service. These points reveal areas of opportunity for brands in each retail category to help deliver consumers the right content at the right time and drive purchase decisions their way.
The Study results give us the following data. For big box retail, Twitter's "purchase funnel hot spot" is an evaluation with customer service being the top sales driver. Twitter advises making sure customer support efforts are competitive. For consumer electronics, the hot spot is post-purchase chatter with advertisements being the top sales driver. Twitter recommends creating incentives for people to tweet about their purchases and releasing "buzz-worthy" ads. For Apparel, the hot spot is purchase intent with the price being the top sales driver. Twitter suggests using engaging Promoted Tweets with images to promote deals and sales to drive traffic.
So the conclusion that we can draw here is that Twitter as a platform is very effective to drive retail purchases and brands can influence spending decisions and even budgets using the correct Twitter chatter. While this is encouraging, the brands would be well advised to take the survey and the results as a guideline and not a thumb rule. Products and brands are like people and no two are the same, eventually every guideline needs adjustment and a process driven feedback loop to run optimally. So converse and convert seems to be the way to go on Twitter.