Indian taxi aggregator, Ola Cabs, who is backed by SoftBank among others, is in talks with Russian Billionaire Yuri Milner's investment firm DST Global to rope in an investment of $400-$500 million at a valuation of $2.5 billion, according to The Times Of India (TOI). Milner already has a personal investment in Ola Cabs, as reported by TOI a year back. The terms of the current round are still being negotiated by the two parties. This news comes immediately after Ola announced its acquisition of its smaller rival TaxiForSure, another app-based taxi service provider in India.
Ola Cabs operates in around 67 Indian cities and has received about $277 million in funding in 5 rounds. Backed by these investments and a rapid growth, Ola is now a direct competitor to San Francisco based car service Uber Technologies Inc. in India.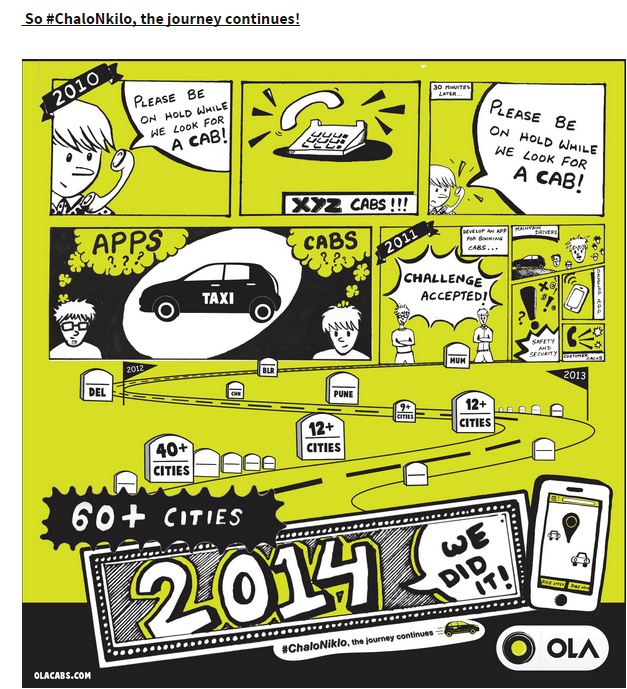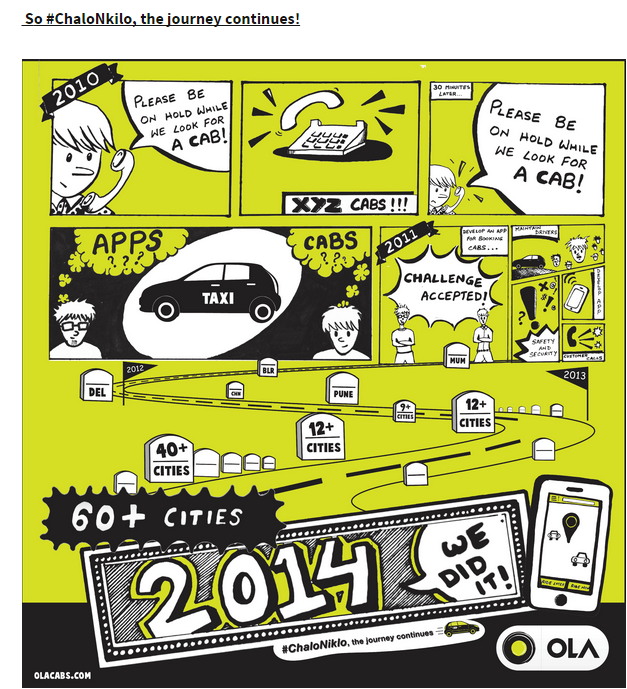 Indian Taxi Service Market
After mobile and eCommerce, it is time for car industry to become a rage. According to The Economic Times, the Indian taxi market is worth almost $9 billion. It is one of the fastest growing markets, attracting investors across the globe. US-based Uber launched its services in India in September 2013, and at the beginning of 2014, it rolled out Uber X in Bangalore, an affordable version of its service, to eat into Ola Cabs market.
Out of the four major players in cab services, Ola, Taxi For Sure, Uber and Meru Cabs, it looks like the industry is consolidating with Ola's acquisition of Taxi For Sure at $200 million (INR 1,260 crores), while Uber is reportedly in talks to acquire Meru Cabs. According to industry sources, the valuation of Meru could be between $335 million and $370 million.
Ola vs Uber: the Competition gets fierce
These back-to-back acquisitions boil down to the fact that app based Indian Taxi service market just got consolidated, with a face-off between Uber and Ola only. Other non-app smaller players like EasyCab and TABcab has not really made a mark.
So, who will win?
Uber Is On The Fund Raising Spree
In an attempt to pursue its aggressive expansion plans, Uber recently decided to expand its series E funding by raising another $1 billion, according to a filing Wednesday with Delaware Secretary of State. The total amount Uber has raised in the round E has reached whopping $2.8 billion now. Only a few weeks before this filing, Uber had raised a funding of $1.2 billion in December 2014 and had announced a capacity for another $600 million. However, it soon surpassed the $600 million mark, and hence it decided to raise funds again. Uber now has a total valuation of over $41 billion, becoming the second most valuable tech startup behind the Chinese smartphone manufacturer company Xiaomi. In the beginning of 2015, Uber also raised $1.6 billion in convertible debt from Goldman Sachs.
Uber is rich. Is that a problem for Ola?
Uber plans to invest $400 million in India to fuel its growth and capture the market aggressively. Since Uber has so much inflow of cash, it is easier for it to burn that cash to stay afloat in the market. India-based Ola Cabs, on the other hand, has to burn out cash at the same pace to capture the market. Will Ola do so?
Uber's move to acquire Meru could be a result of the recent challenges the company faced, both with reputation and business model in India, leading to a recent ban. Along with these hurdles, another pressing issue that Uber is facing is that Uber is yet to make a markin Tier II and III cities. In India, Ola has an advantage with its calling service to book a cab that is not available with Uber. This has made Ola more popular in India, especially in smaller cities where penetration of smartphone and mobile internet is considerably low. However, with Meru Cabs, Uber hopes to bridge this gap as Meru provides cab booking facility through phone calls also.
The growth in number of smartphone users in Asia, as reported by Statista, has acted as a catalyst for the taxi aggregator industry. But now with only two major players competing for the top slot in India, both Ola and Uber are doing their best to make use of this growth of smartphone users.
Ola and Uber allow users to share cab details, cab driver details, and track maps in order to ensure total safety of the users. Not only this, both Uber and Ola have implemented mobile wallet systems for payment. While Ola has its Ola Money feature, Uber has joined hands with PayTM to allow users to make payments via credit card, debit card or net banking. Unlike Ola, Uber does not have a self-initiated wallet system.
After having passed through a rough patch, Uber is now trying its best to win back Indian customers in big numbers. In doing so, Uber has reduced its taxi rates to INR 100 for first 4-6 Kms, same as Ola, for its Mini Range according to TOI. However, TFS introduced INR 49 for the first 4 kms which created a buzz in the market. To fuel its growth, Ola has added a new offering -a 20 minutes food delivery service, named Ola Cafe. To start with, the service has been launched in four major cities- Bangalore, Hyderabad, Mumbai and Delhi starting today, and will be available on its upgraded app.
Is Ola trying to troll Uber with its OlaCafe?
In terms of popularity, Ola beats Uber, especially in the Tier II and tier III cities where internet adoption on smartphones is comparatively low. Now with its new 20 minutes food delivery service in major cities is surely going to boost Ola's market. This will not only play an important factor in increasing revenue for Ola, but it is a great way to attract new customers to its platform. Using one app to do two things is definitely a master stroke from Ola. However, Uber's increasing attempts to penetrate the market are only going to make things tough for Ola. Uber operates in 277 cities in 54 countries and has already raised a funding of $4 billion. Time will tell who will ultimately drive the taxi market.