Social media marketing spend in India has been growing considerably at around 68% CAGR over previous two financial years. In the FY 2014, social media constituted 18% of overall online promotion spend, which stood at INR 495 crore.
Given this promise and high level of interest, it then becomes an eventuality to study social media strategies to understand how companies are allocating their social media budgets, social platforms they are present on, content strategies for superior engagement on social media etc. In this regards, we will go through a primary research report presented by Ernst & Young called "Social Media Marketing – India Trends Study" published for the year 2014.
Social Media Marketing: Trends & Brand Adoption
The E&Y study, which was conducted to understand the social media behavior of top brands in India, clearly underlines few of the important actionable insights and changes that the industry has gone through between 2013 and 2014. Before we dig deeper into the report, here are few of the key findings of the study:
Building Brand Awareness and Community is the major objective of companies investing on social media marketing.
Nearly half of brands participated in the study claims they investment 10% of their annual marketing budget.
86% brands engage multiple platforms at least once a day, 53% twice a day or more.
Only 14% of brands spend anything between INR 1 Cr and 2 Crs (US$200,00 – US$300,000) on social media marketing, 23% of brands spend less than INR 10 lakhs (US$32,000) annually on social media marketing.
27% of brands maintain in-house social media team for strategy, planning and implementation while 11% brands in India outsource these activities to agencies or firms.
79% of brands surveyed in India rely on agencies for their social media requirements during implementation and roll out of campaigns.
61% of brands use social media listening tools to track their brand sentiments.
Radian 6 and Meltwater emerge as the most popular tools for social media monitoring and to track sentiment analysis.
Facebook Inc. (NASDAQ:FB) was overwhelmingly voted as the most important social media platform  with 81% vote share. 48% brands considered Twitter the second most important platform, followed by YouTube (43%).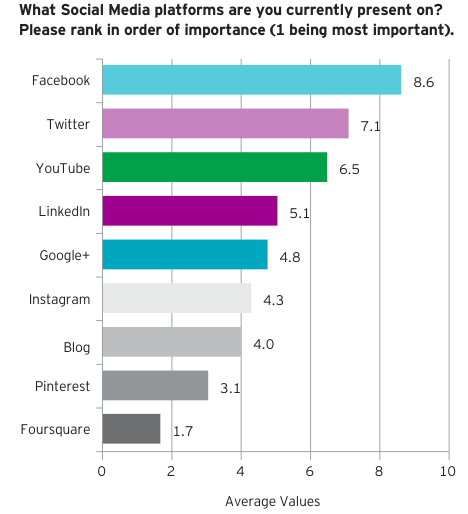 The study also tried to understand the adoption and popularity of new platforms introduced to social media users in India. Google+ was shown to be the most adopted platform (40% brands introduced Googe+ in 2014) followed by LinkedIn (30%) and twitter (25%). Newer platforms such as Pinterest and Instagram have made an entry to this list.
It is also interesting to compare the primary objectives of social media strategies in 2014 and 2013. As can be seen below, companies are not only continuing to focus on traditional objectives such as brand awareness, community building etc but are also leveraging social media for newer objectives such as reputation management and thought leadership.
Majority of companies under the study (90%) reported to spend upto 15% of their marketing budget on social media activities in 2014. This number was 78% in 2013 and shows enhanced spending patterns for social media.
When asked about the challenges associated with social media marketing brands outlines followings as the Top 3 Challenges To Market Brands on Social Media Platforms:
Measuring effectiveness: 71.4%
Sustain/increase engagement rate: 61.9%
Content creation: 52.4%
As budget allocations are increasing, brands want to measure how effectively they are spending that money and what sort of returns have been realized. Thus, measurements and metrics become a key challenge for brands.
So what metrics are Indians brands/companies tracking? Are these metrics in alignment with their social media objectives? Figure below shows the top 5 metrics:
This shows that brands/companies are constantly monitoring how their followers/fans are reacting to their content (Like, Reply, Share, Retweet, etc) on social platforms. They are also monitoring what people are talking about them through social listening tools such as simplify360, Meltwater etc.
It is also interesting to note what respondents thought would be the next big thing they would introduce to their social media marketing mix.
Given that much of social media objectives were aligned towards building community and consumer engagement, it was not a surprise to see Social CRM topping the list. This was followed by Social Commerce whose potential is yet to be fully unravelled. Facebook is already testing their "Buy" button feature where merchants can start selling their products on their facebook pages.
Conclusion:
Social Media Marketing outlook for India looks very bright. The industry is fairly big and growth rates are impressive. Year on year social media strategies are quite different and this reflects the dynamism of the industry. Brands/Companies are open to experimentation and realize ROI through alternate means. This makes study of social media marketing all the more interesting. To complement this, social platforms themselves are going through phases of rapid innovation and feature additions. How merchants/brands make sense of these innovations and reach out to their prospective customers is what makes such a study delightful.