Apple Watch is finally up for grabs and the company is making all possible efforts to convince us that we need it. In 2011, Steve Jobs, the visionary former CEO – Apple Inc (NASDAQ:AAPL), famously quoted "people don't know what they want, unless you show it to them". However, with Apple Watch it's a different scenario, a rather challenging one. Yesterday, during the sales launch of Apple Watch, the current CEO of Apple, Tim Cook, summed up the challenge by stating that Apple never sold anything as a company that people could try on before. Now while the market is already flooded with a variety of smartwatches from other OEMs, including Motorola, LG, Samsung, Apple Watch has a ready competition unlike the case with iPhone or iPad.
Most of the industry analysts feel that smartwatch industry can't be treated as smartphone or tablet industry now. For the last six to eight months, smartphone owners have been educating themselves enough about the devices, thanks to the regular debut of various smartwatches. There are potential buyers of Apple Watch as they already aware of the best use cases, features and functionalities of various smartwatches. However, as most of the Apple Watch features run only when paired with an iPhone, it's equally important to find out how many of these potential buyers use iPhones compatible with Apple Watch.
Apple Watch is priced $350 onwards for the sports variant, $550 onwards for the regular version, and $10,000 onwards for the Apple Watch Edition. Not very expensive, but definitely not enticing enough for everyone, rather iPhone owner, to line up in a queue outside Apple Stores. So, how far Tim Cook will succeed to lure users to buy Apple Watch?
Apple Watch: The Rosy Projection
The easiest way to attract customers is to convince those who already have a smartwatch on their wrist. According to the latest data from Globalwebindex, just 31% of current smartwatch owners have an iPhone. While, 41% of smartwatch owners use Samsung handsets. Considering, most of the smartwatches that are already available in the market work with multiple OEMs, it's safe to say that more than half of smartwatch owners use Android smartphone or tablet to sync their smartwatch. However, the ratio is expected to shift significantly as Apple users are known for brand loyalty and buy Apple products more for a style statement over usability or dire requirement.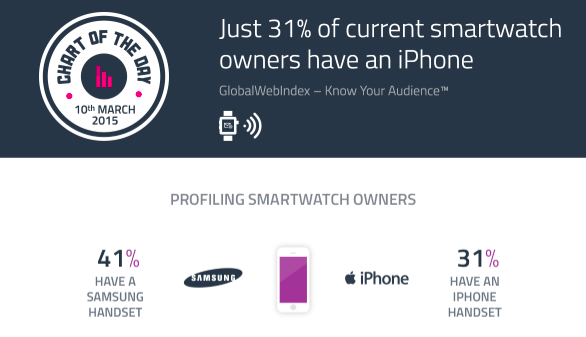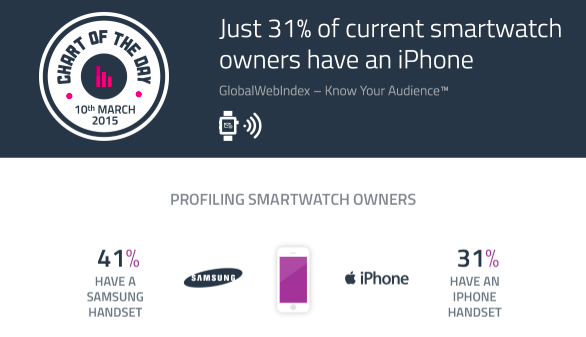 Apple Watch is reportedly compatible with iPhone 5 and all its successors. iPhone 5 was launched in September 2012 and since then Apple has sold nearly 390 million units of iPhone. According to the latest data from Fiksu, as of March 09, 2014, 78.6 percent of total active iPhone devices are iPhone 5, iPhone 5S, iPhone 6 and iPhone 6S, while 74.3% of total iPhones are powered with iOS 8.
An Adobe poll of 1,000 Americans who own either a smartphone or tablet to find out if they will go for Apple Watch found that 18% of the respondents are likely or very likely to buy Apple Watch. It's safe to assume that around 50 million iPhone users will buy Apple Watch. (18% of 78% of 390 million).
But all above figures are mere estimations and no one really knows how many Apple iPhone users would actually go for Apple Watch. Eight other prominent research firms, including Morgan Stanley, Credit Suisse, Evercore and BusinessInsider, estimate that Apple would sell anything between 10 million to 60 million units of Apple Watch in 2015. At the same time research firm Strategy Analytics claims during the whole year of 2015, total 28.1 million units of smartwatch would be sold, and Apple could control 55% of the market. But, as we can see, Strategy Analystics' prediction is rather conservative as compared to other research firms.
Not Everything Goes In Favor Of Tim Cook
Despite all these favorable projections, industry analysts don't look so confident about the success of Apple Watch.
"As they compare the Apple Watch and their current Swatch, Fitbit, or mobile app, many are concluding that it doesn't solve an unmet need," wrote market research firm Forrester Research in a November report on the watch.
In order to identify the unique value proposition that could be offered by Apple Watch, it is important to analyze the current app usage of smartphone owners who also own smartwatch. With over 50% using Facebook and Google Maps app each month, it's very evident that social and location based functionalities are key for smartwatch consumers and Apple, unfortunately, doesn't have strong offerings in both the spaces. Besides, there is no particular pain point that is being solved by Apple Watch. Having said that, it's impossible to understand just how useful a device would be until people have it and start using it. TechCrunch went a step ahead claiming that using Apple Watch may help iPhone users save time spent on iPhone – the time they spend poking at their iPhone to check regular updates. A study claims that a person picks up his or her phone about 1,500 times a week on an average. Nearly 51% of the time to check if there are any new updates from their messaging apps, email or social connections. But do prospective customers find such tiny benefits worth few hundred dollars?  Convincing 50 million iPhone users to buy Apple Watch is not going to be a cakewalk for Tim Cook; especially when the price starts at $350.
Apple products are known for being a brand statement. And, the biggest challenge lies in the replacement. A person can carry two or more smartphones but the same can't be done with a watch. That means Apple will have to work hard in order to convince people to replace their existing watch with Apple Watch. According to Euromonitor, Men may find Apple Watch attractive and may ditch their existing watch for it, but women could find the Apple Watch too big.
Tim Cook knows that Apple has to present the watch beyond tech cases and make it more appealing for a fashion conscious audience. Therefore, marketing Apple Watch is a different ball game as compared to iPhone or iPad, and the company will have to find ways to earn mentions beyond tech blogs and journals – through something like fashion magazine and Vogue. If successful, it would be the first to meet the high standard for Apple Watch. For now, people may want it, but might not necessarily buy it immediately. And, in such a scenario Apple may find it difficult to find watch buyers in scores to invest $350 or more for a device with very limited capabilities and functionality as compared to other handheld devices.