As smart device technology evolves, analysts have an exciting time trying to predict the future state of industry; especially when it comes to studying the impact have these devices on our lifestyle like shopping for instance. We have curated and analysed few statistics and intelligence to answer the question that how the latest smart device offerings viz-a-viz wearables will affect the mobile payments as such.
In the US, the mobile payment industry is forecasted to reach $142 billion in 2019 from $52 billion in 2014. Across the globe, there were about 109 million wearable devices in 2014 and this number is predicted to hit 578 million in 2019 as per a Cisco study. When compared to the mammoth 7.4 billion global mobile devices & connections in 2014, this might look like an insignificant number. But as we can see in the below chart, wearables as a segment is set to grow faster than any other smart devices in the coming years.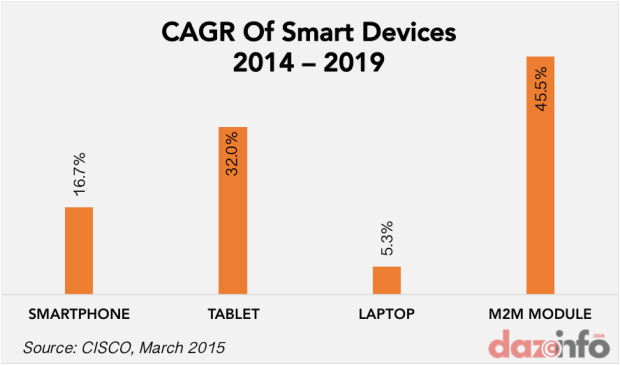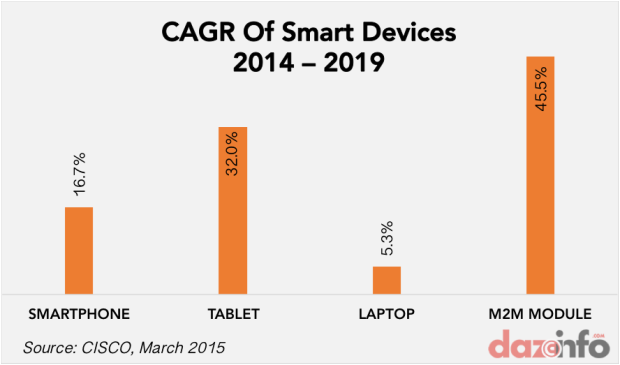 So, what does this impending boom mean for the mobile payments industry? The golden question that comes up is – "Will consumers use their wearable devices to make payments?". The consumer sentiment as per a Dec 2014 survey by Stratos in the US says the primary function for a wearable is to track fitness and health. Only 12.2% of the respondents answered positively to the golden question. However amongst those who are already doing/keen on making in-store payments, approximately 2/3rd would prefer to use a wearable as against a mobile phone.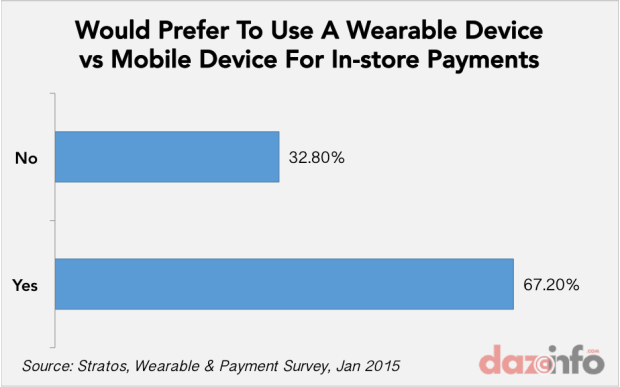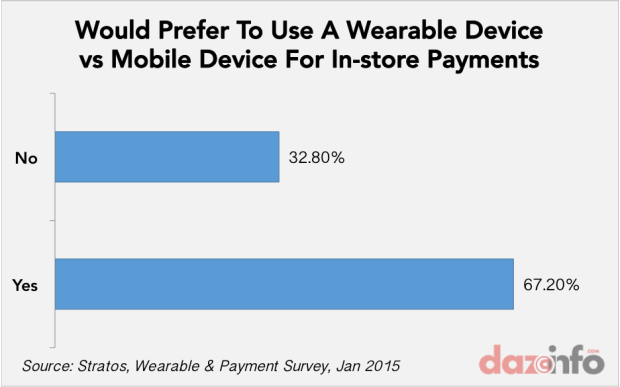 Irrespective of whatever reason one buys a wearable device, there is a strong case for it to be be used for payments if and when that consumer decides to adopts non-cash/non-card smart payments via mobile wallet applications such as Apple Pay, Google Plaso etc. PwC in one of their consumer intelligence reports (2013) had identified security and privacy concerns as the biggest hindrance in the adoption of payments via mobile wallets. Such concerns existed when credit card was first introduced, and surely these will evaporate over time. Secondly the point-of-sale (POS) terminal infrastructure needs to be upgraded across all the merchants with suitable near field communication technologies to enable the transactions. Several studies have identified loyalty programs as the most effective means to increase consumer adoption towards payments via mobile wallet apps. So, the answer to our golden question is that it is proportional to adoption of payments via mobile wallet.
Would the wearables segment by itself revolutionize the payments industry?
For starters, wearable devices have some traits which make them more convenient than a smartphone, like a watch being more secure to a person than a phone. They can also significantly increase the retailer productivity during payment processing. A merchant can use his simple & secure Apple Watch to connect to a customer's smart device for processing as against an inconvenient terminal. Wearables also seems to have demonstrated a positive impact in other applications (increase of workplace productivity by 8.5% and satisfaction by 3.5%).
But is this mere buzz or will this be a genuine game changer? Besides the fitness and health related applications, there doesn't seem to be a definitive answer. Consumers are seeing a clear value proposition in investing in wearables in fitness related applications because the product attributes of these devices which track movements, heart-rate, footsteps, body motions etc which would otherwise be cumbersome using a smartphone. Is there a similar value proposition in the payments industry? We do not think so.
Conclusion
To conclude, we can summarize that consumers will use wearables more and more for making payments. As payments via mobile wallet application which in itself is still nascent is adopted more and more, wearable will be preferred over smartphones. But wearables as we know them today with existing product attributes, are unlikely to revolutionize payments. What will revolutionize mobile payments are factors such as security, trust, and convenience. These can be addressed on the mobile wallet application front as well as on the device level. These are still early days, and new devices are conceptualized at a rapid pace. All it takes is for one of them to capture the collective imagination of consumers and revolutionize the way in which they think about payments.