The exploding adoption of smartphones and tablets has accelerated the growth of mobile app and mobile internet industry worldwide. About 3.4 billion smartphones have been shipped by the end of 2014 and users have over 2.5 million apps to choose from. This phenomenal growth in the smartphone industry has created an enormous opportunity for advertisers who want to reach their potential customers quickly. And, now after almost 5 years of traditional mobile advertising methods, the industry is getting transformed by implementing highly optimized methods generating more revenue for app developers, publishers and agencies. And, among all, mobile native ads promise the highest ROI. International Advertising Bureau (IAB) has estimated the native ad industry was worth $331 million in 2014 and it is being considered as a billion dollar opportunity for publishers in the near future.
While companies, agencies, publishers and brands are all aware of the advantages of native mobile ads, the industry is yet to grab a sizable chunk of the pie. According to the latest study done by InMobi, 97% of respondents know what Native advertising is and along with its benefits; despite that only 36% of respondents use it. When asked about what is really holding them back from using native advertising, 29% blamed lack of expert suppliers and best practices that are vital for the success of campaigns powered with native mobile ads. But the study found that suppliers are not the only main reason why agencies, brands or publishers are giving cold shoulders to mobile native ads, 26% of respondents also pointed out insufficient data that could educate about the effectiveness of mobile native advertising.
These findings are based on the data collected from publishers, brands and agencies who participated in the survey during the month of February 2015. Publishers take the lead by making using the most of mobile native ads, 42% of publishers claimed to be using mobile native ads currently, as compares to 39% brands and 33% agencies. However, agencies look more optimistic about the future success of mobile native advertising as 62% are planning to use it in the future.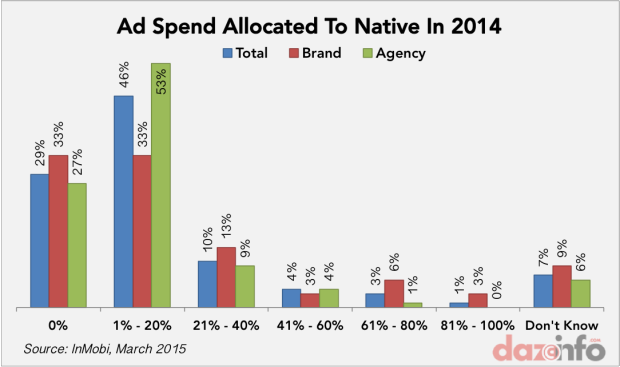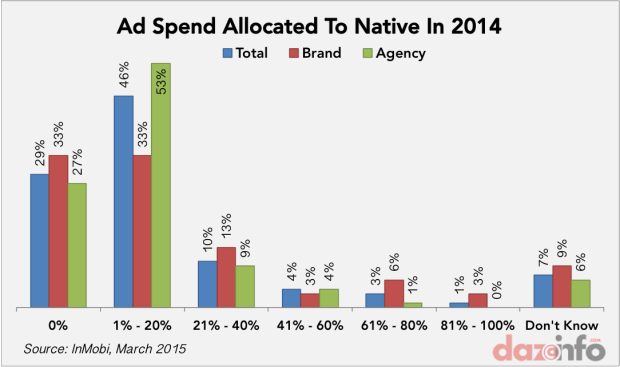 In 2014, around 20% of total digital ad budget was spent on mobile native ads. 53% of agencies spent 20% of their client's advertising budget on mobile native ads, while 13% brands that participated in the study, claimed to have spent anything between 21% and 40% of their total digital advertising budget.
Mobile Native Ads Is The Future Of Advertising
Digital advertising is all about engaging users; the more an ad format is able to grab the attention of targeted users, the more revenue would be accounted for publishers and agencies. In mobile native ads the scenario is not different; 56% of brands, agencies and publishers said that Click-Through-Rate (CTR) is the main metric to measure the performance of any native advertisement as it is linked directly with the revenue and commission. Engagement Rate is the next metric to analyze the performance as it has a direct impact on the ROI for the advertiser, therefore, it's equally important that users must click and also stay engage with mobile native ads.
The study also highlights the decision-making elements that drives publishers to use mobile native advertisement. For a publisher it's quite important to provide a seamless and uninterrupted experience, therefore 67% of publishers voted for Better User Experience as a main factor behind adopting mobile native ads. 55% of publishers feel that on mobile native ads are less intrusive as they complement the content or UI in one or another form, while 51% feel that they provide relevant and engaging content that gel with the users' interest and requirements.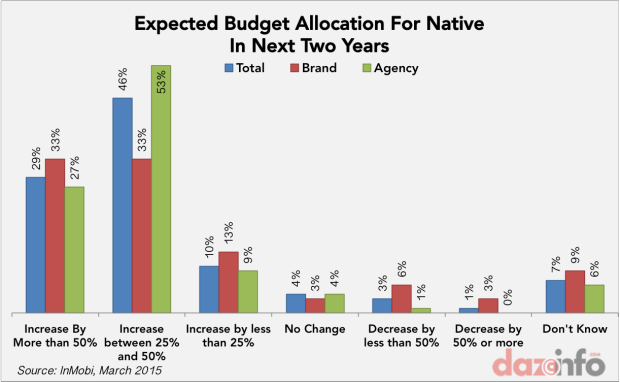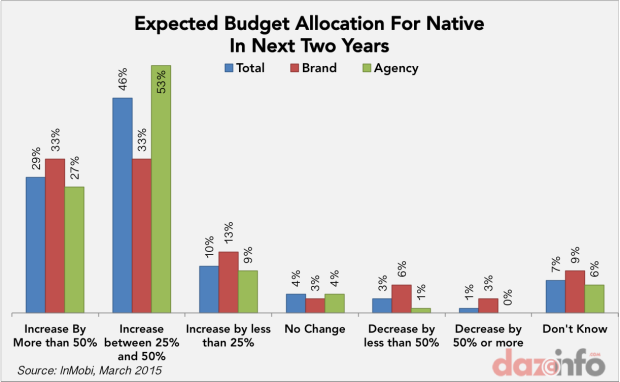 It's evident by the statistics that mobile native ads are the future of advertising, and publishers, brands and agencies are actively working to optimize their ROI. When asked about the betting big on mobile native ads, 33% of respondents said that they have planned to increase their mobile native ad spend by 25% to 50% of their current spend in the next two years. Interestingly, 21% are planning to increase their mobile native ad spend by more than 50%.
Mobile apps vertical is expected to benefit the most from the adoption of mobile native advertising in the future as 63% respondents see a huge potential in it. News & Entertainment and Retail follow mobile apps closely as 54% and 51% respondents found the other top verticals/industries that could be benefited the most from native advertising. Publishers are expected to gain the most out of it as they are most optimistic about the success of native ads in all the top three verticals/industries.
The InMobi study, titled Native Advertising on Mobile 2015, is based upon the responses captured from 348 global publishers, brands and agencies. 42% of respondents who participated in this study were agencies, 21% brands, 20% publishers and 17% others. 40.1% of these respondents were based out of APAC region, 31.1% in Europe, 10.3% in North America and others from the rest of the world.