Today morning at ongoing Mobile World Congress, Sunder Pichai, Android Head – Google Inc. (NASDAQ:GOOGL), made an announcement that widely reveals the fate of Google's social networking aspirations vehicle, Google+. And, it's definitely not a good sign for the Google+ active users and brands, who sweat to keep the network alive.
"For us, Google+ was always two things, a stream and a social layer. The stream has a passionate community of users, but the second goal was larger for us. We're at a point where things like photos and communication are very important, we're reorganizing around that. Hangouts will still exist," Said, Sundar Pichai.
Message is loud and clear; Google+ is pivoting as it has failed to uproot any of the competitors from the social networking space. Pay attention to one of the words used by Sundar in the above statement – Was. This clearly indicates that the fate of Google+ has been sealed and it's just a matter of time before Google comes up with an official statement to announce the demise of an ambitious project. For Google it may not be a big deal, though, as the internet giant has a big graveyard of in-house developed products and startups it acquired once; Google Buzz, Orkut, Google Wave to name few.
Many may argue that pivoting is a sign of growth and many successful products have adopted the similar strategy to stay afloat in the market. In fact, there are few who are still not ready to read the writing on the wall. And, why not, killing a network that has nearly 2.2 billion registered users is neither a smart move nor a tranquil decision. But in the same light, It is interesting to learn that less than 1% of its total claimed users base is actually active on the network, compare to 90% of active user base of arch rival Facebook Inc. (NASDAQ:FB). There are over 1.5 billion registered users on Facebook and as per the Q4, 2014 official figure; out of that 1.39 billion are active.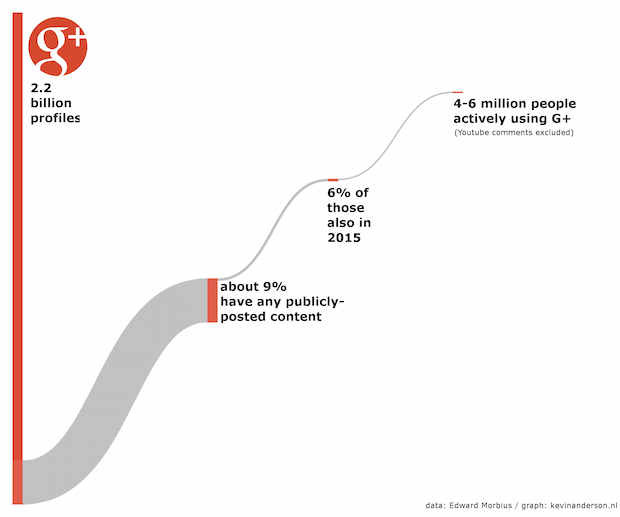 People call Google+ a social graveyard. Despite, Google is quite confident about few of the features it offers via Google+, especially Hangout. Therefore, the company has apparently decided to carve few of such features into different services before Google+ is officially declared dead. And to make the process smooth, Google has already started the transition of its key product team members. The latest one being Bradley Horowitz, who has been associated with many Google products, including Google+, for seven years now. This morning, Horowitz also indicated about the ongoing tussle on the fate of Google+ and announced he would be heading two new products Photos and Stream. Read his announcement in the context of Sunder Pichai's latest statement and you would be able to visualize the future of Google+ quite clearly.
What Went Wrong With Google+
In an era of Internet, when Facebook, SpaceX and, also, Google, is talking about bringing as many people as possible on the Internet via Project Loom and Internet.Org, the failure of Google+ is really surprising. While Google is not ready to accept its defeat in social media space – also, it can't afford to do so – Facebook has learnt the art of winning millions of new users, and keep them engaged and interested from growing economies with each passing month. Mark Zuckerberg has identified the real gaps of social networking and is busy patching those, which is helping Facebook to grow faster than ever before, be it users count, advertising revenue, winning smartphone users or beating YouTube in video content space.
Many analysts believe that despite of having the search ranking advantage Google missed the social media flight. Content engagement is the key to success in social media business, and Zuckerberg has made sure users are served with the content type they like and cherish the most.
There is also one fundamental difference that Google failed to understand; Facebook adopted the split model and segregated image & video content, mobile messaging content and other form of content into three different networks, Google did just opposite to that. Unlike Google, Facebook never tried to 'force' users to link all of its services together, as Zuckerberg believes these are three different worlds and can never be clubbed together. Today, besides having 1.39 billion active monthly users on Facebook, Zuckerberg also has 300 million active users on Instagram and 700 million active users on WhatsApp.
Google spokespersons remain tied lipped at this point in time and are not ready to spill beans on how Google+ would be carved into possible multiple services or networks – something similar to the combination of Facebook +Instagram+WatsApp. However, after the latest statement of both Sunder Pichai and Horowitz, along with the announcement of new products, it's not difficult to predict the future of Google+. All it remains to be seen how brands on Google+, having millions of fans/followers, react to the upcoming disappointment.