Last week, Twitter Inc (NYSE: TWTR) reported a strong performance in Q4, 2014 and beat analyst expectations on several KPIs. The adjusted Q4 EBITDA of $141 million (a 216% YOY increase) and a non-GAAP EPS of $0.12 (compared to $0.02 in Q4, 2013) have sent the right signals to its investors. Twitter's share last Thursday spiked up by 11% to $45.90 in after-hours trading post an official announcement. Shebly Seyrafi of FBN securities promptly upgraded twitter ratings to "outperform" and upped his price target to $65 from $60 (TWTR is trading at around $47 as we write).
Twitter Q4, 2014: Sweet spots
Twitter's GAAP revenue last quarter totaled $479 million (97% YOY) to which contributions primarily came from advertising (90.2%). Advertisement monetization seems to be working well especially in the US market.
As can be seen above, every thousand-timeline view translated to $5.65 in revenues during the last quarter in the US market. The opportunity, however, lies in the faster growing International markets. This is especially true since revenue share from International markets has been steadily increasing (34% at Q4, 2014).
What this also means from a product perspective is, Twitter continues to demonstrate a value to marketers and continue to build good advertising products. Sitting on top of a comfortable $3 billion working capital, investments in newer innovative products can be expected. Twitter has already started rolling out several new features and product tweaks aimed at displaying better timeline value to marketers such as timeline alerts, Twitter Cards and more.
Concerns
The strong performance, however, is in the backdrop of concerns regarding a lackluster user acquisition process. Monthly active users last quarter was a bare 20% increase to that of Q4, 2013 and the trend doesn't look very promising as shown below.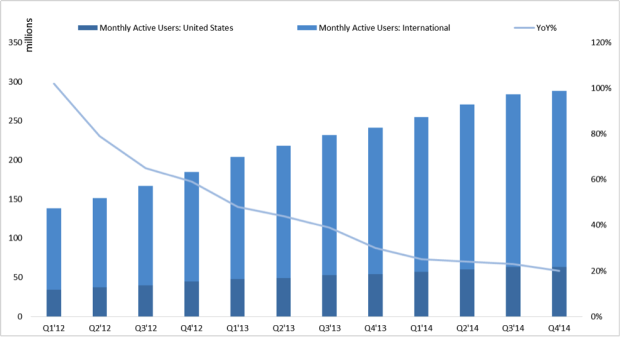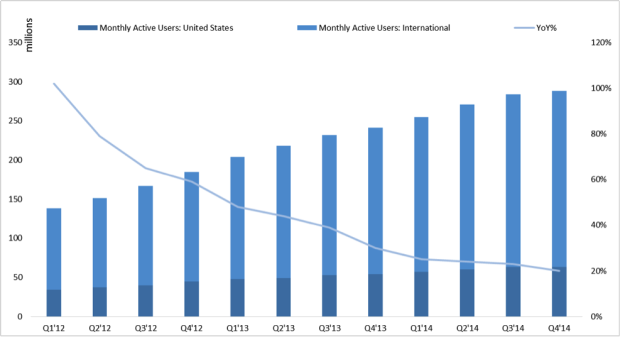 Twitter will hope its deal with Google, which allows tweets to reappear in Google search results and could result in spiked traffic pays off. This growth hack has the potential to calm the nerves of those concerned about Twitter's user base. Twitter recently announced acquisition of Bangalore-based Zipdial (60 million user base) for $30 million which also shows that they are hunting for users outside US, especially in countries like India, where the growth of internet and mobile users have been phenomenal. Twitter also has added a new user engagement features such as video sharing, private tweet sharing, educating new users and more.
Few of the major highlights of Twitter's Q4, 2014 results:
Twitter managed to meet the low end of market expectations in terms of growth in monthly active users (MAUs). Total MAUs has reached 288 million, adding only 4 million new MAUs three months.
Nearly 80% of Twitter's monthly active users are on mobile.
Managed to beat market expectations as revenue was soared to $479 million, $26 million higher than what market pundits expected from micro-blogging platform in Q4, 2014.
Twitter closed the calendar year with $1.40 billion in revenue, double than what it had reported in 2013.
In 2014, Twitter added 47 million new monthly active users.
Conclusion
Twitter has definitely won a battle at the Wall Street, however to keep investors happy in the long run they need to address the user acquisition & user engagement issue. Brian Blau (Research Director, Gartner) aptly sums up:
"It's great that they can be effective at monetizing their users, but if they don't add more users over time, if they can't show investors that they can grow the company, then that's a real long-term issue,"
Twitter has projected that company's revenue be up by nearly 50% in 2015, reaching $2.3 billion. But the company expects a weaker performance in Q1 2015 as compared to the previous quarter.