Retail market in India is one of the most flourishing industries and the country has earned a remarkable position on the global forum by being ranked among top 20 developing countries identified by AT Kearney in its 2014 Global Retail Development Index (GRDI). The retail market in India is likely to clock whopping US$1 trillion by 2018 according to Mr Nitin Bawankule, Indian Director for e-commerce and online classifieds at Google India. And, the online retail market in India is estimated to grow by four-fold to touch $14.5 billion by 2018, thanks to the rapid expansion of eCommerce internet penetration and inflow of investments. The report also states that a major part of the GDP, employment, etc. comes through retail industry, including organized and unorganized sector. This makes it one of the most important areas for the development and sustainability of Indian economy.
Before moving further on the topic, it's important to get some insight on the Indian retail history. We would not go into deep history, but just an idea about origin of retail in India would be sufficient.
Retail in India actually originated with the barter system at the time when currency was barely used or transactions rarely happened. It in fact continued for a long time, even after independence, especially in the rural areas. Buying grocery products, apparels with an exchange of food grains, etc used to be very common. Gradually, shopping with monetary exchange started but in that era, retail was mostly unorganized. During late 19th century and early 1900s concept of manufacturing was introduced and some manufacturers even started opening their outlets. It was then during 1960s – 1970s, when organized retailing got started in the country, which was first introduced by kirana stores and mom & pop shops. These stores used to cater to the local consumers. Gradually the government started taking interest in the area, consequently many indigenous franchise stores came up with the help of Khadi & Village Industry Commission. 1980s saw a huge enhancement in organized retailing in all sectors including food, apparels, electronics, etc. After that, the industry has ever been rising.
The market is growing even faster!
In 2013, the Indian retail sector was estimated at USD $490 billion, recording a 6.1% CAGR between 1998 and 2013. The industry is likely to grow further up and reach 738.71 billion by 2018, according to the Yes Bank-Assocham study.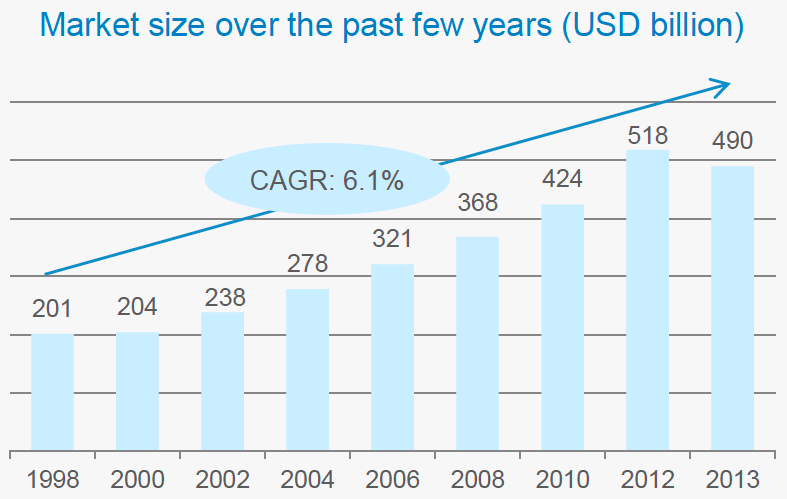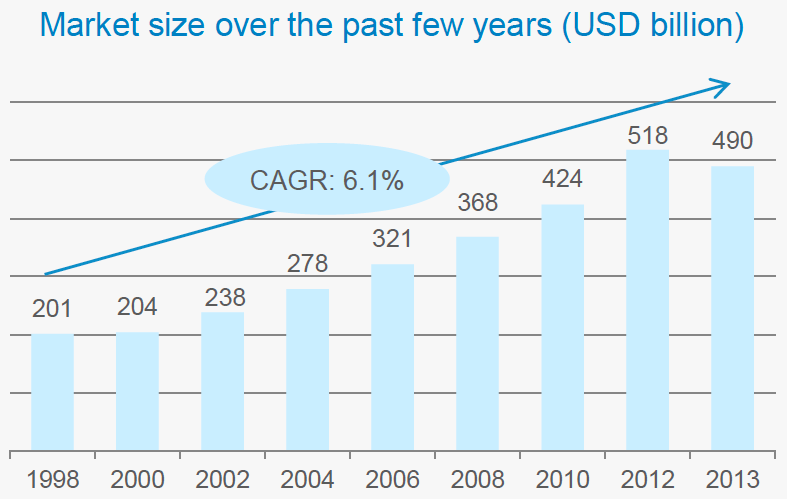 The other research & consulting firm, E&Y, reports about the three primary factors driving growth in Indian retail:
Regulatory factors- FDI policies.
Supply side factors- rapid infrastructural growth and online services.
Demand side factors- Rising disposable income, increasing urbanization, etc.
It's very interesting to notice the changing behavior of consumers with retail enhancements. First barter system, then small local shops, outlets, which were followed by organized stores and then malls. It clearly reflects the economy of the nation. Crossroads, now named as Sobo Central was probably the first recognized shopping mall in India, started in 1999. It means during the late 1990s Indian economy was stable and consumers were ready to spend for shopping experience.
Still, why so much development in the retail industry? Yes, it was profitable. But why malls and lucrative stores instead of local unorganized retail shops now? Probably because shopping is more of an experience, it's not just fulfilling a need. This must be the reason why malls and shopping complexes became the new adda to hang out, spend weekends and get the needful.
Shopping became fun? Or it became a pain?
As the dot-com era started and the world started getting a new shopping experience, Indian market was still dominated by brick-and-mortar model. In mid 2000s, e-commerce started stepping in the Indian market. Consumers specially who were comfortable using technology got a new option to shop right from their places. Getting products at door step without moving out was a new amusing experience which started becoming popular very fast. Penetration of e-commerce players became easy with increasing internet users in India .
Now with this facility, consumers behavior changed drastically and shopping from local retail stores suddenly became a pain which used to be a joy earlier. Seeing success in the sector, new startups emerged rapidly, resulting in employment, technology enhancement and development in the entrepreneurial ecosystem in India. Considering one side of the coin, e-commerce had a very positive effect but was it leading to sustainable development? Internet-based startups recognized the importance of users and thus e-commerce players put all their efforts in user acquisition. Massive discounts, online advertisements became their new weapons which conventional retailers couldn't dream of competing to. Eventually a certain demography of the population started getting inclined towards e-commerce, simultaneously retail owners experienced a significant decline.
But were these startups, mostly turned into companies by now making profits? NO! They were generating revenues, but profit was still miles away. According to a Business Standard report, For a Rs 100 sale of a book, the e-tailer incurs a loss of Rs 24 for a Rs 100 sale of a book and Rs 13 in Mobiles. Needs no mention, VC money was backing them and letting them stand strong, even without making any profit.
Considering even the current scenario, e-commerce players still haven't started making significant profits and with new entrants in the market including the global names made it even worse and the e-commerce war had begun.
How big is the penetration?
Even with a significant rise in online retailing, e-commerce holds mere 1% of the total market share of Indian retail industry. Yes, this is astonishing but true!
Is the e-commerce a perfect solution?
It's evident that e-commerce has been offering certain value propositions for the shoppers- convenience and discounts. But cannot serve the whole Indian population as internet penetration is still an issue, however fast it may grow. According to Google India report, only 8% population shopped online in 2012.
Also, online shopping may affect social lives in a long run. A BBC report states how people's lives are getting affected by e-commerce. Imagine yourself getting everything at your door-step and thus not leaving your home at all, other than work. Also, think of the highly-jammed traffic with delivery vehicles on the roads. Shopping is an experience more than a need, it would help maintaining social life to an extent.
e-commerce may give you a nice virtual shopping experience, but does it provides you the best of a customer service that you expect? Imagine your online delivered refrigerator not working 6 months later, you will have a deadly experience. Recently on social media many consumers even claimed nuisances by online retailers of delivering empty boxes, or a grocery products in boxes of expensive smartphones.
Then why e-commerce?
Given all these factors why consumers are changing their behavior and getting away from local shopping experience? Is it not fun anymore? Many say it's time consuming and painful process to reach out to the right store. It means, due to increasing technology usage when the big retail industry is still yet to equip technology in their model, consumers find it hard to find the right store to shop.
Will any of the two die?
None will die! Although e-commerce is facing instability in terms of revenues and profits, it will gain stability in future when a certain population would choose it for their shopping needs. For local retail, it's huge and in Indian market e-commerce can never solve the problems of the whole population.
Introduction of new technologies / startups
Startups and investors have most likely recognized the scenario and they are not hesitating building and promoting new technologies to support local retail. One of them and which have become very popular now-a-days is Mobile Commerce, commonly known as m-commerce. Apart from these many Indian startups are providing tools or solutions for consumer analytics which eventually support local sellers.
Is M-Commerce helping?
Definitely Yes! Some even say this will shape the future of retail industry in India. Smartphones have revolutionized the shopping experience despite low-penetration, but brick-and-mortar stores are still the prominent force in driving sales. Retailers are using location-based marketing techniques to optimize their in-store experiences with the most significant enhancements from location-aware technology. So M-commerce is a new rising technology star in India which aims to improve the shopping experience, but not to hamper the conventional methods, rather it is empowering the same. This hand-to-hand support between m-commerce and local retailing seems to win the case and provide a sustainable solution to the retail problems in India. I intend to write more and share more insights on m-commerce in my next article.
So, it's clearly evident that M-commerce is a new rising technology star in India which aims to improve the shopping experience, but not to hamper the conventional methods, rather it is empowering the same. This hand-to-hand support between m-commerce and local retailing seems to win the case and provide a sustainable solution to the retail problems in India. If you are the one like me you have all the intentions to join the
If you are the one like me you have all the intentions to join the bandwagon and closely monitoring each and every move in the industry, then stay tuned; we are going to dig the industry deeper to find more intelligence and actionable insights for you.