The unprecedented sales of iPhone 6 and iPhone 6 Plus in Q4, 2014 helped Apple Inc. (NASDAQ:AAPL) to regain grounds in all the major smartphone markets, including US, China, Australia and Europe. According to the latest data on smartphone sales in the US, China, Europe, Australia, Japan in Q4 2014 from Kantar, after a long 3 years this time Apple iOS overtook Android in the home market, albeit by the negligible margin of 0.1% percent. This is also the fist time when Apple iOS has managed to lead all major smartphone market, in terms of sales, eating into the market share of its archrival Android. The Kartar's data is based on the sales share of OSs in all major smartphone markets.
The performance of iOS smartphones (iPhone) and other smartphone OSs would be well attributed to the fact that Android is finally taking beatings after Apple has made iPhone available for all screen size segment. Phablet and big screen smartphone lovers now have got an option to look beyond Android. Apple made a smart move by refraining itself from sending any feelers in the market that the predecessor iPhone 5 could be discontinued anytime soon. This has helped Apple to challenge the overall domination of Android that has captured nearly 75% of smartphone OS market.
Smartphone Sales Q4 2014 In USA
During the three months, ended 31 months 2014, Apple iOS emerged as the only Smartphone OS that gained grounds in the USA. It's sales market surged up to 47.7 percent from 43.9 percent in the year-ago quarter at the expense of all other OSs. It also interesting to note this is Apple's best quarter-over-quarter growth performance as Apple iOS market share jumped up by whopping 15 percent point as compared to 32.6% in Q3 2014. While Windows and few other OSs recorded marginal declines in their sales share, Android market share declined to 47.6 percent, a loss of 3.8 percent point compared to the same quarter last year.
The growth of iOS in the US had largely come at the expense of Android. Besides, making iPhones variant available for all price segments, Apple managed to take the advantage of weak Android offerings in the premium segment.
Throughout the holiday season in the last quarter of 2014, iPhone 6 was the most popular smartphone to gift, followed by Samsung galaxy S5.
Smartphone Sales Q4 2014 In China
The world's largest smartphone phone market has finally started responding in favour of Apple. The Smartphone iOS sales share jumped up to 21.5 percent, an increase of 2.5 percent point, in Q4 2014. Like the USA, Apple smartphone iOS remained the only OS that gained grounds during the last quarter of 2014. Android smartphone sales share abated 1.6 percent point though, it captured 77 percent of sales while Windows and other OSs reached below one percent share.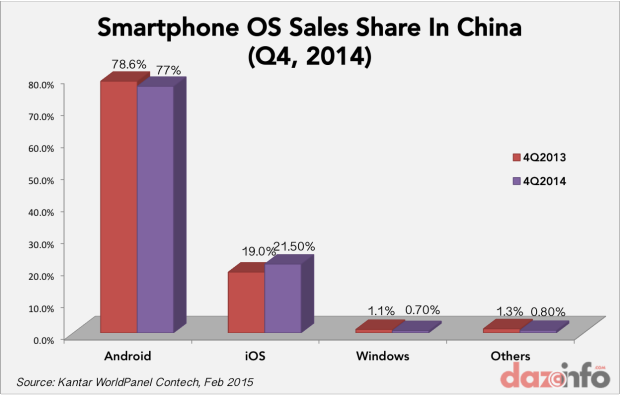 Apple recorded 30 percent of total iPhone sales in Q4 2014 in China. The sales figure of iPhone jumped 70 percent in the quarter, which was largely driven by iPhone 6 variants.
Analysts believe that the decline in Android sales share in China would have been more, had Xiaomi didn't present an astounding sales performance in the country. Xiaomi remains the best selling smartphone in the country as the sales of its flagship device Mi4 skyrocketing.
The sales performance of iPhone in China during the said quarter also highlights a trend of growing popularity of iPhone 6 among non-smartphone users. Nearly 25% of Chinese consumers who bought an iPhone in Q4, 2014 were the first-time smartphone users.
Smartphone Sales Q4 2014 In Europe, Australia & Japan
Together, in the top five European countries – Germany, Great Britain, France, Italy and Spain – Apple smartphone iOS captured one-fourth of the market, which is 6.2 percent point gain as compared to the year-ago quarter. Getting a stiff competition from Apple iOS, Android and all other smartphone OSs lost a sizable market in Q4 2014. In Great Britain, Apple iOS has narrowed the gap with Android as the market share of farther soared to 42 percent from 28.9 percent in just one year.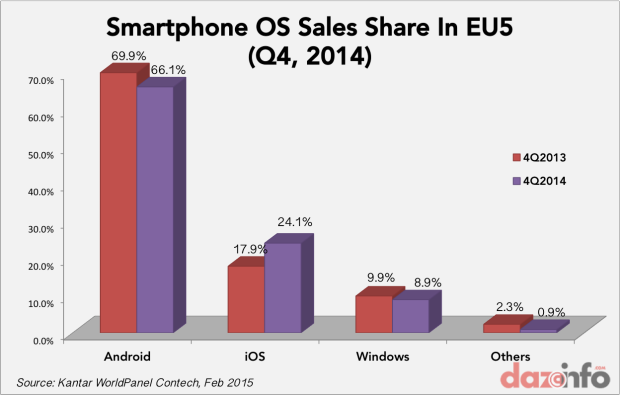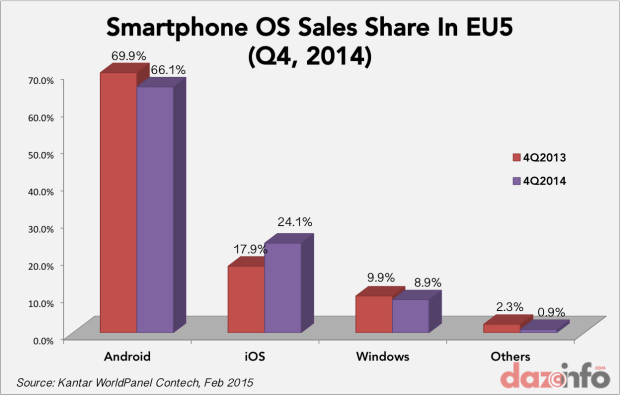 Japan emerged as an exception for Apple, as it's the only country where iOS lost to Android. Though, iOS smartphone still holds the lion's share in the country, the sales market share in Q4 2014, declined to 60.2 percent from 68.7 percent in the year-ago quarter.
China And India Remain The Key Markets For Apple
Apple not only recorded the most profitable quarter of all time, but also gained grounds in almost every major market. But the growth is alarming for Apple as Smartphone penetration in US and Europe has reached 59 percent and 67 percent, respectively. Definitely there is no much room for Apple in the developed countries and China and India are holding the key to success for Apple for next few years from now. iPhone performance in China during the last quarter is quite encouraging, but the company is yet to capture a sizable market share in India – the world's fastest growing and third largest smartphone market. In the absence of sales strategies that could bring consumers to Apple showrooms in India, Android remains the unchallenged and undisputed market leader.
However, strong brand loyalty among iPhone users is something Apple could bet on; in the US and Europe Apple's average consumer loyalty remains 87%, while Samsung feels the pressure with 67% loyalty among Android consumers.