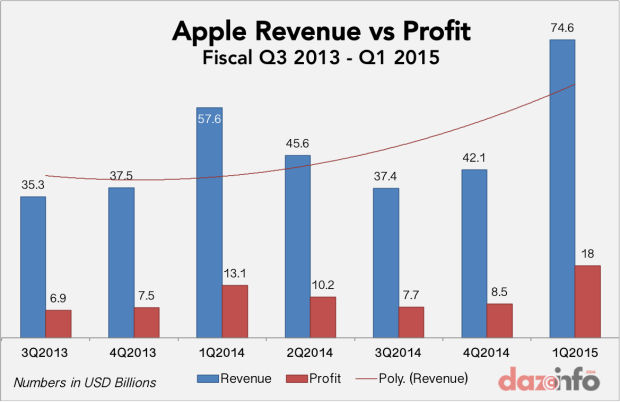 Barely four years back, the visionary CEO of Apple Inc. (NASDAQ:AAPL), Steve Jobs, made a claim, indirectly hitting out its arch-rival Samsung, that forced many smartphone manufacturers to go back to their design board and give a second thought to their big screen smartphone strategy. But, with the announcement of Apple Q1 2015 earnings, ended on 31 December 2014, one thing became very clear: Steve Jobs completely misjudged the potential of big screen iPhone and failed to visualize the growing demand of phablet devices.
In July 2010, in response to a question, Steve Jobs said, " You can't your hand around it (big screen smartphone). No one is going to buy that."
From the quarter that witnessed the company disagreeing with its former CEO and launched the bigger screen 4.7-inch iPhone 6 and 5.5-inch iPhone 6 Plus, Apple has reported the largest quarterly earnings of all time. Apple has not reported the breakdown though, the sales of 74.5 million iPhone units in the first fiscal quarter was largely driven by iPhone 6 and iPhone 6 Plus. What is even more interesting is Apple beat the market expectation of iPhone sales as analysts estimated the sales figure of iPhone to remain between 61 million and 71.5 million, ahead of the earnings report.
Here are some major highlights of Apple Q1 2015 results:
Revenue clocked in at $74.6 billion, up by nearly 30% as compared to $57.6 billion in the year-ago quarter.
Recorded a net profit of $18 billion, a Y-o-Y growth of 38%.
iPhone sales jumped to 74.5 million, a year-on-year increase of 51%, up from 51 million in fiscal Q1, 2014.
iPhone sales represented 70% of total Apple revenue in fiscal Q1 2015.
Nearly 30% of the total iPhone sales were recorded in China. The country recorded a jump of 70% in iPhone sales figure.
Sales of Mac bumped 14%, despite the absence of major introducing or change.
 But everything did not as expected; iPad sales plunged to 21.4 million, down 4.6 million on the same quarter last year; Thanks to 5.5-inch iPhone 6 Plus.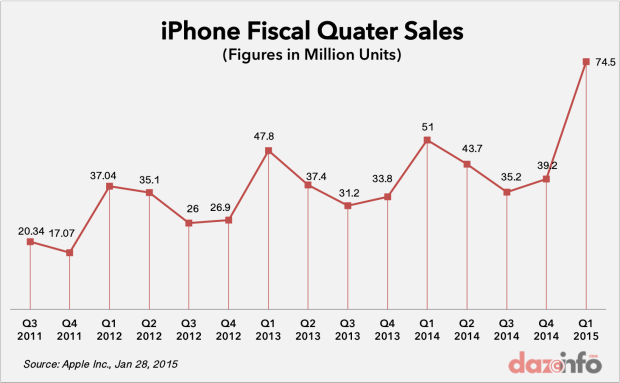 Some more interesting facts from the announcement:
Developers have earned $25 billion on the App Store to date.
Apple now has $178 billion in cash and marketable securities.
Apple earned the highest number of first-time iPhone users in Q1 2015.
25 million AppleTVs have been sold till date.
An average of 34,000 iPhone units were sold every hour in the quarter. This was the fastest rollout in Apple's history.
It is difficult to identify that among iPhone 6 and iPhone 6 Plus, which one contributed the most to the company's revenue and in net profit. Naturally ruled by iPhone 6 but more expensive and profitable iPhone 6 Plus has also captured a sizable market. However, due to supply chain constraints with iPhone 6 Plus, most of the buyers might have settled with iPhone 6 as 'I want a new iPhone' is more strong statement among Apple users community than 'I will wait two weeks for iPhone 6 Plus to come back in stock'.
"Apple's strategy displays related diversification. Those who argue that its success is down to a single product do not appreciate the considerable synergies across Apple's products and services, nor the continued development and strengthening of Apple's ecosystem", said Loizos, Heracleous of Warwick Business School, who is a Professor of Strategy and researches Apple.
 After the impressive performance of the bigger screen iPhone 6 variants, many analysts feel that in the last two-quarters Apple left a quite handsome amount of money on the table. Had the company introduced the 4.7-inch iPhone 6 in the third quarter of fiscal 2014, Apple would have been done much better than this. It was only April last year when the iPhone maker admitted that they didn't have what customers wanted.
One other important finding from the Apple's quarter result, which catches eyeballs is the growing contribution of China to Apple's sales. In the fiscal Q1 2015, Greater China accounted for $16.4 billion of Apple' revenue. It's surprisingly 157% higher than the previous quarter and 70% higher than the year-ago quarter. UBS estimates that China has become the largest market of iPhone, leapfrogging the US. Nearly 36% of iPhone sales are coming from China, while the US stands at second position with 24% of quarterly iPhone sales. Definitely, it's a big achievement for Tim Cook and the team as breaking into the China market, which is generally considered as the last frontier to conquer due to very complex and self-confined business scenario, is still remains a daunting task for many other tech giants, including Facebook. Besides, the presence of Xiaomi – world's most valued tech startup and also known as Apple of China – make the competition stiffer for Apple.
Mr. Heracleous adds, "Apple's entry to China has been instrumental to revenue growth, and the upside potential in revenues from this market is very significant. At the same time, economies of scale and scope led to even greater efficiencies."
As Apple is strengthening its base in China with each passing quarter, it looks like that Apple has got the winning formula, especially when Europe and North America market is saturating and most of the other companies are looking towards China and India to keep their growth rate intact.
As the market has set the eye on the sales kick-off of much anticipated Apple Watch scheduled for April this year, it would be interesting to see how iPhone continues to drive the sales in fiscal Q2, 2015, ending March 31, 2015.